The Cure, Foo Fighters, Queens of the Stone Age, Turnstile, the Mars Volta, the Postal Service, and Death Cab for Cutie will headline Chicago's annual Riot Fest, which will take place Sept. 15-17 in the city's Douglass Park.
As usual, the lineup boasts some of the most prominent acts in underground, punk, experimental, and hard rock, including Mr. Bungle, AFI, Godspeed You! Black Emperor, the Gaslight Anthem, the Breeders, Thursday, 100 Gecs, Death Grips, Tegan and Sara, Braid, the Used, and Pennywise. Hardcore hero Walter Schreifels will play with three distinct bands: Rival Schools, Gorilla Biscuits, and Quicksand.
Also on the bill are left-field selections such as Ani DiFranco, Parliament-Funkadelic featuring George Clinton, Insane Clown Posse, actor Corey Feldman, and comedian Hannibal Buress' project Eshu Tune.
Riot Fest will also feature freak shows, Lucha Libre wrestling, carnival rides, a wedding chapel, free old-school arcade games from Logan Arcade, panel discussions, and late-night shows in several Chicago venues.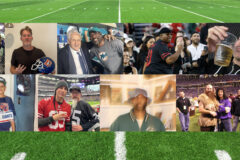 Tickets are on sale now. For more information, click here.
Here's the day-by-day breakdown for the headliners:
Friday 9/15: Foo Fighters, Turnstile
Saturday 9/16: The Postal Service/Death Cab for Cutie, Queens of the Stone Age
Sunday 9/17: The Cure, The Mars Volta