If there's any real justification for remaking a film, whether anointed as notable or not, it should be in the spirit of improvement or edification, like how contemporization can offer a retrospective recuperation. Director Calmatic presumably had some kind of strategy in mind other than simply plundering a catalog of iconic '90s films for his own personal pleasure.
After tackling an update of House Party earlier this year, he's since moved on to a remake of Ron Shelton's '92 film White Men Can't Jump. Whereas his first remake was daring enough to inject its own welcome strangeness into a celebratory spirit of friendship—while highlighting the recognition of one's worth—the same cannot be said for his latent basketball comedy. Technically, the original Wesley Snipes/Woody Harrelson headliner played with what was seen at the time as a racially subversive relationship between a pair of grifters taking advantage of stereotypes. And while racial tensions in the U.S. have hardly dissipated, certain conventions and conversations have since evolved into more complex fractures than the clichéd catalog of race jokes doled out here in ways too hackneyed to register as amusing.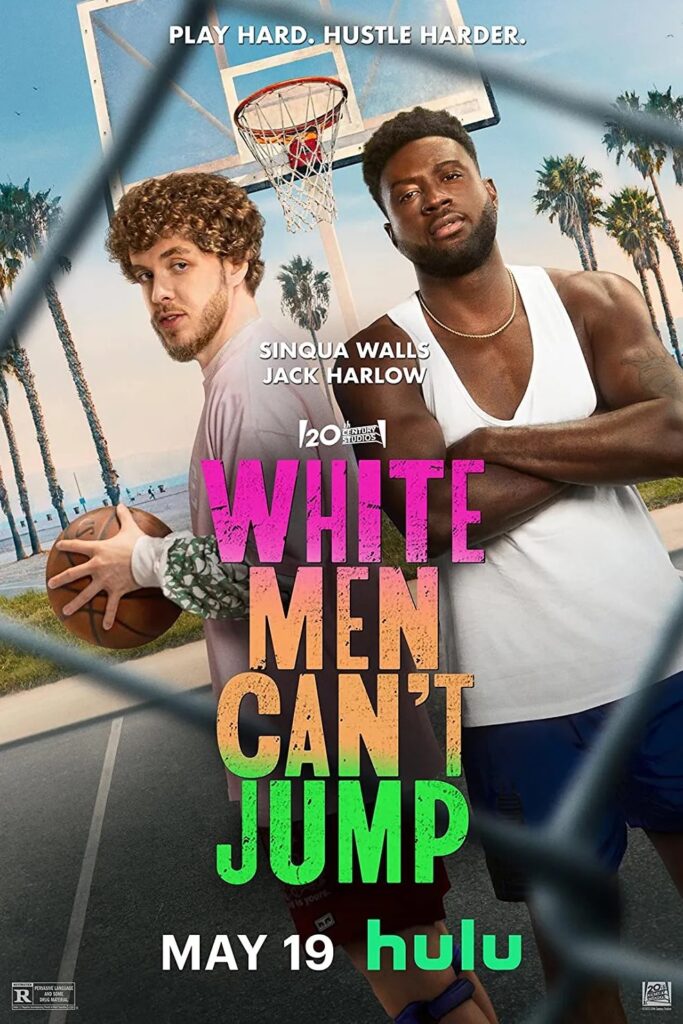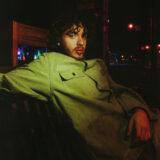 Kamal (Sinqua Walls), once a promising basketball player on the cusp of fame, has spent the past decade as a shadow of his former self, playing pickup games thanks to a run-in with the law that derailed his career. Married to Imani (Teyana Taylor), with whom he has a child, a chance meeting with Jeremy (Jack Harlow) at the gym promises to reawaken his vigor. Jeremy, once also an auspicious player waylaid by torn ACLs, is also trying to get back into the game making money off coaching amateurs at the gym, and he sees an initial opportunity to hustle his way back in with Kamal as a partner. Initially reserved about one another because Kamal is Black and Jeremy is white, they eventually learn they have more in common than they'd imagined.
To be fair, the blame for this film's failings exist primarily in the script from Doug Hall and Kenya Barris. Fresh off his equally bumbling directorial debut You People (2023), Barris' axe  to grind with bigotry keeps whacking at the same superficial spot, dulled by chopping away at overly obsequious white characters who, although arguably not anomalies, are conspicuously supplicant regarding the formidable trauma inflicted upon Black people in both historical and contemporary contexts. Harlow is the swaggered version of Jonah Hill from You People, only more crudely realized, considering the script's inability to decide whether he's got an actual drug problem and why he's averse to gaining steady employment instead of hawking health tonics out of a gym bag like some modern-day snake-oil salesman. They're joined by the one-dimensional banter of Kamal's buddies Renzo (Myles Bullock) and Speedy (Vince Staples), though these men are defined purely by their opposing thoughts on dating white women.
Perhaps this remake's foundational folly could have been simply remedied at its inception. A film concerned with a pair of underdog street basketball players should have been written by members of its own generation rather than Barris and Hall. This version of White Men Can't Jump seems to exist in some parallel universe where basketball players overwhelmingly avoid interracial intermingling. This is a world where the color lines seemingly have hardened and regressed, though this doesn't quite capture the complex energy of a city like Los Angeles (though DP Tommy Maddox-Upshaw captures the visual spirit of the city that the narrative lacks). The film plays like a fast break, breathlessly trying to get rapid fire talking points off the ground but never realizing how this merely dribbles the film into the ground instead of making the field goals it was aiming for.
Calmatic also sells the film's women short. Whereas Rosie Perez had an (albeit corny) agenda as Woody Harrelson's girlfriend, both women here have little to do beyond painstakingly supporting their relationships without seemingly offering obvious censure or advice. Teyana Taylor, fresh off an incredible lead performance in A Thousand and One (and who appeared as a vixen in the Barris-co-written 2021 film, Coming 2 America), has little to do as Imani. She may be given the funds to create her own hair salon, but we're not quite sure this was a passion she'd wish to follow if necessity wasn't an option. Likewise, for Laura Harrier—who's given even less screen time as the ballerina Tatiana—her relationship with Jeremy is an afterthought the script couldn't care less about. Harrier is actually eclipsed by the script's dedication to Speedy's mostly off-screen white girlfriend, the butt of a never-ending monotonous joke without a punchline.
On the bright side, Sinqua Walls (who recently appeared in 2022's Nanny) and Harlow share a likable affability, and one wonders how this version might have also benefited from some more intricate examinations of their masculinity. Lance Reddick, in one of his final roles, appears as Kamal's father, providing a bit of warmth and humor in his limited screen time.
But the film's dramatic catalysts don't really make sense, such as a choking sequence which supposedly seems notable enough to go viral on social media (a tactic Calmatic also utilized in House Party) and push this duo out of their comfort zones. But these men also aren't properly psychologized in any real way, their hustle to stay connected with basketball born out of economic hardships that beg questions the script doesn't really want to answer. And while its race-play tactics are arguably archaic, the worst crime committed by White Men Can't Jump is how tedious and routine it feels. It certainly never gets above the rim.
Watch Nick and his husband Joseph review (and spoil) films on their YouTube channel, Fish Jelly Film Reviews. Their podcast of the same name is available everywhere.