A bridesmaid no more.  After five nominations, Rage Against the Machine are finally members of the Rock and Roll Hall of Fame. The band is one of the most unlikely, outsider inductees into the notoriously insider Rock Hall. This is not lost on the quartet.
On Wednesday morning, the band issued a statement thanking the Rock Hall for "for recognizing the music and the mission of Rage Against the Machine." They also called the induction "a surprising trajectory."
"We are grateful to all of the passionate fans, the many talented co-conspirators we've worked with and all the activists, organizers, rebels and revolutionaries past, present and future who have inspired our art," the band said.
The group listed the causes they've been outspoken about, including their "opposition to the U.S. war machine, white supremacy, and exploitation." Rage went on to list their lengthy achievements, including suing the government for using their music for torture at Guantanamo Bay, shutting down the New York Stock Exchange and speaking up for Mumia Abu-Jamal and Leonard Peltier.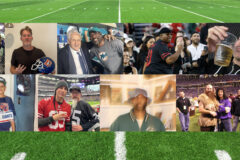 In addition to Rage Against the Machine, Kate Bush, Sheryl Crow, George Michael, Willie Nelson, Missy Elliott and the Spinners were inducted in the Performer category.
See the band's statement in full.
View this post on Instagram