Plague Vendor is likely to be the best live band you've never heard of.
There's a world where Plague Vendor sells out arenas instead of revered small punk venues like Alex's Bar in Long Beach, Ca., and that's a more just world than this.
But on a rainy Sunday night, vocalist Brandon Blaine is hanging from the ceiling and kicking a still-mounted disco ball during a sold-out show at Alex's. After only a few songs, he's tearing his shirt off and dancing across the stage, a towering combination of prime Jello Biafra and Mick Jagger, with a dash of Iggy Pop. Mosh pits form while others in the crowd dance, jump and scream along; crowd surfers soar across the entire venue. It's the cathartic release of anger and frustration common in most great live rock shows, but it's also painfully clear that everyone involved is having a damn good time. There's no shortage of grooving and smiling smoothly blended into the explosions of rage — a mix not unlike if Refused's Dennis Lyxzén didn't dance to all the wrong songs and enjoy all the wrong moves.
With enough energy to tear the roof off of any venue, the punk-tinged SoCal rock quartet has the stage presence and chaotic positivity to turn any stage into a raucous party. Whether opening for legendary punk acts or playing afternoon sets at multi-genre festivals, Plague Vendor makes a fan out of virtually anyone who happens upon their infectious live show.
"Everyone's looking at me, and I'm the one that's looking at the people, so if they see me smiling and having a good time, that energy gets transferred to them," Blaine tells SPIN. "You see bands go up that don't smile, and they're mundane, but they sound fucking amazing. I'm not saying that never works, but it just doesn't for us. I would rather just completely be in the moment. We're stoked to be there too."
But Blaine's not carrying all of the weight when Plague Vendor hits the stage. Drummer Luke Perine and bassist Michael Perez forge a rhythm section that consistently lays down danceable punk/hardcore/rock grooves that could be mistaken for everyone from the Clash to Turnstile, and Jay Rogers fills in the middle ground on guitar while adding flourishes of his own. It's an unparalleled collaboration with enough energy to turn any room into a crowd surfing, dancing mosh pit — and one that's built organically through the band's childhood friendship.
"The music is one thing, but this is literally a friendship first," Perine says. "When the four of us get together, it has its own spirit, and we're always trying to have fun. So I think anything that comes through our four bodies is going to have the energy of that friendship."
*****
A few days ahead of the show at Alex's, Plague Vendor is shuffling through Port of Sound Record Shoppe in Orange County. Blaine separates from his bandmates as he thumbs through Beastie Boys albums before settling on Hello Nasty — his assortment of silver jewelry and buckles on his black leather jacket reflecting the store's yellowed lighting.
In the record store, Blaine stays fairly quiet and reserved, letting Perine lead the bulk of the conversation (mostly about his diehard Bob Dylan fandom, an unexpected twist from the rock drummer) while wrangling Rogers and Perez — each of whom are selecting albums by different Thom Yorke projects. It's a far cry from Blaine channeling his mixture of Bowie and Rollins to entertain both club and festival audiences.
However, no one in Plague Vendor is putting on an act. Blaine might be more demonstrative and Perine may be hammering out any anxiety on his drum kit, but they're still the same group of oddball friends they are off the stage. They all consider themselves to be weird, proud of it and use it as a way to connect with their fans. They were the kids who would bail on high school parties to go play music in each other's bedrooms, and now they want to be there for the next generation of outcasts.
"We're all weirdos, so we have a lot of weird fans, and they're everything from dads with their kids to goth teenagers," Blaine says. "We're all there being weird and having fun together that night, and we really connect with a lot of them. I think they respect that we're just being ourselves and that we're weird like them, rather than making it some circle jerk and pretending we're better than anyone."
Of course, appealing to weirdos also comes with its advantages. Plague Vendor has been personally tapped to open for legendary punk rockers like the Offspring, Social Distortion and Bad Religion, but also feels perfectly at home playing multi-genre festivals where they may be the only act looking to form a mosh pit.
Unfortunately, coming out of Southern California which has been dominated by scenes (like the now-disgraced Burger Records) looking to stick to their specific genre, Plague Vendor has never really found their home. Despite being located less than an hour away from most of Los Angeles and Orange County (they're originally from Whittier), they've never felt fully accepted by the local scenes going on in either.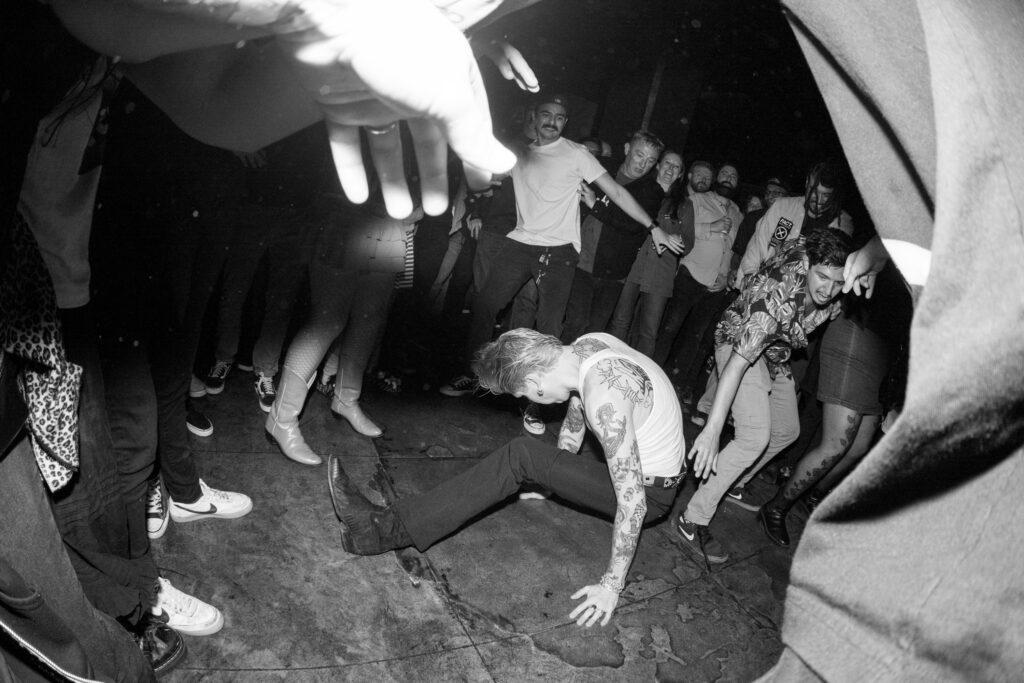 Sure, they've befriended plenty of bands and made some fans, but Plague Vendor's genre-bending walk between punk, mainstream rock and sometimes even electronic-tinged post-hardcore has trouble landing in any one demographic.
"We've never really had a 'scene,' because we don't really stick to a format or genre of music," Rogers says. "I think that helps and hurts us. We're all over the place because we're inspired by a bunch of different things. Whatever comes out of us is a mixture of all that."
As a band with a metal-sounding name, widely varied musical tastes and influences and a borderline refusal to settle on any one style (musical or visual) for too long, they're welcoming fellow weirdos from any scene who want to join the Plague Vendor family.
They're not interested in presenting themselves as "punk" (just ask Blaine's customized cowboy hat) or sticking to the ethos of any of the subgenres or scenes that have come and gone since the band's 2009 inception. Instead of being locally trendy or massively popular, Plague Vendor is quietly sneaking around the long-existing walls between genres and generations. There are aspects of their music that might appeal to fans of almost any genre of rock, but they're often a square peg that doesn't want to fit into any round holes.
"We've never been a 'cool' band where people from L.A. or OC want to come see us," Blaine says. "We never had a big local scene or something where a ton of kids come out to every show in that scene. We've always been outside of the scenes looking in and just dipping our toes into them a bit. We'll play a festival with them or play a show, but we're like this weird band from the outside."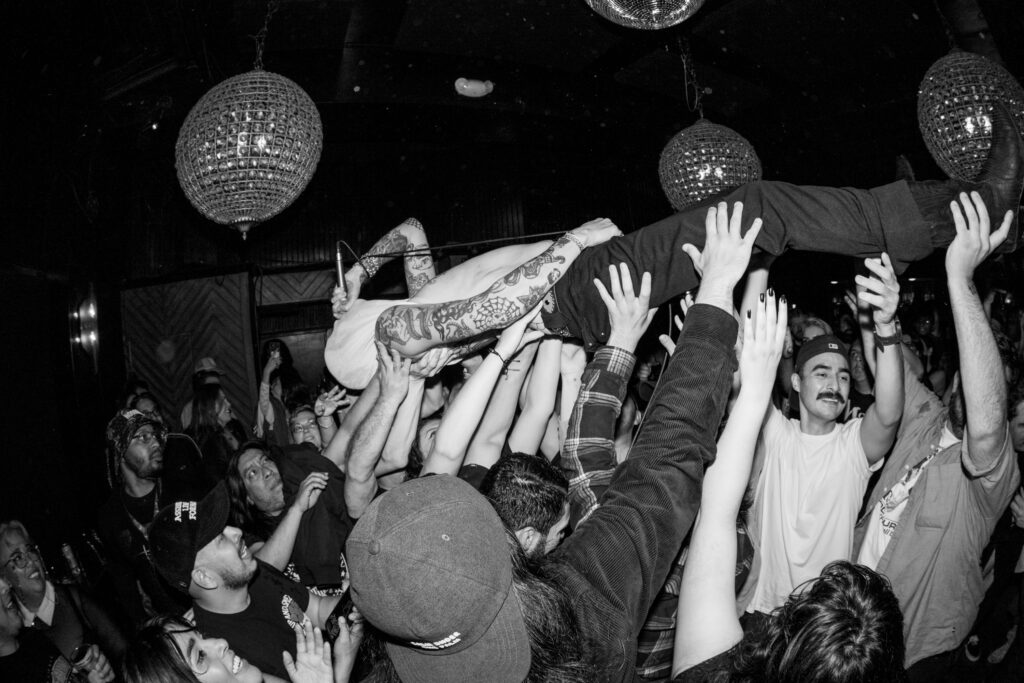 *****
While it's their live show that has earned Plague Vendor thousands of fans and the praise of nearly everyone who's stumbled upon them in the middle of the afternoon at a festival (including Eddie Vedder, who featured them at his Ohana Fest in nearby Dana Point in 2018 and 2021), the band's three studio albums, Free To Eat (2014), Bloodsweat (2015) and By Night (2019) show an ascent from Dead Kennedys-esque punk (likely the only band every member listened to when forming, according to their memories) to a sound that's their own. Each album features scream-along choruses, dance-worthy grooves, and memorable timeless hooks that likely would've fit just as well during nearly any era of rock since the late '70s.
So how did a live band capable of lighting any stage on fire whose first three albums were released on Epitaph Records fail to find an audience that matches their energy and ambition for a decade? Well, it's been a perfect storm of various factors. For one, the band's lack of scene/genre may cap their growth when streaming algorithms recommend "similar artists" within the same box — leaving Plague Vendor a slightly harder act for even the most-interested weirdos to stumble upon digitally. But they also didn't help themselves, as the band maintained a pretty heavy opposition to social media and self-promotion for almost all of their existence.
"We thought [social media] was kind of gimmicky," Blaine says over a slice of pepperoni pizza after record shopping has concluded. "It didn't feel real or good to us to do these things that we felt like we had to do. When we picked the name Plague Vendor, part of the idea behind it was that things like social media, fast food and all of that shit were the 'plagues' they were selling to society. But now I understand [social media] in a different way, so we have fun with it."
"It also just didn't fit into the division of labor between the four of us," Perine adds. "We were really focused on the songs and playing a bunch of shows, because that's what we thought was worthy as a band. We didn't grow up on bands that picked up their phones and filmed everything, so no one wanted to do that."
That anti-social media mentality held true until the tail end of the COVID-19 pandemic (which also had the band considering a name change, because they didn't consider the possibility of an actual plague ravaging the planet during their lifetimes). Instead of filling their concert-less time with Instagram posts and YouTube videos, Plague Vendor locked themselves in their bedrooms to write a new album — one that the band has been slowly dripping out via singles like "Run" and "Rumble" while hoping it will be out in its entirety soon (particularly since they've already begun working on a follow-up). But with the birth of a new album also came a new agreement: If Plague Vendor was still a band if/when the world re-opened, they'd all pitch in to improve their social media presence.
When Plague Vendor made its live return in September 2021 for a few warm-up shows across California ahead of Ohana Fest, it did so with a concerted effort on both its online and stage presence. Having spent the past two years writing an album and focusing on their lives outside of the band, simply shaking off the rust wasn't going to be enough for a band looking to take the next step.
"It was almost like going into an alternative universe," Perez says, as Rogers nods along. "Your life pulls you in these different directions, so we needed to go back into our regular lives and deal with our relationships and work and shit that you have to do at this age. Then when it calls you back to the stage and you're out in front of all of these people, memories come flooding back."
These days, Plague Vendor is pretty good about keeping up with their pledge of daily social media usage — and they'll need it with their renewed DIY mentality. After separating from both their record label and management, the group of friends is back to handling nearly every aspect of the band themselves. And while lots of established bands find themselves returning to their DIY roots eventually, not many do so to the point of having their drummer sprint offstage to man the merch booth as soon as the show ends, as Perine did at Alex's Bar.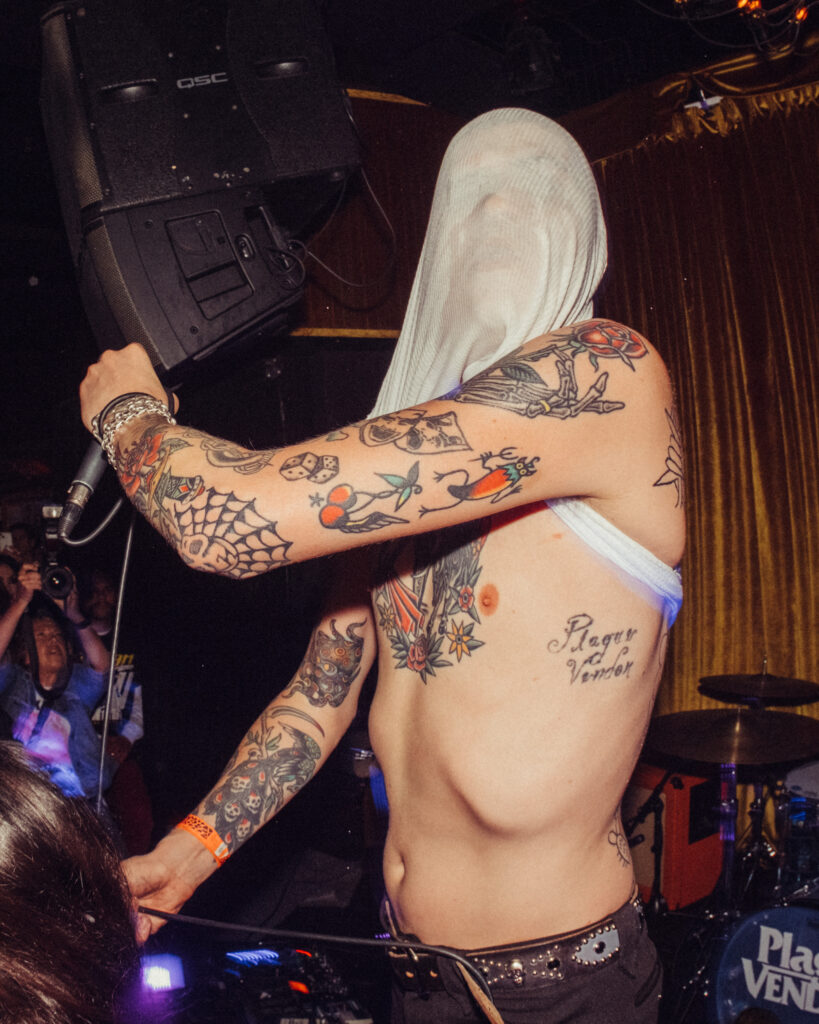 So far, the independence is sitting well for Plague Vendor. Blaine believes the bureaucracy of the music industry stifled the creativity of a band that's really about four friends having a good time ahead of anything else. They never liked the lengthy approvals process, having to abide by the timing of album cycles, or having voices in their ears beyond each other's.
At this point, moving forward without that outside support is a risk that Plague Vendor will have to take. They're cautiously optimistic that the grab bag of TikTok seems to like them more than other social media platforms have in the past, and they're casually discussing options like professionally recording a live show or two so their new online fans can see the playful chaos the band exudes onstage. Hell, Blaine even thinks their next album may be the one to get them some more mainstream appeal (although he admits that the "glimmer of hope" of their big break exists inside of him every time they're finishing an album).
Whether their new independence leads to success or the end of their career is yet to be seen, but two things almost certainly remain true. One is that the friendship between the four of them isn't going anywhere anytime soon — with or without the band. The other? Well, none of them really know how Plague Vendor lasted for more than a decade in the first place.
"I think we'll still be getting together until one of us dies," Perine says. "Sometimes people ask me 'What's going on with the band?' and I always just tell them 'It's something that's just very, very neat.' I don't know how we got here, and I have no idea how much further it can go."
"I wasn't expecting anything to begin with," Perez adds. "I think we're just always going to be pumped on it, no matter where it goes. We're always surprised that we're doing this. Ultimately, the goal is to live off of our art — because that's everyone's dream — but we just want to keep on playing good shows and making good music that lets people escape."
Blaine smiles and looks across at his bandmates.
"I always thought we would start a band and have this big burst of crazy energy, tour and do other shit, and then we'd just be washed up real quick."