If Yesterday director Richard Curtis's next film was about the story of Panchiko, audiences would laugh it off for being too far-fetched. Four 16-year-old school friends from Nottingham, U.K. start a band in the late 1990s, played no more than a handful of shows, mostly to empty rooms, recorded a set of rudimentary demos, and called it all off less than three years later when real life dragged them in different directions. Now, 23 years later, Panchiko are preparing to release their debut album.
Now 41, the band members are in the process of leaving their day jobs in teaching and music mastering to become full-time musicians for the first time in their lives, with sold-out dates in venues across the U.S. and Europe. It is the literal stuff of mid-life crisis dreams, and the circumstances could not be more unlikely.
In 2016, a copy of their cassette demos from 16 years earlier titled D>E>A>T>H>M>E>T>A>L and presented without any mention of the band's name, one of only 30 pressed, wound up in the hands of an intrepid 4chan message board user who became obsessed with its alluring, beguiling contents and began a global internet detective hunt to track down its makers' identity. The strained, mournful melodies of the demo tracks, alongside their watery, strangely detached production value and use of primitive electronics to elicit a sense of alienation had struck a chord with a rapidly growing new online community.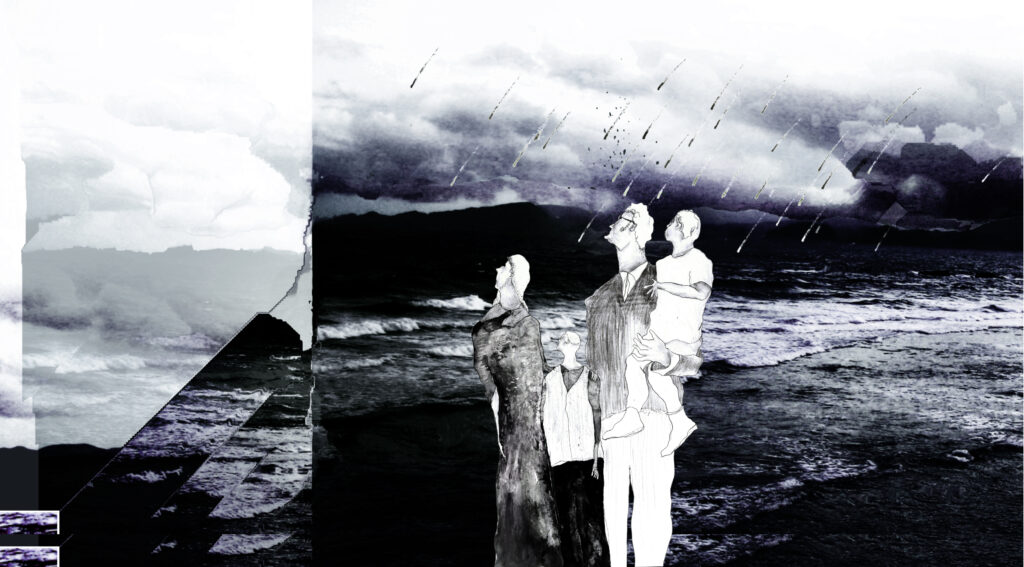 By the time news finally reached the former Panchiko members some four years later, when the internet sleuths managed to track the CD barcode on the cassette to a charity shop in Nottingham, their music had become a cult sensation, with teenagers in the U.S. getting tattoos of the cassette's cover art and filling Discord, Reddit and YouTube channels with adoring messages. They were astonished by all of this.
"We were just curious as to why people were so interested," says Wright. "We'd not forgotten about the demos, but we just couldn't believe that they could now have such a following, for something that was widely ignored 20 years ago."
Based on this momentum, they decided to reform the band in 2021, and after an eye-watering few months of playing the old material to adoring audiences, they were soon confronted with the prospect of having to satisfy their new fanbase with something else. The only issue was they hadn't written anything together for over 20 years. Panchiko didn't just have to become a band again, but they had to become the band that the outside world now felt they knew.
Early in 2023, they released the first tastes of Panchiko 2.0, in the form of the singles "Failed at Math(s)" and "Until I Know," and waited nervously for the response.
"People seem to be really open to the idea of us making something new," says Panchiko keyboardist and producer Andy Wright over Zoom. "I thought we might meet a bit more resistance, or that people would just ignore it and listen to D>E>A>T>H>M>E>T>A>L again. But people have been super positive so far."
"Back then, we knew less than we do now," adds vocalist and guitarist Owain Davies. "There's that naiveté, we just made stuff, and there's something about that that maybe is what makes it appeal to the people who like it. They probably like the lo-fi-ness, but we couldn't really recreate that again. I think we've built upon it, so it feels good to have something that's got a bit of who we are now, while still trying to hold on to a bit of the way that we might have written a song back then."
For some, the prospect of having to recapture the artistic vision of their teenage years might sound horrifying, filled with embarrassing pretensions and long-outgrown angst, but it so happens that the nascent Panchiko were strangely advanced and esoteric for their level of experience. They produced a brand of warped, experimental indie that would have chimed with the likes of Yo La Tengo and Grandaddy at the time, but tinged with a measure of the bright, prickly melody of Super Furry Animals and The Bends-era Radiohead. These elements remain intact in the 2023 version, with their album Failed at Math(s), their first ever full-length release, which is out on May 5, using the same bedrock, but couched in an altogether more refined, elegant new sheen.
"You don't want to start writing things with a perspective of what you think people might want us to do," says Wright. "But people clearly don't want us to release a classical album, they don't need that. So, it's a tricky one to gauge."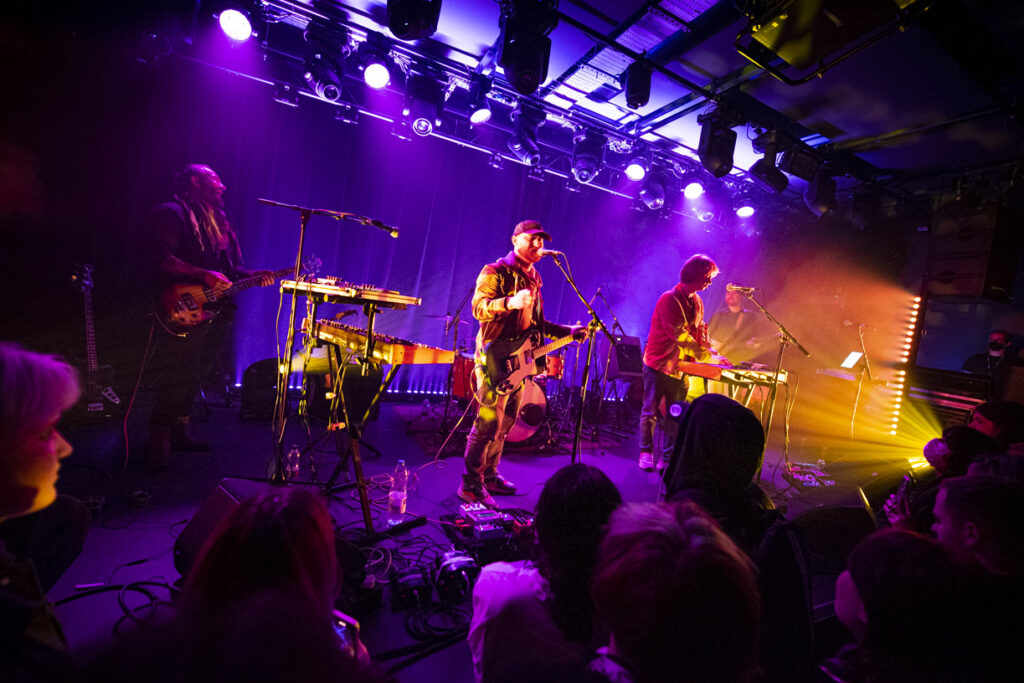 "I always liked the original rot version that they found that was really degraded," says Davies, referring to the cassette that surfaced in 2016, which had been warped by disc rot over time, adding further layers of mystique to the band's already heady, genre-bending sound. "I want to write songs that people will enjoy just as much, but that they will see as a progression. People often say that the songs have communicated something to them in a difficult time, and that our music has helped them through. That's an amazing thing. If the music can still do that, then we're on to something."
There was nothing more remarkable about Panchiko's split than there was about their original existence. "I went to college, Owain stayed, and it became a little bit more difficult," remembers Wright. "I think it just kind of slowly fizzled out – nobody threw anyone out of a window or anything."
"If you're not getting any gigs and nobody really wants to hear your tunes, obviously it's hard to keep going," adds Davies.
How the times can change. Wright and Davies stayed in touch over the intervening two decades, albeit distantly, their lives having grown apart organically. When this sequence of events brought them back together, however, they found that they clicked back into band camaraderie with ease.
One aspect of their phoenix-like resurrection that has proven particularly challenging to process is that roughly 90% of their new audience is based in the U.S. "Maybe there's something about just singing your heart out and shouting out loud that just really resonates with the youth of various areas of America, but it's amazing," says Davies.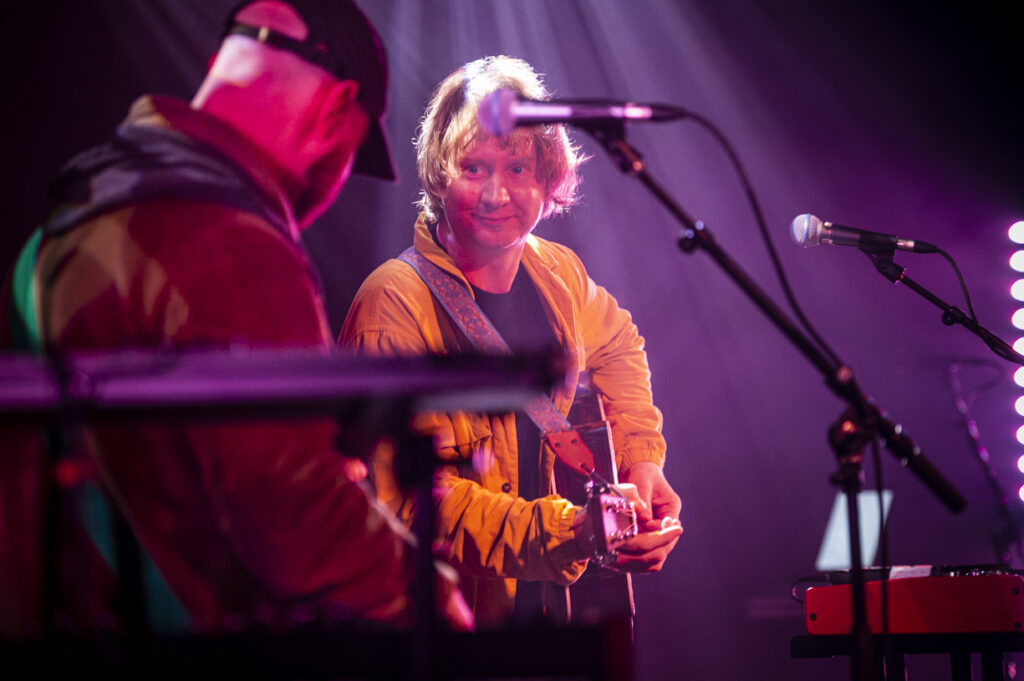 Perhaps the more substantial barrier to overcome is the fact that where Panchiko have now entered the diaper-changing stage of life, the bulk of their audience remains in the age group that the band were in the first time around.
"At the back of our gigs, it's just a row of angry dads, and one of our aims is we've got to try to turn them around," jokes Wright. They can well appreciate the sentiment, too; even if sudden rock stardom at their age might seem like an excuse to indulge in some of the excesses of the job, they concede that "eating too much junk food and having a couple of boozes" is about as wild as a Panchiko night gets. "There are too many little eyes all staring at you," says Wright. "I don't think I would cope very well if I was utterly smashed."
One thing that could never be lost on them, though, is that they are the recipients of one of the most unforeseeable twists of fate that any wannabe musician could hope for. When Davies describes it as "one in a million", it may instinctively sound like a cliché, but in this case, the phrase may not be far off.
"It's hard to take it all in," he says. "Sometimes you have to pinch yourself and go, 'woah, look at all these people who know who we are and want to see us.' It's mad."
"Yeah, it's truly crazy," agrees Wright. "We don't want to let this opportunity go; we know exactly how lucky we are to be in this situation. It's totally insane, but we're going to make the most of it, and hopefully make a few of those kids happy with some more pop songs."