Liz Phair will celebrate the 30th anniversary of her iconic 1993 Matador debut album Exile in Guyville by performing it in its entirety on tour this fall. Dates begin Nov. 7 in El Cajon, Ca., and conclude Dec. 3 in Dallas. Blondshell will support.
As SPIN wrote in a 2013 oral history of Guyville, "with her 18-song double-LP debut, Phair pried the lid off her life and sang away secrets. Even though it landed right at the apex of the cultural moment for 'Women in Rock' and riot grrrl, Phair was something else. Her feminism was not wrapped up in dogmatic choruses, her rage was articulated in quiet disses tangled up in sublime indie-pop. Guyville was all guile and jangle. Phair dispensed with the innuendo and explained exactly, and explicitly, what she was game for."
Phair opined at the time, "Guyville is wrapped up in how the songs were written and in the way it was created and came about: It's that girl, that girl having people say you can't do this, you aren't good enough to do this, you don't know what you are doing — and me getting enough rage in me to say, 'I have as much of a voice as anyone and I have as much of an education as anyone,' and even if I didn't have the education or the musical knowledge, it didn't stop me."
Asked in a later SPIN interview how she felt when Guyville topped the publication's 1993 best-of list, Phair said, "It was a really nice feeling. You live your life, and every once in a while something comes in that gives you a different perspective on what you've done and what it meant. I don't know how to describe that feeling. I live my life, and there are moments that I've been really lucky to have done something that meant something to people. It's kind of like, 'Well, damn.'"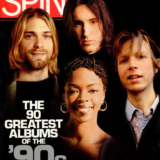 Phair previously celebrated Guyville with a deluxe boxed set in honor of its 25th anniversary in 2018. She re-teamed with that album's producer Brad Wood for her first studio release in more than a decade, 2021's Soberish. Phair also released her memoir, Horror Stories, in 2019.
Here are Liz Phair's Exile in Guyville 30th Anniversary tour dates:
Nov. 7 — El Cajon, CA @ The Magnolia
Nov. 8 — Tucson, AZ @ Rialto Theatre
Nov. 10 – Los Angeles, CA @ The Wiltern
Nov. 11 – San Francisco, CA @ The Masonic
Nov. 13 – Portland, OR @ Revolution Hall
Nov. 14 – Seattle, WA @ Moore Theatre
Nov. 17 – St. Paul, MN @ Palace Theatre
Nov. 18 – Chicago, IL @ Chicago Theatre
Nov. 19 – Detroit, MI @ Masonic Temple – Cathedral Theatre
Nov. 21 – Boston, MA @ Roadrunner
Nov. 22 – Philadelphia, PA @ Franklin Music Hall
Nov. 24 – Brooklyn, NY @ Kings Theatre
Nov. 25 – Washington, DC @ The Anthem
Nov. 27 – Nashville, TN @ Ryman Auditorium
Nov. 28 – Atlanta, GA @ Atlanta Symphony Hall
Nov. 30 – New Orleans, LA @ Orpheum Theater
Dec. 1 – Austin, TX @ ACL Live at the Moody Theater
Dec. 3 – Dallas, TX @ Majestic Theatre