On an elegant stage crowded with cables, amplifiers and musical instruments, a guitar player in blue jeans and long gray hair was getting loud again as he dug into a garage rock standard, "The House of the Rising Sun." Lenny Kaye stood at a microphone, green Stratocaster in his hands, and shut his eyes tight to growl some ominous lyrics: "Now the only thing a gamblin' man ever needs / Is a suitcase, Lord, and a trunk…"
This was supposed to be a rehearsal, but Kaye was playing the song for himself and a near-empty theater in Glendale, Ca., the day before a 50-year celebration for an influential double album he curated back in 1972: Nuggets: Original Artyfacts from the First Psychedelic Era, 1965–1968. Although he's now best known as the longtime guitarist in the Patti Smith Group, he was a rock critic then, a fanatical New York record store clerk, and, for several months, a talent scout for Elektra Records. "Rising Sun" isn't on Nuggets, and it wouldn't be played at the show on Friday, but its raw power and rough edges fit right into the album's same elemental sound and message, which helped define the term "garage rock."
Kaye collected the songs for Nuggets under a guiding principle: "It's a nugget if ya dug it." The original 27-song collection gathered modest hits and near misses by acts forever beloved or names quickly forgotten – among them strange, hook-filled tunes like "Let's Talk About Girls" by the Chocolate Watchband, "Tobacco Road" by the Blues Magoos, "I Had Too Much To Dream (Last Night)" by the Electric Prunes, "Psychotic Reaction" by Count Five, and the manic, euphoric "You're Gonna Miss Me" by the 13th Floor Elevators.
At the nearly 100-year-old Alex Theatre on Friday, Kaye was to honor Nuggets show with the acclaimed Wild Honey Orchestra as part of its annual fundraiser for autism research and awareness. For nearly three decades, Wild Honey has gathered recording artists and ace session players to tackle entire albums by the Beatles, Beach Boys, Big Star, and more with notable skill, and this year it was joined by the likes of Susanna Hoffs of the Bangles, R.E.M.'s Peter Buck, "Weird Al" Yankovic, Wayne Kramer of the MC5, Elliot Easton of the Cars, Kathy Valentine of the Go-Gos, Peter Case, Evie Sands, and the 3 O'Clock, along with several surviving members of the anthology's original bands.
"They learned everything perfectly," Kaye said later. "Note for note, they found arrangements in the songs that I never even knew existed."
Another Nuggets concert is set for San Francisco on Tuesday (May 23) with a different cast of players, followed by a third in New York in July. During the final moments at last week's rehearsal, Kaye leaned into the mic and smiled in anticipation. "Don't forget to tip your waitresses," he joked to the musicians, crew, and visitors scattered among empty seats in the old Greco-Egyptian-style room. "We'll be here all week."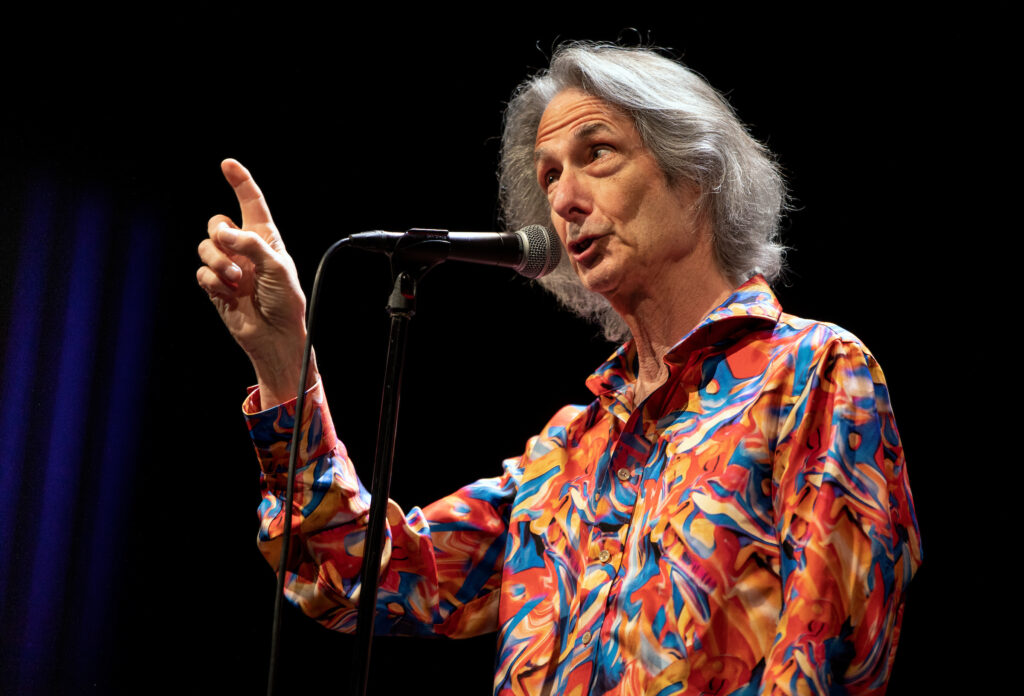 In a phone interview the night before flying to Los Angeles to prepare, Kaye recalled the origin of Nuggets, which took shape after he was asked by Elektra president/founder Jac Holzman to curate an album of obscure tunes. Kaye said he simply gravitated to songs he liked. The album's release predates common use of the "garage rock" label, and in his original liner notes, Kaye actually refers to the album's music as "punk rock" (it's among the first published use of that confrontational musical term).
At the time of Nuggets, the songs were only a handful of years in the past, but many were already being forgotten by the beginning of the 1970s, as rock splintered into ever-widening genres. "Rock and roll moved at such a fast pace in those years," said Kaye, who has been playing many of the songs since he first discovered them as "a mutant kid in New Jersey in 1964, just learning my first chords on a guitar. It changed who I am – getting up there, plugging in, turning it up. I understand what these bands wanted. When you boil it down, it's about yearning and desire."
The connecting thread among the songs, he explained, is about the "need to break things back down, to see the building blocks of the music, and finding your own place in it. Nuggets is not so much about garage rock, but it's about great records of a certain genre." While the collection was warmly reviewed at the time by rock critics, it was hardly a hit record, though its impact was soon heard in the first wave of punk, as bands began to cover some of the material. "All the early CBGB bands were drawing from this well of what we called 'garage,'" Kaye recalled.
"I've been in Nuggets tributes now for years, and when you start untangling what happens in these songs, they're not just three chords and off to the charts," he added. "There's a lot of fun stuff happening there – little guitar licks and a little this and little that. They're very creative records."
Asked during Friday's intermission about the "garage" label, R.E.M. guitarist Buck shrugged. "Basement, garage, living room, den – it comes from somewhere, but [Nuggets] is just a good record. A great record," said Buck, who planned to be back onstage at one or both of the other Nuggets shows. "I bought it when it came out. I was 15 or 16 and it certainly opened my eyes to a lot of stuff."
"[Kaye] codified a genre," said MC5 guitarist Kramer, who saw the Nuggets bands mainly as peers. "He really did us all a great service by just putting together stuff that he loved that all the rest of us loved too. We all start out in the garage. Your parents say, 'Not in the house! Take that shit out in the garage!' That's where I started. There's pride in the garage."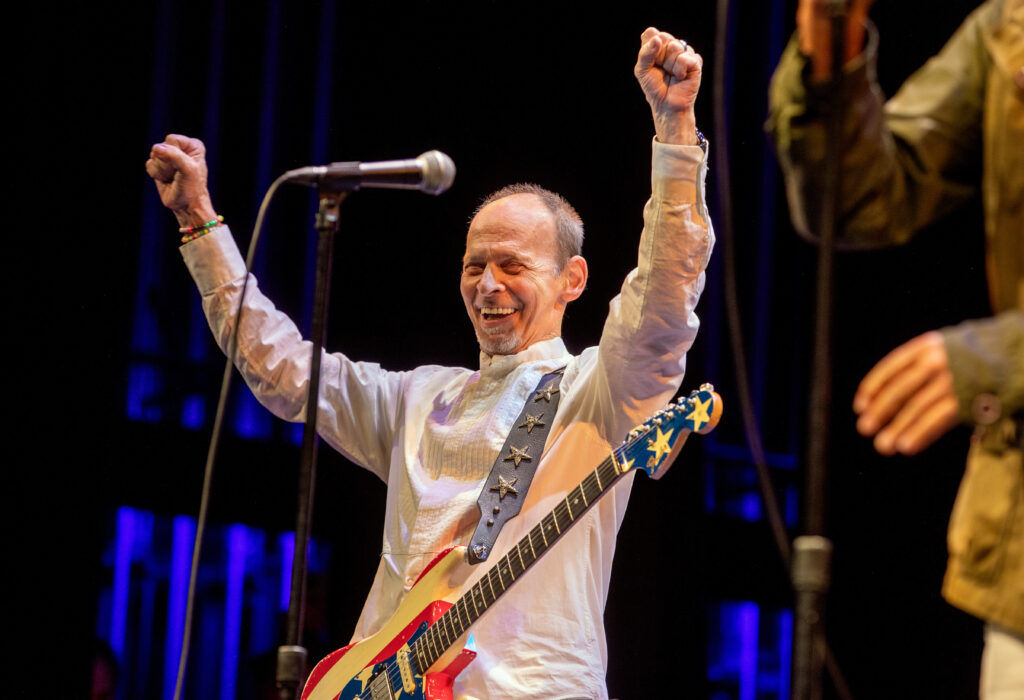 On last month's Record Store Day, Rhino Records released a limited edition five-LP Nuggets boxed set, much expanded from Kaye's original. Kaye said if he'd had any inkling the album would still matter 50 years later, his song choices might have been clouded by visions of history in the making, rather than simple love for the melodies and performances. "I didn't really take it that seriously, and thank God, because it seems to have lasted," he said. "If I tried to make it more formal, it would've been a lesser record."
Last Friday, the Nuggets show unfolded seamlessly for a full house, as multiple guitarists, keyboardists, drummers, vocalists, and string players stepped on and off the stage without delay. Kaye was the host, and sometime player, introducing each act in his new psychedelic shirt with colors echoing the Nuggets orange-and-blue cover art (he said it would only be worn once).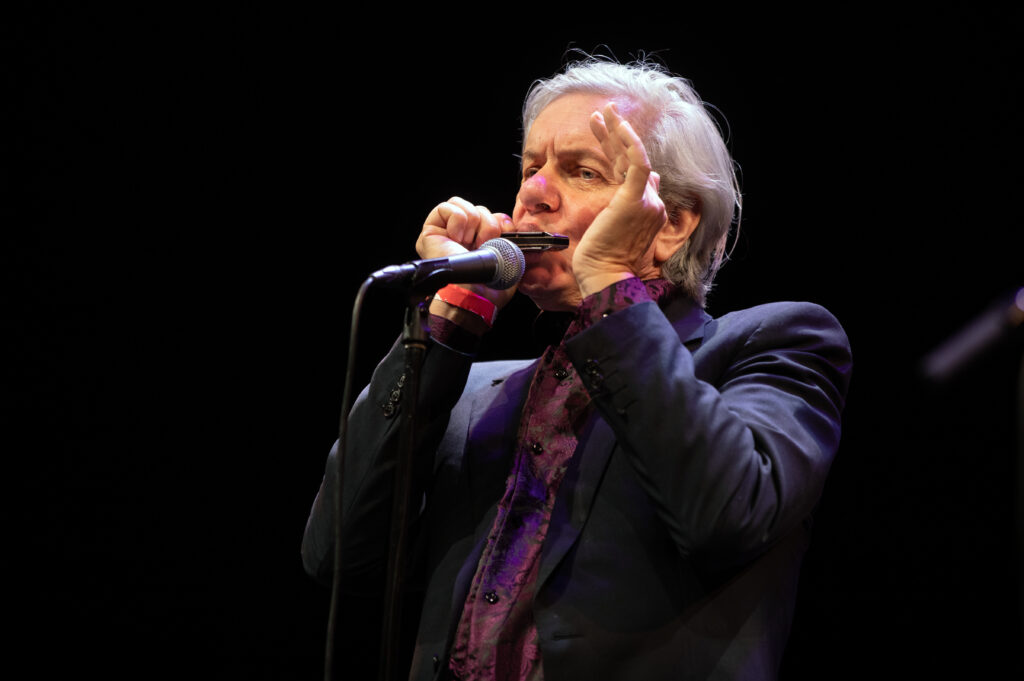 Fleshtones lead singer Peter Zaremba said the night's songs "encapsulate the punk/garage philosophy," then delivered the classics "Dirty Water," "Little Girl," and "Talk Talk" while stomping across the stage and waving his arms with barely contained fire and flair. For the Texas psychedelia of "You're Gonna Miss Me," Valentine reunited with her former partner in the Textones, Carla Olson, as they shouted and dueled with crossed guitars.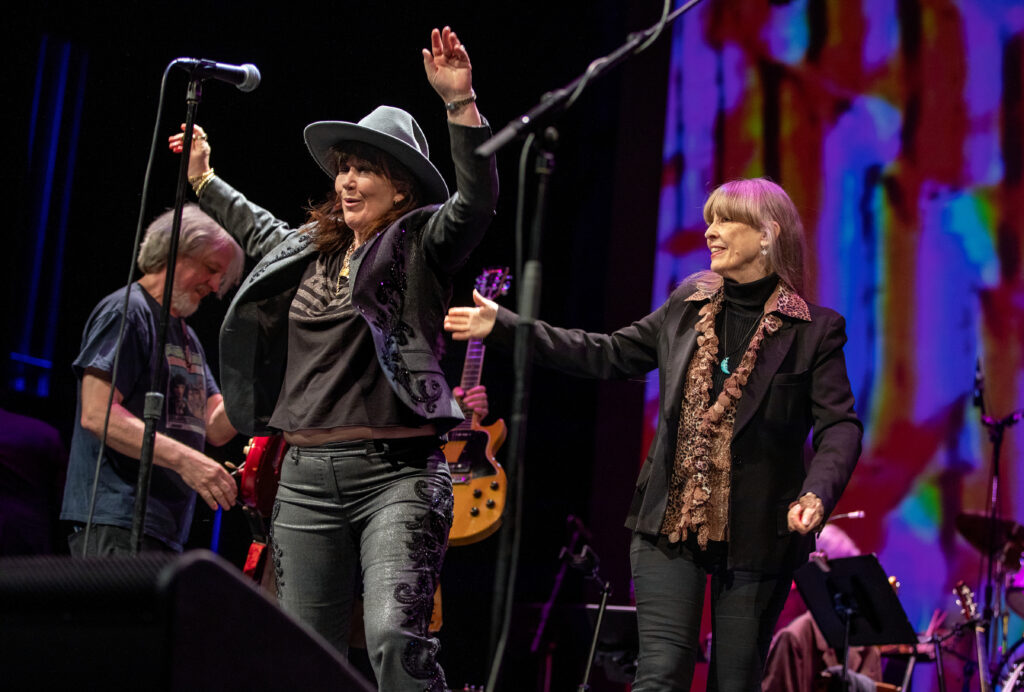 For a sweet, romantic "Sit Down, I Think I Love You," Hoffs was joined by Yankovic on accordion. She returned to sing and dance through "I Want Candy," a 1965 original by the Strangeloves which became a standard in the punk era and was covered by the Bangles. Cindy Lee Berryhill (with members of the Muffs) performed "Are You a Boy or Are You a Girl," a playful, vintage generation gap song about long-haired dudes, Berryhill was careful to note for younger listeners, and definitely not a reflection on modern trans issues. The Paley Brothers (in their first appearance together in decades) performed their "A Little Bit of Soul," and Billy Vera sang his "Don't Look Back" and spoke amusingly of the tune's long, slow journey to any meaningful songwriting royalties.
While most of these nuggets were quick three-minute pop songs, Kramer stepped out like a rock and roll holy man dressed in white, his signature American flag guitar in hand, to join Alarm singer Mike Peters for a nearly six-minute wind-out on "Baby Please Don't Go." The explosive tune was suited to Kramer's gifts. "It's all solo. It's guitars on top of guitars," Kramer said backstage. At their rehearsal last week, Peters noted with a laugh, "I was so engrossed in his playing, I suddenly thought, 'Oh no, I'm supposed to be singing here.' I kind of got distracted by the greatness."
Original Nuggets artists also left a mark during Friday's show, older but still rocking in the next millennium, like much of the audience. Love guitarist Johnny Echols ripped open a classic soaring solo for the teenage heartbreak nugget "7 and 7 Is," with Dramarama's John Easdale on vocals. Count Five singer Kenn Ellner arrived in a vintage Dracula cape, still intact from 1965, to blow harmonica and yowl on "Psychotic Reaction." The song was written when he was 17, and the record came out the day he graduated from high school. Before the show, he told SPIN that the Nuggets album played an important role in keeping the song in circulation.
"It's very meaningful," said Ellner, who will be at the San Francisco show with two other surviving Count Five members. "It put an exclamation point on a sound of music that got lost a little bit. So it's nice that it's given some credibility."
After 31 songs, the night ended the only way it possibly could as far as Kaye was concerned, with the full Wild Honey cast onstage singing along to "Gloria," written and performed by Van Morrison in 1964 with his band Them. The guitarist called it "the national anthem of garage rock," and he's been playing it in one form or another since 1966 (it remains a pillar in the Patti Smith Group's repertoire).
Backstage afterward, Kaye celebrated the night with the Wild Honey musicians. In a few days, he'd be at the Chapel in San Francisco for a very different kind of Nuggets night, with Jello Biafra, Penelope Houston, members of the Flamin' Groovies, and more, which Kaye predicted would "probably be a lot looser and a little bit crazier."
As worn-out musicians said their goodbyes and slowly drifted out, Kaye packed up his guitar and looked back with gratitude. "Oh, it was an amazing experience," he said. "Celebrating the music that has inspired me for half a century and to see it live on in the future is a beautiful thing."