Lana Del Rey tips her hat to the vintage Hollywood glamour of Marilyn Monroe and the Black Dahlia in the nearly 11-minute-long black-and-white video for her song "Candy Necklace," which is out today (May 10). Both the track and video feature guest collaborator Jon Batiste.
In a statement, the Rich Lee-directed clip offers a glimpse of "what it's like for those in front of the camera, behind the smokescreen of fame."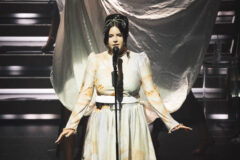 "Candy Necklace" can be found on Del Rey's latest album, Did You Know That There's a Tunnel Under Ocean Blvd., which debuted at No. 3 on the Billboard 200 and topped both the Rock and Alternative tallies.
Del Rey will spend the summer headlining a host of major festivals, including the U.K.'s Glastonbury Festival in June, BST Hyde Park in London on July 9, Lollapalooza and Outside Lands in Chicago and San Francisco, respectively, and the recently announced All Things Go in Columbia, Md., on Sept. 31-Oct. 1.