There comes a time in every Goth's life where they look in the mirror and ask themselves, "Am I too old to wear this?" Well, maybe that's just me, debating on going outside in a cape in the year 2023.
I started wearing ripped fishnets and black lipstick for fun (melo)dramatic effect as a teenager in the '80s, around the same time I discovered Anne Rice vampire novels, the music videos of U.K. bands like the Cure and Siouxsie and the Banshees, and other dark romantic arts, which I came to learn was called "Goth."
That feels like a very long time ago now. Yet this Goth thing, which was supposed to be a youth fad three generations ago, is still kicking around, lingering at the edges of pop culture like fog upon the moors. Sometimes, it is the pop culture. Wednesday, the 2022 Netflix series based on a spooky girl character created by Charles Addams in the 1940s, is now the second most-watched English-language series in the platform's history, with the viral TikTok dance and fast-fashion knock-off dresses to go with it.
The runaway success of Wednesday didn't surprise me at all. I've watched a new Goth heroine emerge every decade. Winona Ryder's Lydia Deetz in Beetlejuice. Fairuza Balk as Nancy "We are the weirdos, mister" Downs in The Craft. Evanescence singer Amy Lee. Kate Beckinsale's catsuit in the Underworld movies. YouTuber Black Friday. We were overdue for Jenna Ortega's Wednesday to enrapture and inspire the next generation of misfits.
No, what's shocking is not that young people continue to be drawn to this subculture that embraces melancholia and angst, but that the Original Goths—now firmly Elder Goths—are still going at it with vigor.
This month, Siouxsie (aged 65, now a solo act) is headlining the Cruel World Festival in California, her first performance in North America in 15 years. She'll play alongside such other OGs as Love and Rockets, Gary Numan, and Echo & the Bunnymen, also in their mid-60s. Meanwhile, Robert Smith of the Cure, a band that's continued to sell out tours despite not putting out a new record since 2008, made headlines worldwide this year after taking on Ticketmaster fees. And he did it while staying true to his signature '80s look of red lipstick, backcombed hair, and black eyeliner. He's 64.
So what is it about Goth that doesn't die?
I've pondered the question of Goth's longevity plenty over the years as I myself have gotten older and ditched many (but not all!) of the accoutrements of my youth. Now I've come to investigate it at its source. The North of England, home to many architects of the post-punk and Goth rock sound and style: Joy Division, Gang of Four, Sisters of Mercy. Home also to Whitby Goth Weekend.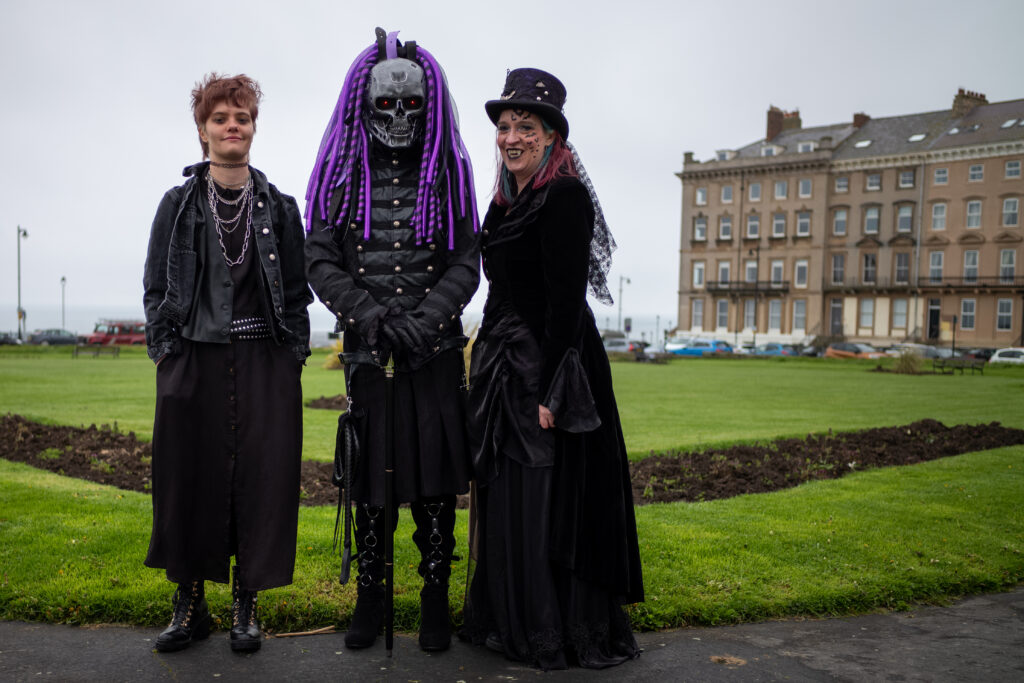 Whitby is a seaside town of about 13,000. It's grey. It's chilly. There's a ruined abbey overlooking a cliff that was Bram Stoker's inspiration for Dracula. And twice a year it becomes terraformed into Planet Goth when thousands descend in their fanciest dress to wander the winding streets, drink merrily in the pubs, and maybe even catch some live bands at an adjunct festival called Tomorrow's Ghosts.
One of the first things I notice upon arrival is that the majority of revelers seem to be over 40, with many couples well into their senior years rocking elaborate gothic ensembles: top hats, corsets, big boots, the whole lot. I can absolutely wear my cape.
Whitby is like no festival I've been to in modern times. There are no VIP tickets. No tickets at all, actually. Barely a social media presence. Definitely no app. If you want to know what's going on, you have to do what Whitby Goth goers have been doing since this started up in the mid 1990s—talk to people.
The first person I meet is Neil, who looks older than me and is outfitted in a thrifted satin dress, fancy hat, pearls, and comfortable red Doc Martens, an essential in a town that seems to be uphill in every direction. He tells me he's from "around the way" and comes to Whitby regularly to enjoy dressing up. "Do you consider yourself a goth?" I ask. "Maybe a closet goth," he says.
View this post on Instagram
It's a term I hear more than once over the weekend, trying to distinguish between those who consider themselves part of the goth subculture and those who would be just as happy here on one of Whitby's Steampunk or Pirate weekends. (The town has made itself something of a destination for cosplay.) Near a statue of Captain Hook and an archway made of whale bones, I meet Ian and Janice from Clifford, exquisitely dressed in velvet finery, who have travelled to Whitby Goth Weekend for the past 18 years. "I've always been a Goth, but it's only the last few years that I thought I'd embrace it more," Ian explains. "In the town I grew up in, people dressed up like this tended to get beaten up. Things are a bit more tolerant now."
Whitby does seem to be a kind of haven to let one's freak flag fly. While the Victorian and Romantic goths are the most eye-catching, there are plenty of folks expressing the trashier punk side of the style spectrum. There's also a noticeable amount of cross-dressing and drag on participants of all ages. Goth has always embraced androgyny and gender-bending—but usually in the clubs, not in the broad daylight in a small town. Here, no one, not the young chip shop waitstaff or the veteran boat trip captain, bats an eye.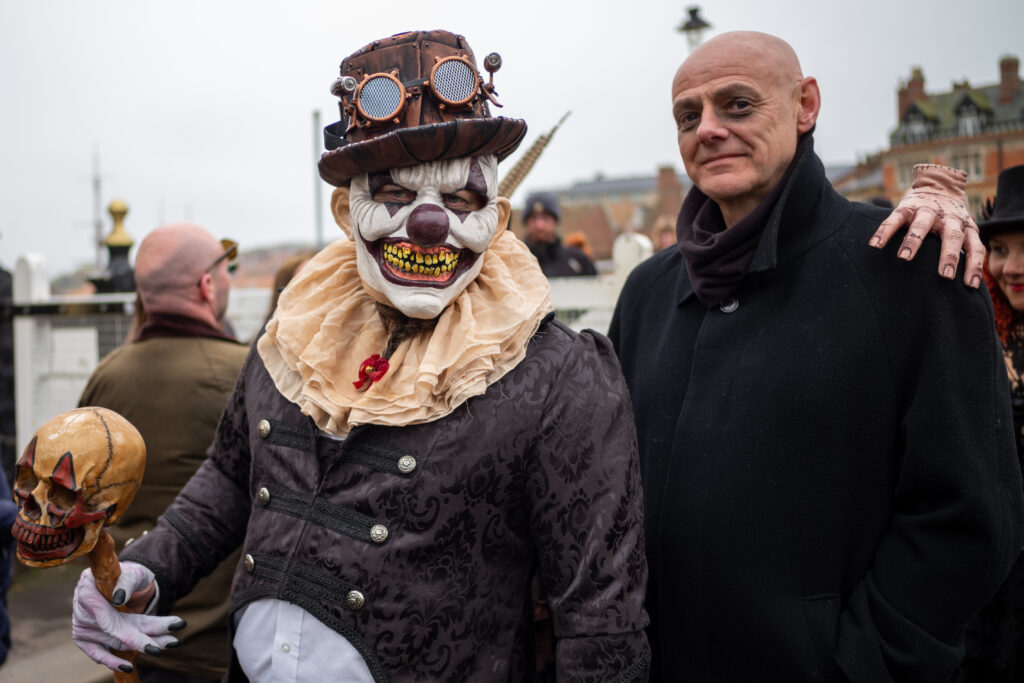 I've always understood Goth to be more than just a compelling style of music, or a fun way to dress. It's a sanctuary, where you can express on the outside how you feel on the inside. It works for the teenager looking for a place where sad and lonely feelings are OK, romanticized even, but also for the aging woman who still wants to play with wild make-up and hair (aka me) or the 70-year-old gentleman who misses the era of fancy formal dress. Here in Whitby, all those ages co-exist, inspiring each other.
On a patio overlooking the sea late one night, I meet V, short for Vasilisa, a gregarious 25-year-old trans man from Nottingham who says he's been dressing goth since the age of six and is visiting Whitby for the first time. He gives me a clue to why Goth continues to endure.
"Seeing the amount of people here dressing in gender non-conforming ways, however you identify, there's so much space for expression," he says. "I think Goth can go a lot further than people even expect."