Ahead of the Friday (June 2) release of their new album But Here We Are, Foo Fighters have brought forth the longest and most musically multi-faceted song of their career this morning with "The Teacher." The song appears to reference the 2022 deaths of drummer Taylor Hawkins and Dave Grohl's mother, Virginia.
The 10-minute track is accompanied by a short film from director/multimedia artist Tony Oursler, who had previously come to the band's attention thanks to his work on David Bowie's 2013 song "Where Are We Now?" The video is an often dizzying blend of vintage footage, some of it shot on VHS more than 30 years ago, with contemporary shots of band members in various states of action. Images of Virginia Grohl flash by throughout.
As SPIN wrote in its review of But Here We Are, "The Teacher" initially balances one of the Foos' most wicked, detuned guitar lines against a poppier, uplifting chorus. The song builds mightily in intensity as it progresses as if Grohl is mentally psyching himself up to finally be able to scream "goodbyeeeeeeeeeee" atop an absolutely massive, cathartic riff which explodes into a vortex of bit-crushed digital noise.
"I can feel what others do / can't stop this if I wanted to," he sings, inviting multiple interpretations as to the identity of the track's narrator(s). Could it be Grohl himself, acknowledging his own inability to save his bandmate and mother? Could it be an otherworldly spirit simply charged with transporting souls to the afterlife? Or could it be Hawkins and Virginia (who was a high school English teacher for 35 years), looking down from above to playfully ask those they've left behind, "Hey, kid / what's the plan for tomorrow? / where will I wake up?"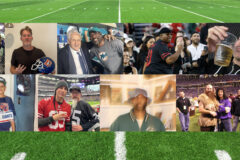 Last week, Foo Fighters returned to the road for the first time since Hawkins' death, with veteran musician Josh Freese now on drums. The group will be the first to perform at the new Washington, D.C. venue Atlantis tonight.