Foo Fighters have confirmed that Josh Freese will serve as the drummer for their 2023 touring commitments, filling the seat of the late Taylor Hawkins, who died suddenly in Bogota, Colombia, in March 2022.
During a livestream today (May 21) on Veeps.com from the group's Studio 606 in Los Angeles, Freese was introduced in a humorous video in which fellow musicians such as Red Hot Chili Peppers' Chad Smith, Mötley Crüe's Tommy Lee, and Tool's Danny Carey attempted to ingratiate themselves for the position before Freese was revealed as having been sitting off-camera the entire time.
"Excuse me, guys — could we just, like, I dunno, play a song or two … something?," he said, before the band tore into the vintage rocker "All My Life."
Freese, 50, is one of the most respected session drummers in rock and is a longtime friend of Dave Grohl and the Foos camp. He previously joined the group on drums during star-studded Hawkins tribute concerts last year at London's Wembley Stadium and Los Angeles' Kia Forum.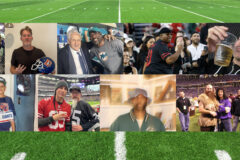 Freese has played drums in the Vandals since 1989 and has performed for long stretches with everyone from Devo, Guns N' Roses, Nine Inch Nails, and the Replacements to Sting, Sublime With Rome, Weezer, A Perfect Circle, the Offspring, Danny Elfman, and Paramore.
Today's stream, dubbed Preparing Music for Concerts, comes three days before the Foos return to the road for the first time since Hawkins' passing. Beyond oldies such as "Monkey Wrench," "Aurora," "The Sky Is a Neighborhood," No Son of Mine," and a brief jam on Huey Lewis' "Workin' for a Living," it featured the debut of a number of songs such as "Rescued," "Under You," and "Nothing at All" from the group's new album, But Here We Are, which will be released on June 2.
Another mystery was revealed in a between-song conversation when Freese asked Grohl how he played a particular drum part in "Nothing at All," thus confirming Grohl handled drum duties on But Here We Are. It's his first drumming credit on a Foos album since 2005's In Your Honor.