In 1993, New York and Los Angeles ruled as hip-hop's capital cities. The perfect group to seize the moment was Cypress Hill: two L.A. rappers, Louis "B-Real" Freese and Senen "Sen Dog" Reyes, and a producer, Lawrence "DJ Muggs" Muggerud, who'd grown up in NYC, fusing the gritty boom-bap of New York with the swaggering menace of SoCal gangsta rap. During the recording of its second album, Black Sunday, the group removed itself from the distractions of Los Angeles and stayed in an apartment in Muggs's native Flushing, Queens, leading to a project that seemed to perfectly synthesize the sounds of both coasts and appeal to the entire hip-hop nation.
Cypress Hill's 1991 self-titled debut had been a sleeper hit, taking a year and a half to go platinum. Black Sunday, however, exploded upon its release in July 1993, becoming one of only two hip-hop albums to top the Billboard 200 that year when it knocked U2's Zooropa out of the No. 1 spot (naturally, the increasingly ubiquitous DJ Muggs was invited to remix U2's single "Numb").
Eventually selling more than three million copies, Black Sunday was an unlikely crossover smash, and the first platinum Latin rap album. It also earned Cypress Hill two Grammy nominations and became the biggest-selling album released by Ruffhouse Records until blockbusters by the Fugees and Lauryn Hill followed later in the decade. With Black Sunday turning 30 this summer, here's a look back at the stories behind each track on the stoner rap masterpiece.
"I Wanna Get High"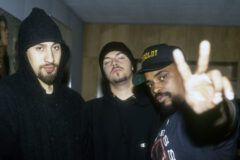 Cypress Hill's debut established weed as one of the group's favorite subjects, thanks to tracks like "Light Another" and "Something for the Blunted." Soon after, pot became part of the election cycle narrative when presidential candidate Bill Clinton told voters in a televised forum, "I experimented with marijuana a time or two, and I didn't like it. I didn't inhale." Six months after Clinton was inaugurated, B-Real opened Cypress Hill's second album wisecracking, "Tell Bill Clinton to go and inhale"
"I like to fuck with the [song structure]. All that 16, 8, 16, 8 shit is dead," DJ Muggs told Complex in 2013, explaining how "I Wanna Get High" wound up with an unusual 14-bar verse in between two choruses.
"I Ain't Goin' Out Like That"
When B-Real and Sen Dog became friends as teenagers in the mid-'80s, there were relatively few hip-hop albums in stores, and heavy rock was their music of choice. "Back then we were listening to groups like Black Sabbath, Led Zeppelin, Pink Floyd," B-Real recalled in Estevan Oriol's 2022 documentary Cypress Hill: Insane in the Brain. Black Sabbath eventually became a key part of Black Sunday – harmonica from "The Wizard" and a squall of guitars from the b-side "Wicked World" are both sampled on the album's third single, "I Ain't Goin' Out Like That."
One of the only early Cypress Hill songs not produced by DJ Muggs, "I Ain't Goin' Out Like That" has a beat put together by Todd "T-Ray" Ray, a friend of the group. Cypress Hill took psychedelic mushrooms at Baby Monster Studios in New York as they recorded it, and it was the last song completed for Black Sunday. The group was banned from Saturday Night Live after Muggs lit a joint on the air during its performance of the song.
"Insane in the Brain"
Though it was little known at the time, Cypress Hill's biggest hit was actually a diss track against Chubb Rock, as B-Real revealed in a DJ Vlad interview in 2020. Chubb Rock had quoted the group's breakthrough single "How I Could Just Kill a Man" on his 1992 track "Yabadabadoo," and Cypress Hill took the verse as a disrespectful mockery of their style. Sen Dog's verse, however, was aimed at another target, L.A. rapper Kid Frost. The memorable "I think I'm goin' crazy" sample from the Youngbloods' "All Over the World" is missing from the end of the song on streaming services today, a casualty of clearance issues.
"Insane in the Brain" helped the group cross over to rock fans, receiving airplay on rock radio and MTV's Alternative Nation. In fact, Cypress Hill played Lollapalooza more than any other hip-hop act during the festival's heyday, appearing on the tour in 1992, 1994, and 1995. When The Simpsons lampooned Lollapalooza in the 1996 episode "Homerpalooza," Cypress Hill appeared in a comical scene where it performs "Insane in the Brain" with the London Symphony Orchestra.
"When the Shit Goes Down"
Black Sunday's second single was built on a sample of "Deep Gully," a '60s obscurity by the Outlaw Blues Band, but it took some trickery to obtain permission to use the song. "When I found that sample, I was like, 'This shit is sick!'" DJ Muggs told Complex in 2013. "But the problem was, we couldn't clear the sample because the owners of the sample didn't want us to call it 'When the Shit Goes Down.' So we changed it to 'ship,' but we didn't even change the word on the actual song. But we told them we changed it, and we wrote 'ship' on the record."
"Lick a Shot"
An upright bass line played by Sam Jones on saxophonist Cannonball Adderley's 1964 recording of "The Weaver" forms the foundation of "Lick Shot." A year after it was released as Black Sunday's fourth single, the nu-metal band KoRn released the hit "Blind," which ends with an instrumental coda of the band essentially covering the "Lick a Shot" beat.
"Cock the Hammer"
The overwhelming majority of Cypress Hill songs open with a B-Real verse, with Sen Dog often entering on the hook or second verse. "Cock the Hammer," however, is the only track on Black Sunday with Sen Dog on the first verse of the song, which samples Brazillian jazz singer Flora Purim and '70s soul group the Emotions.
"Lock Down"
"Lock Down" is a 76-second instrumental interlude built on a loop from Syl Johnson's 1969 track "Is It Because I'm Black." The original reached No. 68 on the Hot 100, and was later sampled on Wu-Tang Clan's "Hollow Bones."
"3 Lil Putos"
"3 Lil Putos" is the third Cypress Hill song to riff on the fable of the Three Little Pigs, after "Pigs" and "Insane in the Brain." It's also the third song by the group to heavily feature lyrics in Spanish, after "Tres Equis" and "Latin Lingo." B-Real is the son of a Mexican father and an Afro-Cuban mother, and Sen Dog, who was born in Cuba and came to America at the age of five, has rapped most of the group's Spanish lyrics. In 1999, Cypress Hill re-recorded some of its greatest hits, including "Insane in the Brain" and "I Wanna Get High," in Spanish for Los Grandes Exitos en Espanol, which reached No. 6 on Billboard's Top Latin Albums chart.
"Legalize It"
The title of reggae legend Peter Tosh's 1976 album Legalize It had long been a rallying cry for marijuana enthusiasts who felt that the plant had been unfairly criminalized. And when Cypress Hill's "The Phuncky Feel One" won the first Top Rap Song award at the 1992 Billboard Music Awards, B-Real concluded the group's acceptance speech with the words "Legalize it," months before the group released a track under that title.
Cypress Hill's more overt gangsta rap material embodied the outlaw allure of gun talk and gang culture, but the group took a more optimistic, activist streak in its weed songs, openly advocating for the legalization of marijuana a decade before the cause grew serious momentum in U.S. politics. Black Sunday's CD liner notes included a page with a list of 19 facts and statistics about the history of marijuana and hemp, and its various uses and virtues.
"Hits From the Bong"
Few hip-hop acts cannibalized their own songs as often as Cypress Hill, with DJ Muggs frequently scratching B-Real's vocals from previous albums on new songs. "Hits From the Bong" features samples from "Stoned Is the Way of the Walk" from the group's debut, and "Hits" itself was also sampled on "I Love You, Mary Jane," Cypress Hill's collaboration with Sonic Youth for the Judgment Night soundtrack.
Outside of the album's singles, "Hits" is Black Sunday's top streaming track and the most faithful live staple in Cypress Hill's concerts, known as the occasion when the group brings out Excalibur, a massive, eight-foot bong.
"What Go Around Come Around, Kid"
"What Go Around Come Around, Kid" is a classic example of Cypress Hill's vocal interplay. The chorus is primarily delivered in B-Real's piercing nasal tone, with Sen Dog repeating his words in the commanding lower register that the group nicknamed his "psycho beta" voice.
"A to the K"
The 1983 film Wild Style was one of the earliest depictions of hip-hop culture, mixing dramatized storylines with performances by early rappers like Busy Bee and the Cold Crush Brothers. In one scene, a pair of stickup kids strike up a conversation with a young couple before one of them says "A to the K," and his partner holds up a rifle. That scene, naturally, opens Cypress Hill's musical tribute to the AK-47.
"Hand on the Glock"
"Hand on the Glock" is not so much an entirely new song as it is a remix of one of the most popular songs from the group's debut album, "Hand on the Pump," which was later interpolated on Method Man and Redman's hit "Da Rockwilder.
"Break 'Em Off Some"
"Break 'Em Off Some" is a perfect display of how many samples DJ Muggs can layer together to create a cohesive groove. The piano is taken from Austrian jazz keyboardist Joe Zawinul's 1968 track "Money in the Pocket." The drums are sampled from both the '70s jazz group Funk, Inc. and from the title track to the Ultramagnetic MCs' 1988 classic Critical Beatdown. Decades later, B-Real would collaborate with Ultramagnetic MCs rapper Kool Keith on the 2019 single "Zero Fux."