Bose and SPIN have teamed for the launch of the Decades of Sound video series, which features Cypress Hill, Wu-Tang Clan's Method Man and Ghostface Killah, and Blur celebrating the groundbreaking music and sound that emerged in the 1990s. Cypress Hill's episode, which finds the group interviewed by Urban Heat's Jonathan Horstmann, is live now.
Shot on location in the United States and London, the campaign honors the artists' roots, explores their journeys and celebrates their careers. Viewers will see how the power of sound kept Cypress Hill, Wu-Tang Clan, and Blur working and dreaming in those challenging early days, how it propelled them into global stardom, and how it's kept them viable and relevant for more than 30 years.
Visit SPIN's Decades of Sound hub for a wealth of exclusive content.
"We are thrilled to partner with Bose to launch this exciting campaign," said Jimmy Hutcheson, CEO of SPIN. "The 90s was a momentous time in music history, and we're honored to celebrate the impact of the legendary artists who helped shape the culture and the sound of not only that decade, but the decades to come."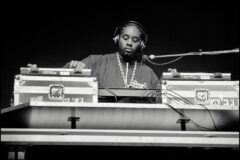 "The 'Decades of Sound' series embodies what we're all about," said Jack Daley VP, Global Media & Partnerships at Bose. "With nearly 60 years of relentless innovation at Bose, there's no greater homage to these iconic artists than providing passionate music lovers with unparalleled listening experiences that truly capture the essence of their music, just as they intended it to be heard."
"With this series, we wanted to return to each artist's roots — walking and shooting the streets in their hometowns, talking about their struggles in those early days, and how the power of music kept them going," said Danny Klein, Creative Director, SPIN. "Through that lens, we're giving exclusive access into these artists' creative processes and historical reflections — and a glimpse into how Bose technology elevates their music listening experience all these decades later."