Blur has surprised fans today (May 18) by announcing its third new album in 20 years. The Ballad of Darren will be released on July 21 by Parlophone. The first single from the project, "The Narcissist," coasts on a chiming guitar line, smile-inducing background vocals, and programmed beats before building to a louder finish.
The 10-track The Ballad of Darren is Blur's first full-length since 2015's The Magic Whip, which itself arrived 12 years after its predecessor, Think Tank. It was produced by James Ford, who has worked on several prior Gorillaz projects with Blur frontman Damon Albarn.
"This is an aftershock record — [a] reflection and comment on where we find ourselves now," Albarn says, without elaboration on just who the titular Darren might be. Adds guitarist Graham Coxon, "The older and madder we get, it becomes more essential that what we play is loaded with the right emotion and intention. Sometimes just a riff doesn't do the job."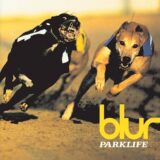 "For any long term relationship to last with any meaning, you have to be able to surprise each other somehow, and somehow we all continue to do that," says bassist Alex James. "It always feels very natural to make music together. With every record we do, the process reveals something new and we develop as a band. We don't take that for granted," offers drummer Dave Rowntree.
The Ballad of Darren will be available in a number of variants and can be pre-ordered here. Some editions include two additional tracks.
Ahead of its first touring activity since The Magic Whip era, Blur will play a handful of rare small venue shows in the U.K. starting tomorrow (May 19) in Colchester. Rowntree, Albarn, and Coxon all hail from the city, and the latter pair met as teenagers there while attending Stanway School. The group will also visit Eastbourne Winter Gardens on Sunday, the Halls Wolverhampton on May 26, and O2 City Hall Newcastle on May 28.
As previously reported, Blur will play some of its biggest London shows to date when it visits Wembley Stadium on July 8-9. The on-again, off-again group's last full show was Nov. 29, 2015, at the Formula 1 Abu Dhabi Grand Prix, although it staged a brief partial reunion in 2019 during an event for Albarn's Africa Express in Leytonstone, England.
Here is the track list for The Ballad of Darren:
The Ballad
St. Charles Square
Barbaric
Russian Strings
The Everglades (For Leonard)
The Narcissist
Goodbye Albert
Far Away Island
Avalon
The Heights
View this post on Instagram