On the final night of the Primavera Sound festival in Barcelona last June, music obsessives who'd been raging all day, every day for more than a week could have been forgiven for bypassing Altın Gün's 3:30 a.m. set on a small stage by the ocean as they straggled back to their lodgings for a very long nap.
But those with strong enough constitutions to check out one final performance just before sunrise that morning saw something quite mind-boggling: six instrumentalists of Dutch and Turkish origin conjuring modern psychedelic (or Anatolian) rock versions of traditional Turkish music with such undeniable creativity and virtuosity that people in the audience were literally shrieking with bliss.
As exotic bağlama melodies nudged up against distorted bass lines and dance party-ready grooves, Altın Gün snuck into the set the then-unreleased songs "Badi Sabah Olmadan" and "Rakiya Su Katamam," which wouldn't officially appear until this March on its fifth album, Aşk. Dazzling a delirious Primavera crowd is one thing, but Aşk, and Altın Gün itself, continues to find new audiences all over the world.
The album debuted at a career-best No. 4 on Billboard's Heatseekers chart and No. 15 on the Top Independent Albums tally, a feat that may never cease to amaze founding bassist Jasper Verhulst, who launched Altın Gün in 2016 after meeting simpatico Turkish musicians Merve Daşdemir and Erdinç Ecevit Yıldız. The group was booked to play at the 2020 Coachella festival and landed a Best Global Music Album Grammy nomination for the previous year's Gece when the pandemic hit, but its forward momentum was clearly not deterred.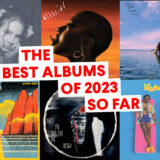 "We never really expected anything like this to happen when we started the band," Verhulst admits over Zoom backstage before a gig in Lyon, France. "We thought it would be too niche-y to really become our full-time band, but from the first show, things started to happen pretty fast. It's still growing. That's what really surprises me. It's not an everyday genre, what we do. But the audiences are very diverse, age-wise and background-wise. That's a very nice thing to see with this kind of band."
To be sure, part of Altın Gün's appeal is that its music can be thoroughly enjoyed even if the listener can't understand a word of Turkish. "That's what I like about our music," acknowledges Verhulst, who is a longtime fan of the Anatolian genre but is far from fluent in the language. "It's very universal, I guess, even though it's exotic. Apparently, it still speaks to a lot of people."
Aşk is comprised entirely of Turkish traditionals, which band members matched to new instrumental beds borne out of jamming. "The Turkish members don't always suggest the songs, but they have to sing them, so they have to give them their okay," Verhulst says. "It's very traditional, this music, but it's still alive. That's what I like about Turkish folk music culture. It's still everywhere there. Where we're from in the Netherlands, there's no traditional Dutch music anywhere."
"It's not just understanding the words, but also the sound of the words and the melodies that really speak to me and everyone else in the band," he continues. "That's an issue I sometimes had with previous bands — the lyrics would always be an extra thing to annoy or distract me. Now, the voice is just an instrument, because I don't really understand the words. It's more about sounds and intentions than the words, and I kind of enjoy that."
The new album moves Altın Gün away from the pandemic-necessitated, synth-driven sound of the dual 2021 releases Yol and Alem towards more of a full-band approach. The musical equivalent of zig-zagging through hidden ancient streets, songs such as "Su Sızıyor," Çıt Çıt Çedene," and the beloved Turkish traditional "Leylim Ley" offer frenzied, global-flavored delights, while the triple-digit BPM closer "Doktor Civanim" almost imagines Giorgio Moroder or Daft Punk getting funky with a bunch of Turkish street buskers.
"The biggest concept of this new album was that we wanted to do it as much live and as a band together as we could," Verhulst says. "The previous two albums were more electronic and more demoed from home, and we used more synthesizers and drum machines. With this album, we thought, let's just go back to basics, rehearse for a couple of weeks, make some new songs, and then record them direct to tape without too many overdubs. That's what we did. It's basically mostly live, what you hear. Even some of the vocals were recorded live together with the band."
Striking while the proverbial iron is hot, Altın Gün will play some of the biggest North American venues of its career on tour over the next few months, including the 1,600-capacity Brooklyn Steel in New York on July 31 and the 1,500-person Belasco Theater in Los Angeles. The group also co-organized a spring benefit concert at Amsterdam's Paradiso to raise money for victims of the devastating Feb. 6 earthquake in Turkey, which has killed nearly 60,000.
"For a lot of people, these songs feel fresh, but for us, it's a record we made a year ago, so the songs are not as new for us anymore as they are for the audience," Verhulst says. "But I must say, with this band, especially since we're a band that plays mostly traditionals and folk standards, it's also slightly different. We see ourselves more as a live band, so the albums we make are something extra. Of course, we like to work on new material and record it, but the live shows are still the highest priority."