On late Saturday afternoon during Coachella's first weekend, SPIN hosted its annual Desert Oasis Pool Party. Taking place at a private estate in Palm Desert, the event was one of the weekend's most highly anticipated off-site events and did not disappoint. Attendees were treated to an array of world-class culinary delights prepared on-site by a private chef, and enjoyed a variety of custom-made cocktails and Mezcal provided by Victorioso.
And there were special guest performances. Fresh off her appearance at Coachella on Friday night with Jamie Jones, Anabel Englund dazzled the packed house with a DJ set inspired by the party's majestic views and high-energy vibes. She was joined by SOHMI, who swung by after her Coachella set, to spin a set of minimalist pop-tech combined with bangers. DJ Ry Toast spun her mix of tunes on vinyl to set the mood early on.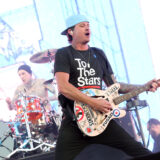 Hundreds of people, including a number of VIPs like actors Grant Mellon and Paris Berlec, and artists who performed at Coachella including DRAMA, WHIPPED CREAM, and Mareux, packed the estate and flooded the dance floor. They enjoyed photos at our photo booth, relaxed by and jumped in the pool before heading to the Empire Polo Fields to take in Saturday night's action.
Check out more scenes from our Desert Oasis party and we hope to see you next year!