Blue Chips is a monthly rap column that highlights exceptional rising rappers. To read previous columns, click here.
Rap rewards groups, crews, and cliques. Semi-free Substacks, the back pages of semi-functioning blogs, and the few music publications still on life support are full of articles championing conglomerates of loosely affiliated artists. Aligning yourself with a crew can also translate to valuable networking — fellow members can link you with booking agents, managers, etc. — and visibility. For better or worse, Gabe 'Nandez has spent much of his career moving solo.
"I'm not really cliqued up. I never have been," 'Nandez says over the phone from his apartment in Manhattan's Lower East Side neighborhood. The Malian and Argentinian son of UN diplomats, he spent his childhood globetrotting and changing schools, which might explain his preference for solitude. "This rap shit is similar to the politics of a school environment. It's very tribal and cliquey.… I'm really focused on music."
'Nandez is several years sober, but he's wired and coming down from a sleepless night of writing when he answers the phone early on a weekday morning. He writes lyrics every evening after work, collapsing at sunrise or channeling his creative high into early morning Muay Thai training. The 29-year-old's regimented and almost monastic devotion to his craft is evident in the polish of his music, from the harrowing and autobiographical Bildungsroman of Diplomacy (2019) to his feature verse on billy woods' Aethiopes (2022) and this April's Pangea.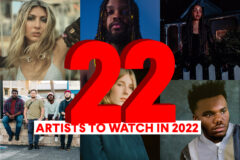 While 'Nandez's music has been featured in outlets like Pitchfork, Bandcamp, and Stereogum, the rapturous praise heaped on New York drill stars and the city's recurring crop of uninspired '90s fetishists has eluded him. It could be his lack of clique affiliation, his slight social media presence, or the unpredictability of his projects. In our era of passive listening and mood-driven playlists, rappers are rewarded for familiar rehashings of previous work instead of artistic risk and, perhaps, growth.
"I switch sonically a lot from project to project. I don't want to make the same thing twice, at least not back-to-back," 'Nandez explains. "That just sounds so boring to me, and I don't want to get bored when I'm creating."
Whether he's rapping over icy and modern boom-bap ("Ox") or guitar-accented trap ("Up Top"), 'Nandez sounds like he's digested and reconceived decades of New York rap. Imagine a cross between Guru and KA with Rawkus-era Mos Def's energy and hints of DMX-level aggression, and you're close to his sound but not quite on the mark. Far from music nostalgia-driven pastiche, 'Nandez's music is the next evolution of regional tradition. His smoke-coated baritone imbues brass-knuckle threats and braggadocio with menace and the more philosophical and literary lines with gravity. Raised in a multilingual household, he sometimes effortlessly slides in and out of English, dropping Spanish phrases and entire sixteens in French.
April's Pangea is 'Nandez's most formally accomplished project and the first to feature so many collaborators. Recorded in the summer of 2020 and produced by Tony Seltzer (Wiki, MIKE, Princess Nokia), it's a knocking and propulsive time capsule, the features from rising NY city rappers like YL and Radamiz a testament to 'Nandez's continued efforts to build his artistic circle. Pointed darts ("Context") bump next to bouncing flexes that should be rattling Jeeps and club speakers in every borough ("Risk"). 'Nandez also delivers a drug-addled memoir that feels like watching someone Harlem shake to Requiem for a Dream ("Transactions"). While he raps with the precision, fluidity, and destruction of a martial artist, you can feel the mania bubbling underneath every bar.
"Pangea is just very high energy and manic, very explosive. I was in a crazed state. I'm always in a trance when I'm making music, but it was a different trance. We all know how crazy it got," he explains. "[I felt like that guy in Crank]. I was like a ticking time bomb. Everything was so unpredictable."
If there's one word that encapsulates 'Nandez's childhood, it's unpredictable. Born in White Plains, NY, he accrued more passport stamps before high school than most will in a lifetime. Jerusalem, Haiti, New York, Tanzania, New York — the family moved wherever his father's work at the UN took them and traveled often. 'Nandez attended French-speaking schools wherever they landed, learning English from watching TV and listening to rock legends like Jimi Hendrix and Nirvana. While he learned guitar in his early teens, he regularly confronted his Western privilege.
"From the balcony of the crib [in Haiti], I could see the slums… There was a garden and a pool and everything, but you look down and there's just tin roofs all over the place. It's stark," he explains. "As a teenager, I had a lot of guilt. I'd see kids that looked just like me, but they didn't have kicks and their clothes were fucked up. They had to work. Our realities were so different."
The youngest of three children, 'Nandez's reality changed drastically when his older brother died after being hit by a train. The combination of grief, the constant dislocation, and the influence of his rock idols led a 13-year-old 'Nandez to experiment with drugs and alcohol. By the time he was in high school in New York, he was a full-blown druggie. Music afforded him a similar escape. Discovering Lil Wayne and DOOM led to a newfound appreciation for rap and his earliest at-home recordings. Though 'Nandez ran afoul of authorities and caused his parents much consternation, he was admitted to Concordia University in Montreal.
'Nandez divided his time at Concordia between journalism courses, recording, and seeking the next numbing or mind-expanding high. Following feverish summer recording sessions in his parents' basement in New Rochelle, he released his first album, 2014's H.T. The project gained traction from blogs like NahRight, but 'Nandez wanted to get his college degree before focusing on his rap career. After graduation, though, he realized his problems with drugs and alcohol had spiraled beyond his control. He devoted himself to getting sober, revamped his sound, and recorded the largely self-produced Diplomacy, which remains his most personal album.
"It was so hard to make it. It was more than making a record. There was such intense self-reflection," 'Nandez explains. "It was a coming-of-age thing. I'm really proud of that record. It's much more personal than Pangea."
Pangea arrives just as 'Nandez's profile reaches new highs. His 2021 single "Ox" has nearly a million streams on Spotify, and appearing on woods' Aethiopes alongside Boldy James is perhaps the biggest indie rap signal boost anyone could imagine.
"Woods is one of the best writers in rap ever. Period," he says. "It's the most validating thing to have someone like billy woods be like, 'Gabe belongs here.'"
More eyes are on 'Nandez than ever before. He hints at more high-profile collaborations that could provide even more visibility in the near future. For now, however, he's only concerned with writing every night and creating more music.
"I'm not where I want to be, but I'm so happy. I love my life," he says. "I have great friends. If I croaked in 20 minutes, I'd be like, 'I did my thing.' From a soulful perspective, I'm in bliss. As far as the path, I got a lot more to give."