Foo Fighters have revealed details for their first album since drummer Taylor Hawkins' March 2022 death. But Here We Are is due June 2 from Roswell Records/RCA and is led by its first single and opening track, the driving rocker "Rescued," which is out now.
It's difficult not to imagine lyrics such as "it came in a flash / it came out of nowhere / it happened so fast / and then it was over" as a reference to Hawkins' sudden death, but for now, the Foos are keeping this type of information to themselves. No credits were listed with "Rescued," so it's unclear whether the track features recordings of Hawkins on drums made before his death, or whether Dave Grohl or someone else is behind the kit.
All that's known about But Here We Are is that it was produced by the band with Greg Kurstin, who helmed the Foos' two prior albums, 2017's Concrete and Gold and 2021's Medicine at Midnight. The album cover also sports a largely indecipherable image against a white background. It can be pre-ordered through the Foos' website.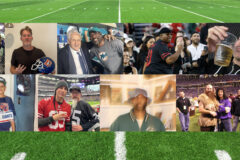 In a press release, But Here We Are is described as "the sound of brothers finding refuge in the music that brought them together in the first place 28 years ago, a process that was as therapeutic as it was about a continuation of life." The album's 10 songs are said to "run the emotional gamut from rage and sorrow to serenity and acceptance, and myriad points in between."
The band has yet to publicly name who will play drums on its 2023 tour dates, which begin May 24 in Gilford, N.H. Pearl Jam's Matt Cameron, who was a close friend of Hawkins', recently dispelled rumors that he'd be filling in.
In a New Year's Eve social media post, the Foos broke their silence about their intent to continue as a band, acknowledging, "without Taylor, we never would have become the band we were — and without Taylor, we know that we're going to be a different band going forward. We also know that you, the fans, meant as much to Taylor as he meant to you. And we know that when we see you again — and we will soon — he'll be there in spirit with all of us every night."
Here is the tracklist for But Here We Are:
Rescued
Under You
Hearing Voices
But Here We Are
The Glass
Nothing at All
Show Me How
Beyond Me
The Teacher
Rest