Ahead of its must-see performances at Coachella later this month, jazz-leaning supergroup Dinner Party is releasing a new album on short notice. The nine-track album titled Enigmatic Society arrives on April 14; a new single, "For Granted" featuring vocalist Arin Ray, is out now.
Dinner Party, which finds Terrace Martin, Robert Glasper, and Kamasi Washington flanked by a rotating cast of musician friends, released its lone prior projects, Dinner Party and the Grammy-nominated Dinner Party: Desert, in 2020. The new album's first single, "Insane" featuring Ant Clemons, arrived last month.
"For Granted" is largely a showcase for the smooth, multi-faceted vocals of the Cincinnati-reared Ray, who performed with Martin during the latter's week-long run last week at New York's Blue Note. Sharp-eared listeners will detect a sample of running water woven throughout the instrumentation.
Enigmatic Society sports additional contributions from Tank and Phoelix, while Washington's sister Amani designed the album cover art. In between the two Coachella weekends, Dinner Party will perform on April 17 on ABC's Jimmy Kimmel Live!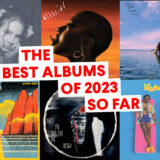 Here is the tracklist for Dinner Party's Enigmatic Society:
"Answered Prayer" (feat. Phoelix)
"Breathe" (feat. Arin Ray)
"Insane" (feat. Ant Clemons)
"Watts Renaissance"
"For Granted" (feat. Arin Ray)
"Secure" (feat. Phoelix & Tank)
"Can't Go" (feat. Phoelix)
"The Lower East Side"
"Love Love" (feat. Arin Ray)