Gorillaz returned to Coachella last night (April 21) for the festival's second weekend, augmenting their guest-studded set from the previous Friday with even more star power this time around. The Damon Albarn-led group was joined throughout by Beck, Bad Bunny, De La Soul, Yasiin Bey (formerly Mos Def), Thundercat, Bootie Brown, Little Simz, and Del the Funky Homosapien.
A few of the surprise appearances were a repeat from last weekend, including the surviving two members of De La Soul on "Feel Good Inc." The 2005 hit was again dedicated to late De La Soul principal Trugoy the Dove, who died in February.
New last night were Beck, who guested on "The Valley of the Pagans," and a masked Bad Bunny, who added his smooth Spanish vocals to "Tormenta." As he often does at Gorillaz's festival performances a la Coachella, Bey appeared alongside the Hypnotic Brass Ensemble for "Sweepstakes," per Setlist.fm.
For now, the Coachella appearances have capped Gorillaz's touring activity in support of their early 2023 album Cracker Island, a worldwide chart success which debuted at No. 3 on the Billboard 200 and No. 1 on Top Alternative and Top Rock Albums roundups.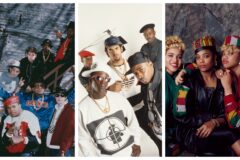 Coachella continues today with a headlining performance from Blackpink. Skrillex, Four Tet, and Fred again.. will wrap things up tomorrow as the replacement for Frank Ocean, who pulled out earlier this week after a much-critiqued set last Sunday.