Blink-182's last-minute reunion was just one of many surprises yesterday (April 14) on day one of the 2023 edition of the Coachella festival in Indio, Ca. Gorillaz offered perhaps the most star power in a single performance, with the surviving members of De La Soul joining for "Feel Good Inc." and Thundercat, Slowthai, Bootie Brown, Del the Funky Homosapien, Peven Everett, and Jamie Principle all appearing throughout the set.
The Weeknd also made an unannounced guest spot, crashing Metro Boomin's guest-packed set and performing six songs of his own. They included the debut of "Double Fantasy" from The Idol Vol. 1 as well as "Low Life" with Future and "Creepin" with 21 Savage and Diddy. John Legend and Don Toliver also lent a hand during the performance.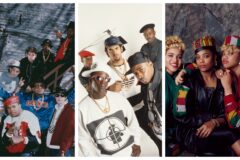 The collaborations weren't limited to hip-hop, as Chic's Nile Rodgers joined Blondie on guitar for versions of "Rapture" and "Backfired." Phoebe Bridgers also teamed with MUNA for the latter's "Silk Chiffon," which they've previously performed at festivals and on The Late Late Show with James Corden.
Fans can expect a host of additional guest appearances throughout the weekend, which will be capped by Frank Ocean's headlining set on Sunday. It's the artist's first live appearance since 2017.