Foo Fighters guitarist Chris Shiflett gives a nod to lost friends from his Santa Barbara, Ca., hometown on "Dead and Gone," the latest single from a solo album expected for release later this year. The track features Charlie Worsham on dobro and Tom Bukovac on guitar, and as with prior single "Black Top White Lines," was recorded with producer Jaren Johnston of Cadillac Three.
"My hometown was an odd mix of luxury paradise and working-class grit and continues to be a bottomless pit of lyrical inspiration," Shiflett says of the new track. "Sad to say there's been more than a few friends who've left us too soon, so there are lots of stories there — kind of a lost generation."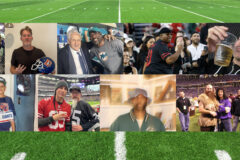 Shiflett previously said he was driven to work on the as-yet-untitled album with Johnston because he "knew he'd push me out of my comfort zone into new territory," which has led to fruitful recording sessions and live performances in Nashville.
Shiflett's calendar is about to get very full with Foo Fighters commitments, including the band's first tour since drummer Taylor Hawkins' 2022 death and a new studio album, But Here We Are, out on June 2. However, he will find time for a solo performance as part of Americanafest 2023, which takes place Sept. 19-23 in Nashville.