Before moving to Los Angeles in the fall of 2020, Bren and Cal Paulhus believed they were a big break away from stardom. They now laugh at their past naivete, how they used to interpret each co-sign and streaming milestone as a portal to another, more glamorous world. "We've grown numb to a lot of things," Cal tells me over Zoom, scratching his cheek. "Little stuff never takes you where you want to be," Bren adds, who's apt to finish his brother's sentences, and Cal his.
The brother duo from Massachusetts, who go by Brevin Kim, have a sagacious view of what it means to make it in the modern music industry. They're less interested in TikTok virality or manufacturing a marketable brand on social media than they are evolving as artists and continuing to iterate upon their genre-bending sound. "I know it's been a slow road for us, but this is, I think, how you build a career," Cal says. "You do it gradually, not overnight."
For the past seven years, Brevin Kim has checked box after box, hoping their accretion of artistic accomplishments will eventually be reflected in their bank accounts. They're signed to Rostrum Records, the indie label whose roster once included Mac Miller and Wiz Khalifa; Rolling Stone profiled them prior to their 2020 debut album, no less than three, identifying them as "artist[s] you need to know"; songs like "somebody, some body" and "Naples" have netted several million streams apiece on Spotify, and their singles are regularly featured on prominent editorial playlists; they've collaborated with Dylan Brady of 100 gecs on multiple occasions, worked with Kanye West's producer Mike Dean on a compilation project Dean executive produced, and have received passing affirmation from stars like Charli XCX and Dominic Fike. But as they gear up to release their spectacular third album, High School Football, they're struggling to keep their spirits high.
"We've talked about stopping," Bren says, adjusting his bright-orange beanie and shifting his gaze away from the webcam. "It's so hard to pay the bills with music. It's the toughest part of our lives right now, being this broke." Since quitting their day jobs and committing to music full time—Bren used to work for their dad's tile company, and Cal was in a management program at a paint store—they've struggled to stay financially afloat, barely breaking even each month. Cal says this financial insecurity has begun to hinder their creativity. "When you're making music when you're down mentally and financially, it's not easy to get inspired. You start to feel like you're a robot, wondering what a song is going to do. How many times can we make a song that we feel is deserving of a break? That changes our lives?"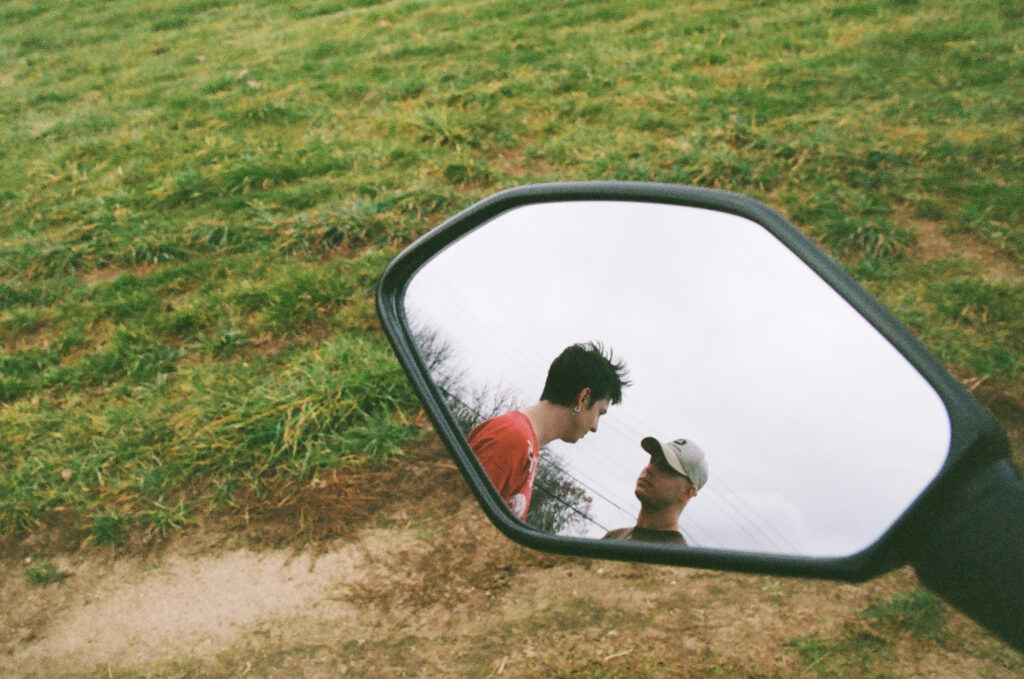 At the core of Brevin Kim's music is raw, explosive emotion. You can hear it in their anguished voices, their surprising production choices, their agitated melodies. If you connect with it, you'll really connect; if you don't, you may be turned off by the excess and melodrama. In their songs, they battle depression, fall in and out of love, miss their parents, indulge in shame spirals, and long for better days. Their writing eschews clean narrative arcs and ready-made meanings, instead favoring simple, suggestive lyrics that are often open for interpretation. Their sound can broadly be classified as pop, but it oscillates from aggressively Auto-Tuned indie rock to 808-bludgeoned melodic trap. In the past, they've been lumped into the hyperpop and emo-rap scenes, but they don't neatly fit into any specific genre niche. Their latest album, 2022's Pain Museum, pirouetted between their wide-ranging influences, veering from distorted noise rap to polished guitar-pop. It's a boisterous record full of big ideas, though Cal admits it "was not a cohesive project." They're proud of it, but its reception didn't move the needle as much as they hoped it would.
"No matter how good of a song you make, if you don't have the rest of it, you're screwed," Bren says. "You have to have the look, the budget, the TikToks, the Instagram. You have to have all of these things before having a good song. But me and Cal, we just want to make a good song."
In 2016, when Brevin Kim began releasing music on SoundCloud, their only goal was to make a good song. Still living in their hometown of North Attleboro, Ma.—a working-class suburb 40 miles south of Boston, where art was an afterthought and "high school football is literally the most important thing," according to Cal—Bren and Cal would return home from work and spend evenings making music. "We were barely thinking about it and just made whatever felt right that day," Cal says. "But we were proud of what we made and wanted to share it with the world immediately. We miss those times so much."
The strength of those early releases, along with a comprehensive visual aesthetic replete with masks, grainy textures, and black-and-white images, catapulted Brevin Kim into the enviable yet challenging position of competing for mainstream attention against an infinitely regenerating pool of aspiring pop stars and influencers. This means that the brothers must make TikToks, maintain an active presence on social media, and play "the game," as Bren calls it if they want to expand their audience. "Everything's so orchestrated," Cal says, leaning forward, a frown furrowing across his brow. "It's not even really about the music anymore."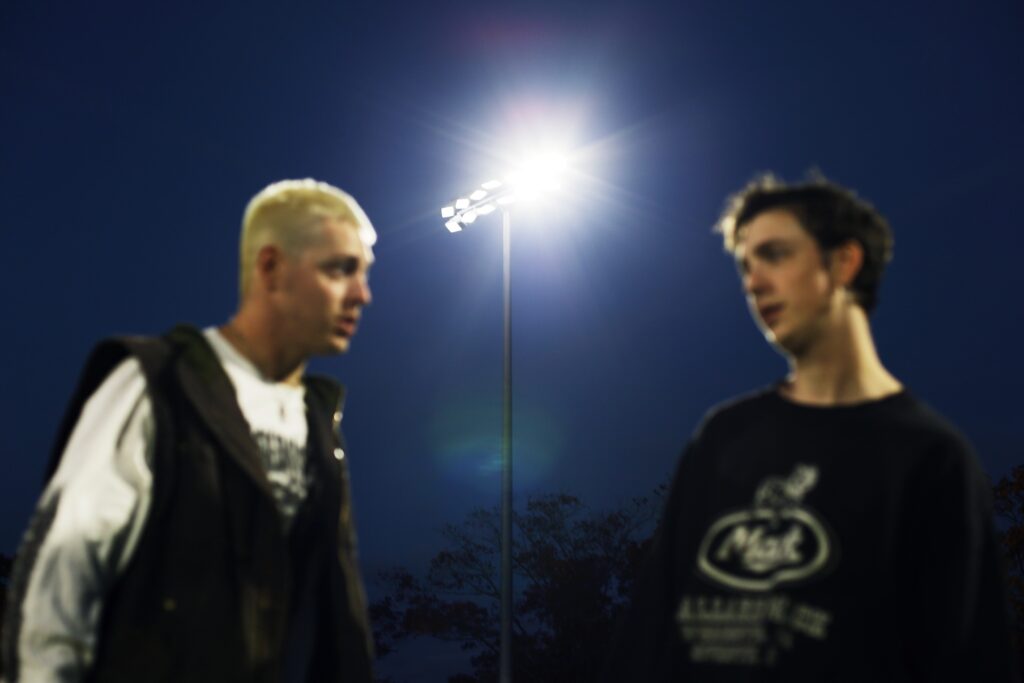 Since moving to Los Angeles, they've seen firsthand how saturated the industry has become, how some artists prefer promoting themselves on social media over making a meaningful body of work. "Go to a party here and look around," Cal says. "All these TikTok clowns—everybody is rich and I don't know how." Brevin Kim would like to be rich, too, but they're not willing to sacrifice their creative integrity to do so. "We don't have certain bones in our body to make something corny," Cal says. Bren nods in agreement. "We couldn't do it."
This commitment to craft is admirable, inspiring even, but it may prove burdensome as Brevin Kim crescendos out of the narrow window an artist has to "blow up" before becoming old hat. On the one hand, they are making the most fully-formed music of their lives; on the other, they've entered a sort of industry purgatory where they're big enough to earn millions of streams yet too small to tour, where they're respected by acclaimed peers yet struggling to pay the rent. With stakes this high, it'd be tempting for Bren and Cal to pivot to a path that prioritizes trend-hopping over artistic ingenuity.
Their latest album, High School Football, refuses to compromise. The brothers are betting that their brand of versatile, distinctive pop music will win out over clever marketing strategies and fleeting social media fads. Drawing from their love of artists like Bon Iver, Novo Amor, and Pinegrove, High School Football represents a significant evolution in Brevin Kim's sound: it's a guitar-driven alt-pop project preening with sophisticated arrangements, affecting melodies, and earworm hooks. "I'll Be Damned," for instance, rattles with bright acoustic guitars, breakbeats, and crunchy electric guitar tones, while "Sell Me One" sees Bren give a stunning vocal performance over a warm guitar riff and thrashing percussion. Brevin Kim, as ever, bound with idiosyncrasy, their big, bleeding hearts bursting with visceral, revealing emotion.
The album's thematic focus zeroes in on their careerist anxieties, and the toll their dwindling mental health has taken on themselves and the people around them. On the project's nominal thesis statement, "Walk On By," Bren surveys his accomplishments while also acknowledging a deep-seated fear: "I'm like two years gone from not being anyone." When I ask him about this line, he nods plainly and says, "It's what the whole album's about…what if in two years I'm back home, working with my dad?"
Bren and Cal understand the context in which they're releasing High School Football, and are prepared for whatever lies ahead. They may not be able to control the algorithms, or pretend they're people they're not, but they find solace in the fact that they've pursued their artistic ambitions when so few people from their hometown did. "We broke free…no matter how down we are, we know we're meant for this," Cal says, peering over at his brother. "That hope is always there. We can't actually give up. We contemplate giving up because we're not seeing the results we want, but we can't give up because this is the only thing we love to do."