Dead & Company drummer and founding Grateful Dead member Bill Kreutzmann will not be joining the band on its final tour this spring and summer, according to a statement released today (April 22).
"Every day, things change. After many long discussions and some good old-fashioned soul searching, we are letting you know that our brother Bill Kreutzmann will not be joining us on our final summer tour. Bill wants you to know he is in good spirits, good health and he is not retiring," the band shared on social media, adding, "This is the culmination of a shift in creative direction as we keep these songs alive and breathing in ways that we each feel is best to continue to honor the legacy of the Grateful Dead. The Final tour will go on as planned with Bill's full endorsement and support."
The letter was signed by "Billy" as well as the other members of Dead & Company's current lineup: Grateful Dead principals Bob Weir and Mickey Hart, plus vocalist/guitarist John Mayer, who handles the late Jerry Garcia's parts on stage.
There's been no information released yet on who will replace Kreutzmann, though San Francisco drummer Jay Lane (a member of Bob Weir's Ratdog) has done so as recently as 2022 when Kreutzmann had to sit out tour dates due to health issues.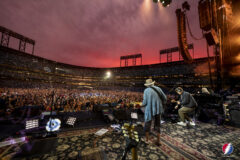 Dead & Company formed in 2015 and have been a staple on the summer touring circuit ever since. Their final tour kicks off May 6 with an appearance at the New Orleans Jazz & Heritage Festival.
View this post on Instagram