By the end of 2021, Kaleena Zanders had already clocked over 200 million streams as a top house vocalist, songwriter and producer, working with artists like Chris Lake, AC Slater and countless more. She had also landed her single "Carry Us" with LP Giobbi on Billboard's 40 Best Dance Songs of 2021 and as one of Forbes' Biggest Songs of 2021. Fast forward, she was recently featured as the face of Soundcloud during Black History Month (February, 2023) and Apple Music Dance (March, 2023).
One of the many reasons for Zanders' continued rise is that she took on the challenge of learning the decks and establishing herself as a prominent DJ. Adding her captivating live Gospel House vocals to her own DJ sets, Zanders is now hitting differently on some of the biggest stages in electronic dance music, including Beyond Wonderland; Elements; EDC Las Vegas; a recent string of shows at Miami Music Week with headliners LP Giobbi, James Hype and Oliver Heldens; and upcoming dates with Dr. Fresch.
Zanders is acutely aware of her impact on the music industry and how she's forging a path for others who may not be so well represented. And though she's at the top of her game by any standard, she remains refreshingly humble and her sense of gratitude is always center stage.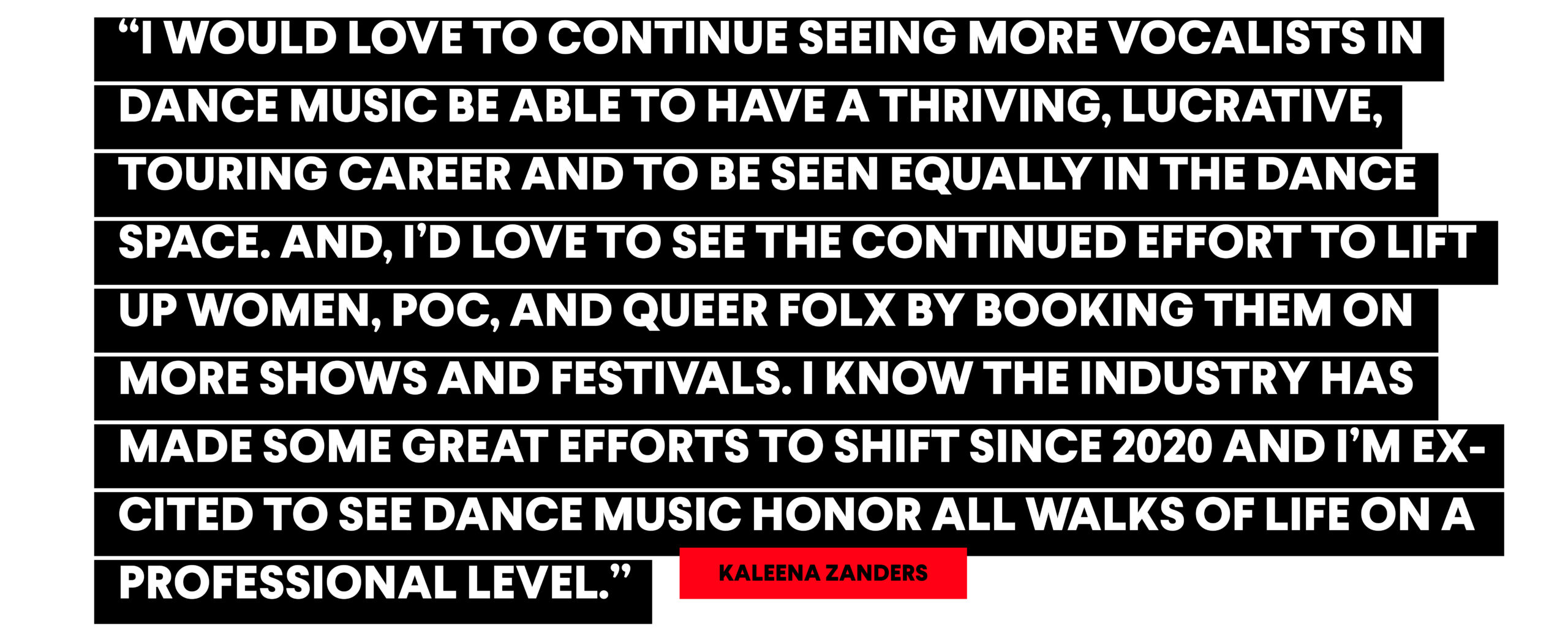 Her new single, "Real Love" just dropped today and we can't stop singing the hook. But it goes deeper. As Zanders explains, "'Real Love' is about my higher conscience talking to the low vibrating imposter, the self sabotaging inner dialogue that I have to monitor everyday. The little voice that I have to scold, coach and give ultimatums to. It's kind of funny to treat yourself as two selves but for me, this has helped me crawl out of some of the darkest places in my mind."

We connected with Kaleena Zanders to talk about her role as a social justice warrior, how fronting rock bands in her early days has influenced her stage presence today, where her unique sound comes from, and much more. Stream Real Love here and check out the windiest SPIN SET ever below. Want more? Head over to SPIN TV to keep up with all the latest and greatest DJ's/producers pushing the boundaries of electronic music.
Who is Kaleena Zanders and what do you stand for?
A couple of loaded questions here haha. Have you ever seen Everything Everywhere All At Once? I'm the mom, the daughter and the dad all in one. In addition, being unapologetically fabulous, fairness and love. If you look at me it's fair to assume that on a daily basis I have a lot to represent. Being a black, queer gender fluid womxn, I am forced to be a social justice warrior and that isn't an easy task but I must say I'm having a great time!
Tell us about your sound – where does your style originate from and what have been your biggest visual, social, and sonic influences?
My sound is like if Tina Turner and Luther Vandross had a baby who was reminiscent of Whoopi Goldberg & Janet Jackson but 4 on the floor with hints of Robyn S Cece Piniston, Chaka Khan, & Whitney Houston hanging in an underground EDM church. I'd also say that my sound originated from my mom playing incredible tunes on vinyl from iconic artists like those mentioned above whilst I was hibernating inside her stomach.
As a teen, I listened to a lot of rock, nu metal, and rap and I feel like that headbanging teenage me still comes to the forefront when I'm performing even though I am doing dance music. I remember looking at bands and thinking how cool it was to be so expressive on stage. They really let it all out, so that's what I do!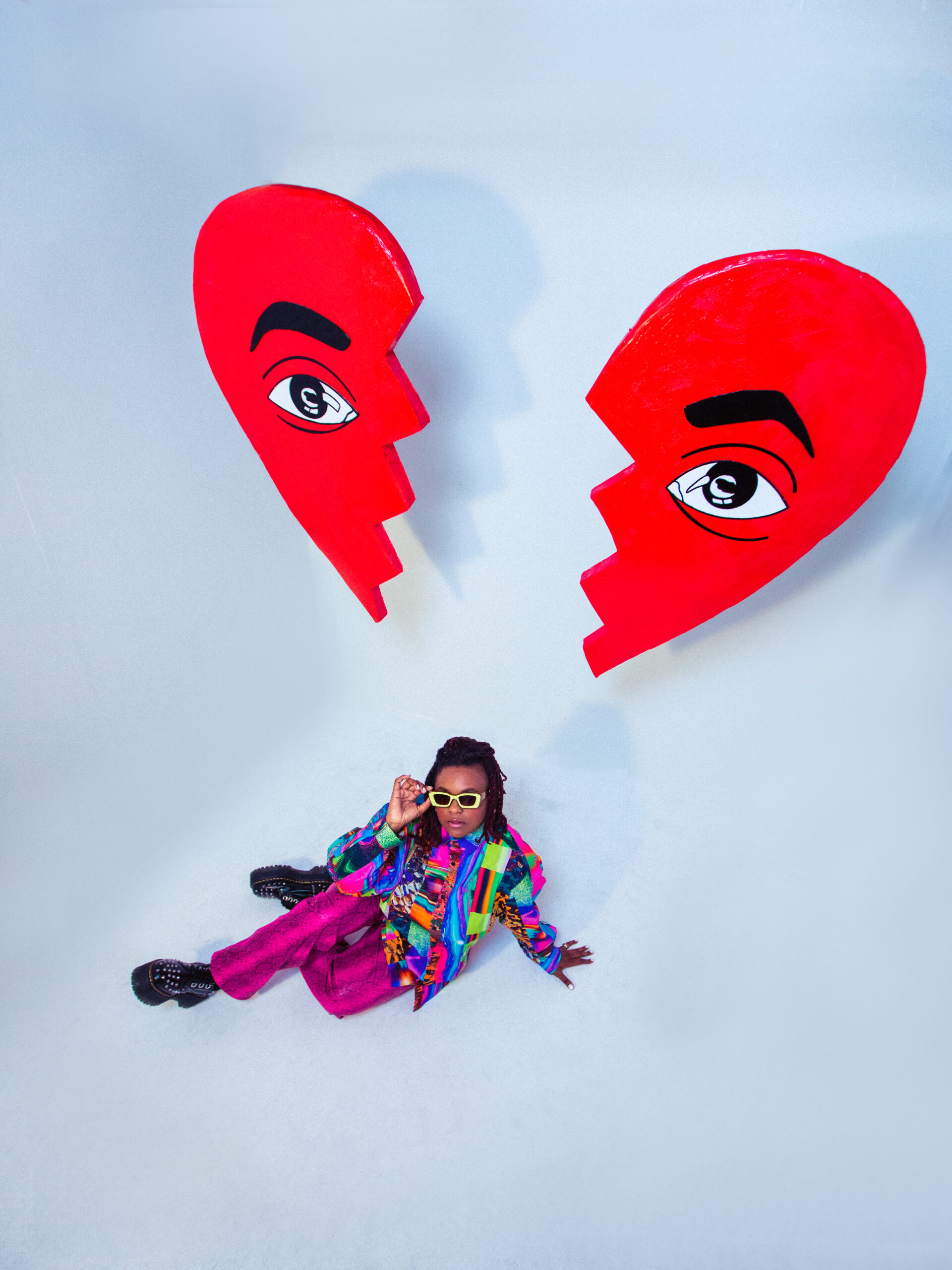 Was there a definitive turning point to your success?
A small little voice inside me feels weird to say that I am successful but I do recognize the achievements and how hard I've worked to have a chance at living out my dream in music. I think a turning point in my career was when I got to quit my day job and fully give my life over to music. My last day job was working as an inventory specialist at Apple. I remember in 2017, I got word that one of my songs, "Stronger Than I've Ever Been" was going to be in a commercial for the 2018 Super Bowl and the Winter Olympics. So I pretty much took that as my sign to peace out from the day job haha.
When did you realize the magnitude of your impact within the industry/community?
I HAVE AN IMPACT ON THE INDUSTRY & COMMUNITY?? j/k Well, what I am aware of is that there are not an abundant number of people like me on this side of the industry, and to be really honest, after going through a really rough time in dance music that almost lead me to quit it, by the grace of the universe, something in my soul told me to stay. To stay to represent people like me. To hopefully inspire other queer, womxn, black folx & anyone who needs people like me fighting to be seen so that more opportunity is created for us. I recognize this from the amazing feedback I get after my shows from people who showed up, or getting heartfelt messages in DMs with people thanking me for representing them. Also, I've noticed the industry folks and tastemakers that have the power to shift the music industry, (like Apple Music, Spotify, SoundCloud, Tidal, YouTube Music), validating my path by putting me on the covers of their popular playlists. You reeeeeeeally don't see faces like mine consistently represented. It makes my existence on earth extremely rewarding and reassures my purpose in electronic dance music.
Where do you want to go next with your music and what can your fans expect from future releases?
Well right now, I am my own little singing DJ, one woman EDM rock show, but next, I'd really like to create an electronic dance experience. One that has a live band element using synths, drum machines, and cutting edge technology with futuristic mind bending visuals. After being a former frontwoman of a four piece rock band, the band element is something in my soul that I'll never let go of. My future releases are going to be a little bit more personal. I'm trying to shed older versions of myself so I think sharing in a more vulnerable way feels right. Ultimately, no matter what I do, it's going to be full on and a whole lot of fun!
Where have you not performed yet that you want to perform?
The Hollywood Bowl, Madison Square Garden, O2, Dubai, Tulum, oh you know, really small intimate venues and cities. 😉
In what ways have you pushed yourself beyond existing self-imposed limitations?
One thing that I have surprised myself with is that I went from being a singer/songwriter/vocalist to being a DJ. In that, I've had to learn a whole new territory, a whole new instrument. I still have much learning to do but becoming a DJ was like shifting my own paradigm. Frankly, my whole musical approach and my mental health changed for the better.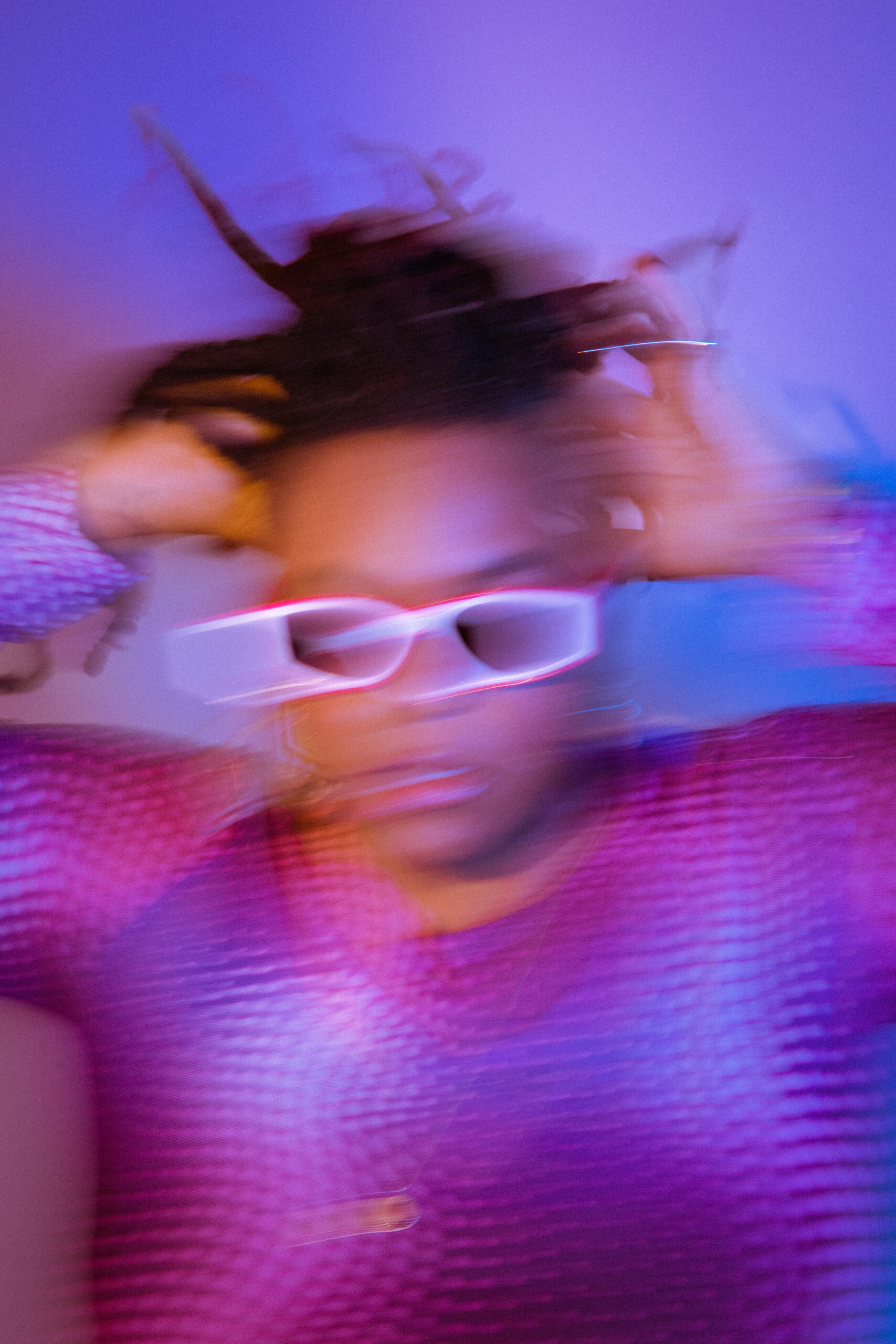 What's next for Kaleena Zanders?
What's next for me is releasing wayyyy more music on my label home Helix Records and an EP on Night Bass that AC Slater is executive producing. I'll be playing some stellar festivals, EDC LV, Elements, Beyond Wonderland and more. I am playing three shows in Miami for Miami Music Week where James Hype, Lp Giobbi, and Oliver Heldens are the headliners. It will be my first time performing MMW and that's so damn exciting! I'll be writing in the UK as well! So yeah lots going on!
What do you wish for the future of electronic music? In what ways would you like to see it evolve?
Not to sound like a broken record but I am saying these things until the change is so blinding and also very normal. So yeah, I would love to continue seeing more vocalists in dance music be able to have a thriving, lucrative, touring career and to be seen equally in the dance space. And, I'd love to see the continued effort to lift up women, POC, and queer folx by booking them on more shows and festivals. I know the industry has made some great efforts to shift since 2020 and I'm excited to see dance music honor all walks of life on a professional level. Creatively, I'd love for people to evolve out of copying current trends. I feel like, one song will get big and then the copycat army cranks out a boatload of uninteresting songs that sound alike. It makes the industry stale for a while but I guess it's good for those who can innovate out of the trend.
Any last words for the SPIN universe?
As once heard by the great British music philosophers, Spice Girls: "Colours of the world, Spice up your life, Every boy and every girl, Spice up your life, People of the world, Spice up your life."
Catch Kaleena Zanders on tour:
4/7 – Vancouver, CA – Commodore Ballroom – (supporting Dr Fresch)
4/8 – Portland, OR – The North Warehouse – (supporting Dr Fresch)
4/14 – Detroit, MI – Leland City Club – (supporting Dr Fresch)
4/29 – Washington, DC – Project Glow Festival
6/4 – Toronto, ON – Lavender Wild Festival
6/16 – Gorge, WA – Beyond Wonderland – Campground Set
6/17 – Gorge, WA – Beyond Wonderland – Festival Set
8/13 – Long Pond, PA – Elements Festival