The stage inside the Pershing last night (March 15) in Austin, Tx., may have been small, but the buzz was loud during performances by Blondshell, Urban Heat, and Robot Sunrise as part of SPIN's Five Worlds party at South by Southwest, sponsored by Diageo. Attendees enjoyed tacos, signature cocktails, and lit up vintage arcade games in separate area amid a creatively designed indoor/outdoor setup, with lines for entry snaking around the building.
With so many bands (and brands) coming to town this week, it can be challenging for Austin locals to get any attention. Luckily, Urban Heat is not the sort of group who will let you forget about them, thanks to its goth cowboy aesthetic and edgy electronic, post-punk dance sound.
Frontman and bandleader Jonathan Horstmann oozed charisma, mixing svelte goth romance with a fiery Texas edge. Urban Heat is equally at home at a punk house with a shaky foundation as it is at a swanky South by Southwest party, and Horstmann was not afraid to tell the crowd to come closer. Naturally, the audience complied.
Urban Heat's set climaxed with "A Simple Love Song," with Horstmann really leaning into fleeting love and all the dizzying exhilaration it brings. In response to encore demands, the group busted out a cover of New Order's "Bizarre Love Triangle," honoring the Manchester legends who themselves were in Austin a couple nights ago for South by Southwest appearances.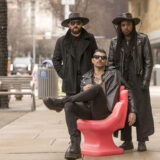 Blondeshell kicked off the night with a set of songs from its upcoming self-titled Partisan Records debut, which will be released on April 7. The group is playing seemingly countless shows in Austin this week but had plenty of energy still left in the tank.
Striking a balance between Courtney Barnett's lackadaisical cool and Hole at its most searing, guitarist and singer Sabrina Teitelbaum offered concise anthems that can fill both dive bears and vaunted theaters (she also deserves props for her vintage Boyz II Men shirt). Highlights included the soft-to-loud crash of "Veronica Mars" and the crunching "Sepsis," on which she sang of reluctantly going back to a "dick" boyfriend in spite of her therapist's recommendations.
Closing out the night was Robot Sunrise. The artist also enlisted a French Horn player to dazzle the crowd, which complimented his signature brand of electronic music perfectly. Last year, Robot Sunrise closed out our show at Stubb's with a memorable set that was one of the night's highlights.
In between sets, DJ collective Chulita Vinyl Club, with members based in Austin, San Antonio, the Rio Grande Valley, Southern California, and the Bay Area, spun a freeform mix of unheralded relics stemming from a pure love of crate-digging.