He had a purple stain on his forehead.
It smelled of beets and vinegar.
He'd gotten used to it.
He didn't know it was there.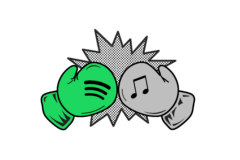 He couldn't understand why you leaned away and pressed yourself against the window.
"Purple Stain"
This moment of self-reflection, self-revelation, sits at the core of this deeply moving, deeply affecting song cycle's struggle with yearning to be welcomed as oneself, yet to blend in while simply being, well, different. 
Sung with both passion and understatement by Los Angeles artist Julia Holter, with music expressing varying measures of want, dislocation, sadness and promise performed by Chicago's Spektral string quartet, Wallpaper comes from adventurous composer-lyricist Alex Temple's own experience with gender transition. In the song quoted here, "Purple," Temple comes to recognize that she, too, has not always been kind in the face of others' otherness. 
The poetic specificity of that moment is found again and again throughout the 11 songs, most starting with a word or phrase anchoring it to time and place:
 "Last night…" 
 "On Tuesday…" 
"When you were 20 years old…" 
"3:00 a.m…." 
"June…" 
Others open up dreams and wishes: 
"In another century…" 
"Cut to the interior of a spacious modern home…"
Each of these is a marker in an evolving inner monologue in which observer and observed (the ever-present "you") are one, tilting between dream and reality, confusion and clarity. The music deftly walks that landscape, played with great dimension by Spektral violinists Clara Lyon and Theo Espy, violist Doyle Armbrust and cellist Russell Rolen. The group disbanded last year and this is one of their final releases, capping a stellar legacy of carving out their own routes in the crowded world of post-Kronos quartets. Holter, whose own music shares this sense of borderless artistry and personal exploration, is a perfect partner, giving voice to the full range of emotions and experiences in Temple's poetry.  
The set opens not with voice or instruments, though, but with sounds — crickets and nighttime ambience, before Holter starts the account of the ride of the "Midnight Bus," destination unknown, fellow passengers silent and alone. The images unfold from there rapidly.
Throughout, the music and words mesh. In "Science Park," a spooky, somber night reveals pathways pointing to a "network of roads," and with it a web of possibilities, before Holter sings "And you went home as someone else." In contrast or complement, next comes the almost jaunty "Fishmouth," a surreal cabaret account in which an attempt to speak results in "whole fish flopping from your mouth." In the course of the song, promise collapses into shame and humiliation, the music changing to match. 
More dark humor dots the narrative. "Unnatural" ends with as sly classic-pop allusion as you'll find, the line almost tossed-off: "And you thought: You make me feel like an unnatural woman." And there's a song telling a dream of disorientation inside that spacious modern home,  where walls and floors shift constantly in outrageous proportions, with creaking sounds from the musicians. Its title: "Jolene."
What does Temple leave us? What does she want us to take from it? Acceptance? Perhaps. Our friend "you" finds comfort in the shifting house of "Jolene," where others find distress. "It's out of your hands now," concludes the song. 
Hope? Yes, though cautiously. "Someday…" starts the last song, "Spires," ending, wistfully, just a few lines later:
And you'll know that all of this was here the whole time.
And you'll understand that you have finally come home.
The music fades and where there were the nocturnal crickets at the start, now there are ocean waves. And over them, we can't help but imagine, bluebirds fly.