If the laid-back sounds of the Mars Volta's 2022 self-titled comeback album surprised longtime fans, there's no telling how they'll feel about Que Dios Te Maldiga Mi Corazon, a completely re-imagined acoustic version of the prior project due April 21 on Clouds Hill.
"I realized I could finally make a record like this now. I just had to make it happen," says group member Omar Rodriguez-Lopez. "That was the experiment. And it was super fun. I feel like the Mars Volta is finally beginning – that's why the last album was self- titled, because we've finally stripped everything away and arrived at what the whole concept was at the beginning. And this acoustic version comes from a profound place, with its own meaning and philosophy, and its own reason for being."
The first track released from Que Dios Te Maldiga Mi Corazon is a slinky, flute- and percussion-enhanced version of "Blank Condolences," with bass from Eva Gardner and piano from Leo Genovese.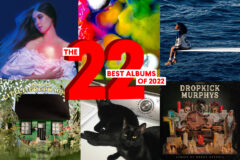 The Mars Volta returns to the road May 5 at the Shaky Knees festival in Atlanta. The group will also open a handful of shows this spring and summer for the Red Hot Chili Peppers, including two in Europe in late June alongside Iggy Pop.