A day before a big New York show at Terminal 5 that serves as a tune-up for Coachella next month, jazz supergroup Dinner Party has released a new song, "Insane" featuring Kanye West/Ty Dolla Sign collaborator Ant Clemons on vocals.
The combo of Terrace Martin, Robert Glasper, and Kamasi Washington utilized a drum sample of Mtume's "Juicy Fruit" for the track, which is an understated but sleek slice of sax- and piano-accented R&B. The artwork for the song was painted by Washington's sister Amani. "Insane" presages more new music from Dinner Party this year; the group's lone prior releases, Dinner Party and Dinner Party: Desert, came out in 2020.
Speaking of Dinner Party's upcoming Coachella performance, Martin tells SPIN he's "looking forward to combining elements of jazz on such a big stage with elements of hip-hop, R&B, and soul. I'm so happy people are putting us on that big of a stage, so we can give them some real beautiful, vibe-y ass music. I'm excited, man. I'm always fascinated with seeing an idea grow and complete. That's what I'm addicted to in this whole game."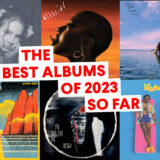 Martin has also been active with his own music; he released a new solo track last month, "Chucks," and is working on tracks with that song's guest artist, L.A. musician/producer Channel Tres. He'll be back in New York later this month for a sure-to-be guest-packed four-night stand at the Blue Note, beginning March 28.