This May, BeachLife Festival returns to Redondo Beach for its fourth edition with perhaps its best lineup yet. With artists like Gwen Stefani, Black Crowes, Pixies, the Black Keys John Fogerty, Modest Mouse among many more, things will be rocking the first weekend of May.
And guess what? If you haven't scored tickets to this exciting festival, we have good news for you!
SPIN is teaming with Beachlife to giveaway two, three-day General Admission passes to this year's festival. All you have to do is click this link, and take it from there. The sweepstakes begin today (March 1) and end on March 31.
Earlier this year, BeachLife's Allen Sanford told us the inspiration for starting the festival.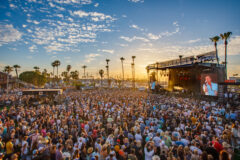 "I grew up in surfing and skating in Southern California, and as I got older, realized that the world of music is curated by two companies, Live Nation and AEG," says Sanford. "Anytime you have a limited number of curators, the offerings slim down. I found that there wasn't much speaking to my demographic, which is the SoCal lifestyle. Instead of complaining, I decided to do something about it."
Head on over to Beachlife's official website to learn more about the great stuff going on during the festival.