As we work our way through the early 2020s, nearly every album that defined millennials' music taste is celebrating its 20th anniversary. For a large swath of the post-hardcore and emo kids of that generation, the taste-making period includes Thrice's seminal 2003 album, The Artist in the Ambulance.
One might expect the Southern California quartet to reissue its influential major-label debut on vinyl, maybe remaster it, and include some extra photos and liner notes. The notion that Dustin Kensrue, Teppei Teranishi, Eddie Breckenridge, and Riley Breckenridge would actually go back into the studio and re-record the entire thing from scratch seemed highly unlikely, yet that's exactly what they did.
"The record looms really large in our history," Kensrue tells SPIN over Zoom of the just-released new version. "Maybe it's all in our head, but it seems like it's a touchstone piece for us — which is weird, because the next record was a turning point for us as well. We felt rushed when we made the record, and we were really excited about having Andy Wallace mix it, but it didn't really go the way that we thought it was going to go. As we've played these songs over the last 20 years, when we hear the recorded version again, it's like 'Oh my gosh, it's so stiff.' We didn't know how to record or how to translate our live energy into a record, so there were multiple issues with it. For a while, we talked about making a remix, but then we always talked about the weirdness of revisionist history — like when they'd go back and change Star Wars. You're like 'What? No! I was used to that!'"
Thrice didn't want to take any half-measures with a simple remaster or special edition for The Artist in the Ambulance (Revisited). They wanted Han to still shoot first but to add the originally intended groove back into "The Melting Point of Wax" and the depth and heaviness into "Paper Tigers" — all while bringing in friends like Ryan Osterman (Holy Fawn), Chuck Ragan (Hot Water Music), Sam Carter (Architects), Mike Minnick (Curl Up and Die), Brian McTernan (Be Well), and Andy Hull (Manchester Orchestra) for guest features.
"We thought it'd be fun to not try to go back and reinvent everything, but let the songs breathe the way that we play them live," Kensrue says. "It's all fairly subtle, but it has more space. We didn't want it to be something where we change one thing and it sounds odd to someone who's been listening to it for 20 years, but we also didn't want to be like, 'What is this thing now? It's not even the same record.' I feel like we found a way through the middle of those two."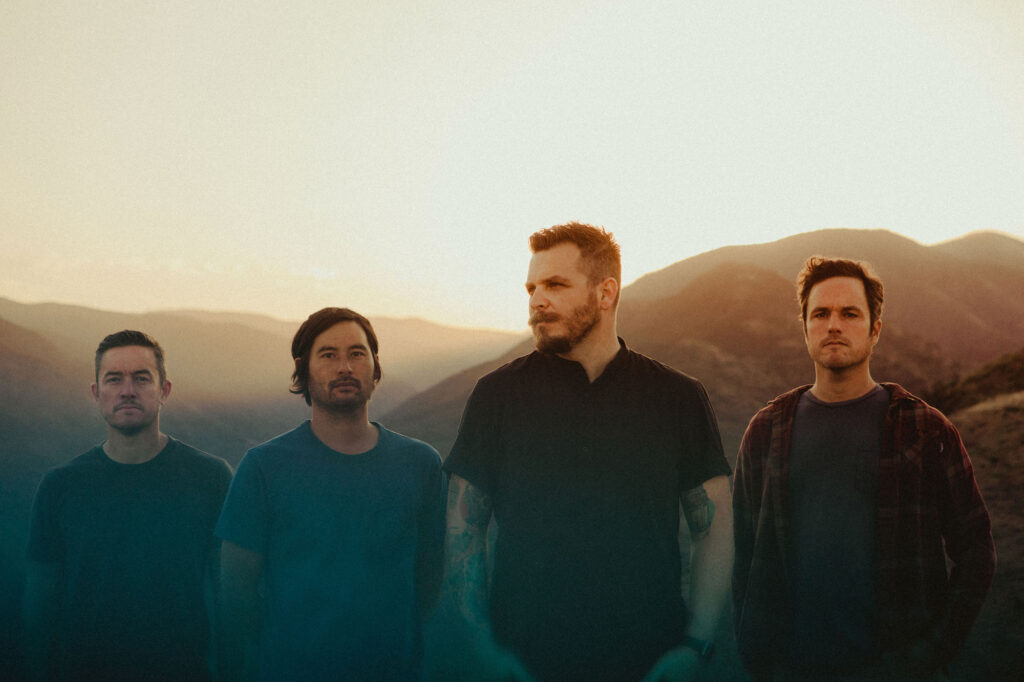 In addition to the re-recorded album, Thrice has announced dates for an anniversary tour of the project, beginning May 18 in San Diego. Having just played their The Illusion of Safety 20-year shows in December, Kensrue and his bandmates will spend the better part of a year focusing on older material between 2021's Horizons/East and the upcoming Horizons/West. Some bands aren't big fans of big anniversaries and nostalgia tours, but the guys in Thrice don't seem to mind. However, they might've had a very different opinion on these things a decade ago.
"We've had enough space from [the anniversary albums] to where I think you get some objectivity," Kensrue says. "You're able to appreciate the great things that are happening without as much squirming and being like 'Oh, that was weird' or 'That's not what I would do now.' Enough time has passed that we can just see that it was cool that we did this thing and — even though we're all different now — there's stuff on those albums that's kind of cool, even if we don't remember what was going through our heads to get there. Moving on to whatever we record next — Horizons/West, I guess — I think we'll take some lessons from coming back and revisiting these."
While the band may be hyper-aware of not messing up what people loved about the original and making sure the rerecording still fits perfectly within their discography, it's also worth noting that Thrice really remade The Artist in the Ambulance because it wanted to. This isn't some (Taylor's Version) kind of play where the band is redoing all its old work for legal or creative purposes. It's not a quick cash grab that could've been solved with a new boxed set. The 2003 album is a very special part of the band's history both to fans and the members, yet it was also something it frequently believed it could recreate much better — and have a good time doing it.
"We did it because it sounded interesting," Kensrue says. "It sounded like something we'd never done before, which sounded cool. If anyone said they didn't think we should do it when we had the first meeting about it, I don't think we would've done it. I don't think we would ever do it again, either. This record is in a specific place and has specific things going on with it that make sense for this project. But as much as I don't think I sing very well on Vheissu, it's not in the same category as what we would want to readdress in a lot of ways. The Illusion of Safety was fun to play live again, but it's its own thing. We don't want to mess with it."
The Artist in the Ambulance (Revisited) is available on streaming platforms now, and the vinyl is up for pre-order.
The Artist in the Ambulance 20th Anniversary Tour Dates:
May 18 – San Diego, CA – The Observatory North Park
May 20 – Tempe, AZ – Marquee Theatre
May 22 – Dallas, TX – The Echo Lounge & Music Hall
May 23 – Austin, TX – Emo's Austin
May 25 – Orlando, FL – House Of Blues
May 26 – Atlanta, GA – The Masquerade – Heaven
May 27 – Carrboro, NC – Cat's Cradle
May 28 – Baltimore, MD – Rams Head Live!
May 30 – Philadelphia, PA – Theatre of The Living Arts
June 1 – New York, NY – Brooklyn Steel
June 2 – Boston, MA – House Of Blues
June 3 – Montreal, QC – Corona Theatre
June 4 – Toronto, ON – Phoenix Concert Theatre
June 5 – Buffalo, NY – Town Ballroom
June 7 – Cleveland, OH – House Of Blues
June 8 – Detroit, MI – Crofoot Ballroom
June 9 – Chicago, IL – House Of Blues
June 10 – St. Louis, MO – Red Flag
June 12 – Denver, CO – Summit
June 13 – Salt Lake City, UT – Union Event Center
June 15 – Seattle, WA – The Showbox
June 17 – Portland, OR – Roseland Theater
June 19 – San Francisco, CA – Regency Ballroom
June 21 – Los Angeles, CA – The Wiltern
June 23 – Anaheim, CA – House Of Blues