When the COVID-19 pandemic hit and shifted the vast majority of the American education system to online learning, Mark Turley took things relatively in stride for the school year. But when the semester ended and summer break set in, his usual hobby of gigging through the summer months with punk bands had all but disappeared in 2020.
Without much else going on, the Syracuse, NY-based guitarist and teacher decided to order a build-your-own-pedal kit in an attempt to make a decent fuzz pedal to add to his growing collection. The first one was a learning experience, but the second one went smoother. From there, a musician friend introduced him to a plethora of online resources for building pedals, and Turley found the home-based hobby he sought in building clones of some of the most famous guitar effects circuits.
But while many guitarists may have started going down the rabbit hole of effects pedals during the pandemic, Turley found a very relatable reason to build his own.
Turley adopted a pair of dogs and decided that he needed to put one of them, Gus, on a pedal. So instead of shelling out for one custom enclosure, he ordered a dozen with Gus's face on them — understanding the very real possibility that it might mean he has one on his board and 11 sitting on a shelf.
He posted the Gus-Drive online to see if any of his friends wanted in on his new venture and immediately received more orders than he had parts to make pedals. From there, Turley realized it wasn't fair to exclude his other dog, and thus the Gladys Overdrive was born.
In the years since, Summer School Electronics has blossomed into one of the most sought-after boutique pedal companies around. Turley prides himself on making sure that none of his creations are commonplace variants on classic circuits. For example, the now-renowned Science Fair is a tube screamer and RAT-based distortion (or "Test Tube" and "Lab Rat") in one pedal with individual controls and a blend knob, and the Trash Panda is a versatile overdrive made from the parts that Turley had on hand during supply chain shortages.
SPIN spoke with Turley over Zoom about what's made Summer School an afterschool program worth attending.
SPIN: At what point did you realize that Summer School Electronics might be more than just making pedals with your dogs' faces on them?
Mark Turley: It really started when I made a couple of pedals and brought them into some local shops run by guys I knew from being in the music scene or shopping there or whatever. I was like "Hey, I made this. Can you guys sell it in the store?" They were so excited by it that I thought "People seem into this thing." So it was pretty early on that I realized it could be more than just a fun thing and really be a side hustle or part-time job. I just looked at the supply and demand and went from there.
What's the ongoing inspiration for some of your really unique pedals?
My whole take on it was that I play in a cover band that was playing locally pretty much every weekend, so I was always rotating pedals on and off my board just to try different stuff and find different things. The engineer in me says "What can't I do? What problem am I running into?" So one problem was that we have another guitar player and we usually don't have a sound guy, so it's just us monitoring amp levels the whole time. Well, I want to be able to take a solo and be heard, but I don't want to get into a volume war with this other guy, so I don't want a volume boost. So I thought "We can do an EQ boost that could give me a little bit brighter, but not get into a volume war." I pop that for the solo, turn it off and fit right back into the mix we have all the time.
I want to be able to use everything I make on stage, and we play a lot of small stages, so I need a small pedalboard. That's how I ended up with the Snow Day, so I could have two delay pedals and set one fast and one slow. But then everybody always asked "Can I do both delays at once?" so I redesigned it with the "Blizzard Mode" feature to do both at once. It's not what I originally envisioned, but that's a selling point.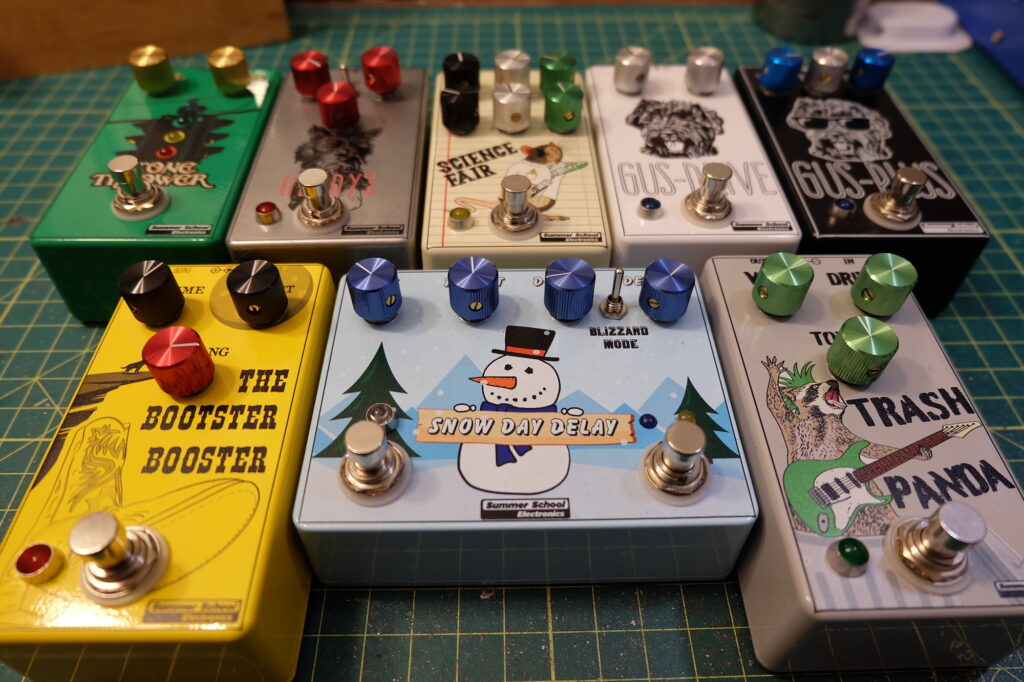 And you haven't even mentioned your overdrive and distortion pedals, which are also pretty useful, yet strikingly different from a lot of the common "clones."
I mean, it all started with a clone of a DOD [Overdrive Preamp] 250. I love that tone, but I have to dime it to get the sound I want. So I figured out how to give it more headroom, and that became the Gus-Drive. I've gone through a ton of pedals as a player over the years. I have shelves of them in my basement, but I'm not a collector. I use them all, but you can only fit so many on a board at once. For me, it came down to "What can I do that's different?" I use the schematics as a jumping-off point, but then I play with it, change it, and run through it to make it my own. The Trash Panda started as a "Thank you" gift to the people who were buying the clones I made while I was still experimenting and learning. They funded those experiments, so I made the Trash Panda out of spare parts and sent them out for free.
From a branding perspective, people generally don't associate education with guitar pedals, yet you've really stuck to a pretty school-friendly theme to go with the name.
I decided to go with the name Summer School because it started as my summer job. One of the other teachers who teaches summer school asked me if I was going to sign up for it, and I was like "I got my own summer school, man." For the art, I've played in bands with my buddy Steve Peterson since we were like 14 — we're still in a band together now — and he always did a lot of our t-shirt designs and such. So I knew that I could build the pedals, but I asked him to take control of the art. I gave him a half-assed mockup of what I wanted a Gus-Drive to look like, and we went from there. By the time we hit the Snow Day and the Science Fair, we started to find this childlike whimsy that plays into the nostalgia of school. There's a snowman, there's a little rat in a lab coat with cheese poking out of his pocket. It plays into me being a teacher, but also, everybody has been to school. Everybody has some connection to going to school.
Is there anything else you'd want people to know about Summer School Electronics?
The big thing is that we are still such a small operation that it's literally me building mostly everything by hand in my attic. I have some family and friends who help out when things get crazy. Since the Science Fair got the bump from JHS for their "Best of 2022" video, we sold out instantly. I switched to a pre-order, and the pre-order has been crazy. It's amazing. I love it. It's awesome, and everybody's been super cool. There's been one guy who was a jerk out of the couple hundred who ordered. I'm working on fulfilling those, but I'm still a full-time teacher who's trying to keep up with this crazy hobby. It's really a mom-and-pop and dog operation over here.