The qualifying rounds of the 2023 Eurovision song competition are in full swing, but one act that will not be advancing is John Lydon and Public Image Ltd.
Yesterday (Feb. 3), PiL took part in a bid to represent Ireland, performing its new song "Hawaii" on an episode of the country's Late Late Show. The band was one of six acts and finished in fourth place after an audience and jury vote, meaning it lost out on the chance to move forward in the competition. Representing Ireland instead will be the band Wild Youth.
Thirty-seven countries will compete in the storied international song competition, which has helped launch acts like ABBA, Celine Dion, and Måneskin). The winner of the 2023 edition will be announced May 13.
"Hawaii" is an ode to Lydon's wife of 43 years, Nora Forster, and her battle with Alzheimer's. The song references one of the couple's favorite places to visit and has been described as "as close as John will ever come to bearing his soul."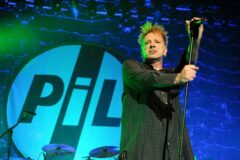 Lydon's decision to participate in 67th annual Eurovision surprised many who know the former Sex Pistols frontman as a punk provocateur. "I have a reputation as a musician and insane punk, I'm gonna have to blend those two things around a love song," Lydon said in a preview reel ahead of the band's televised performance. See it in full below.
Later this year, PiL is slated to release a new album, its first in eight years, after a return to touring in 2022.