This article originally appeared in the May 2002 issue of SPIN. 
To most of America, Pink is that loud girl with the blinding hair from the Moulin Rouge video. And that "Party" song. But she's been a punk, a headbanger, a grunge brat, a club kid, an R&B girl-for-hire, and a law-breaking lover of 4 Non Blondes. Never mind Britney, here's Pink!
Pink is on her cell phone arguing with her boyfriend. She's sucking a menthol cigarette. "You're totally taking this the wrong way," she says, clearly annoyed, coughing deeply. Pink's lungs have made her rich, but they're vengeful bastards. She's got asthma and bronchitis, and she's canceled several recent TV appearances. Then there are the ulcers.
Standing in Santa Monica, with the Pacific Ocean at her back, Pink, 22, is looking sort of yellow this late-February afternoon—like a sickly skate rat in black hoodie, bedhead, and no makeup. She's got blue polish on stubby nails, a red thong peeking out of her baggy jeans, and, under her arm, a motorcycle helmet.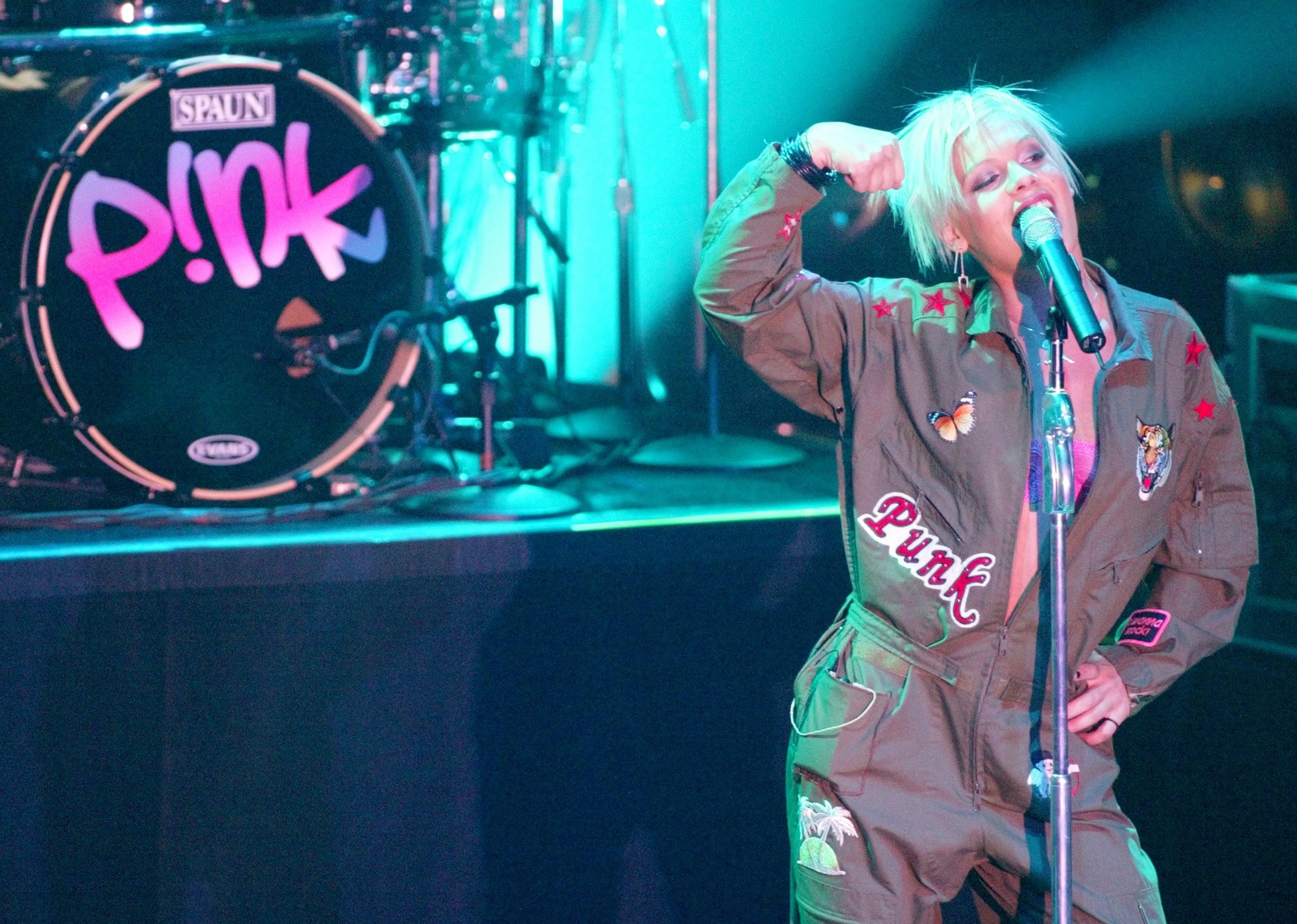 "I can't talk now, I'll call you later," she says to her man. Then, raising her shades, she asks earnestly, "How are you?" as if weary of her own real-life drama. Today's episode of Pink: The Madness and the Music features:
A new cream-colored scooter. Driven from her Venice pad without license plate, registration, or insurance.
The recent discovery that she's a bitch. "I was watching [MTV's] Making the Video [for "Don't Let Me Get Me"] and I was like, 'Oh my god. I'm a bitch. I'm 22, and I'm a bitch—and I'm the only one who didn't know it.'"
Pink's mom. She's Pink's date for next week's Grammys (see also: pissed-off boyfriend, who was originally going to go). "I just can't get along with my mom," she says. "But I wanted to do something nice for her, buy her a dress, get her hair done."
At the Grammys, Pink and the gals (MISSY "Misdemeanor" Elliott, Lil' Kim, Christina Aguilera, and Mya) will perform, and win an award for, their cover of Labelle's "Lady Marmalade." But now the song feels so last year—especially since the release of Pink's genre-fucking sophomore album. Missundaztood, a rebellion against the producer-driven machinery that created her 2000 debut, Can't Take Me Home. Initially snubbed by her label, the new record is a hybrid of everything that makes Pink tick—disco, rock, R&B, blues, hip-hop—held together by hyper-personal lyrics (part hip-hop swagger, part Lilith confessional) and cameos by Aerosmith's Steven Tyler and Bon Jovi's Richie Sambora.
The record resulted from an unlikely meeting between Pink and her improbable teenage idol, Linda Perry, former leader of early-'90s one-hit wonders 4 Non Blondes (1993's "What's Up?"). Pink stole Perry's number from her makeup artist and cold-called her; Perry called back. Pink drove her truck over to meet Perry, and that was that. Much of the album, including the dance anthem "Get the Party Started," was produced and/or written by Perry, who's now been tapped to write songs for Christina Aguilera's new record.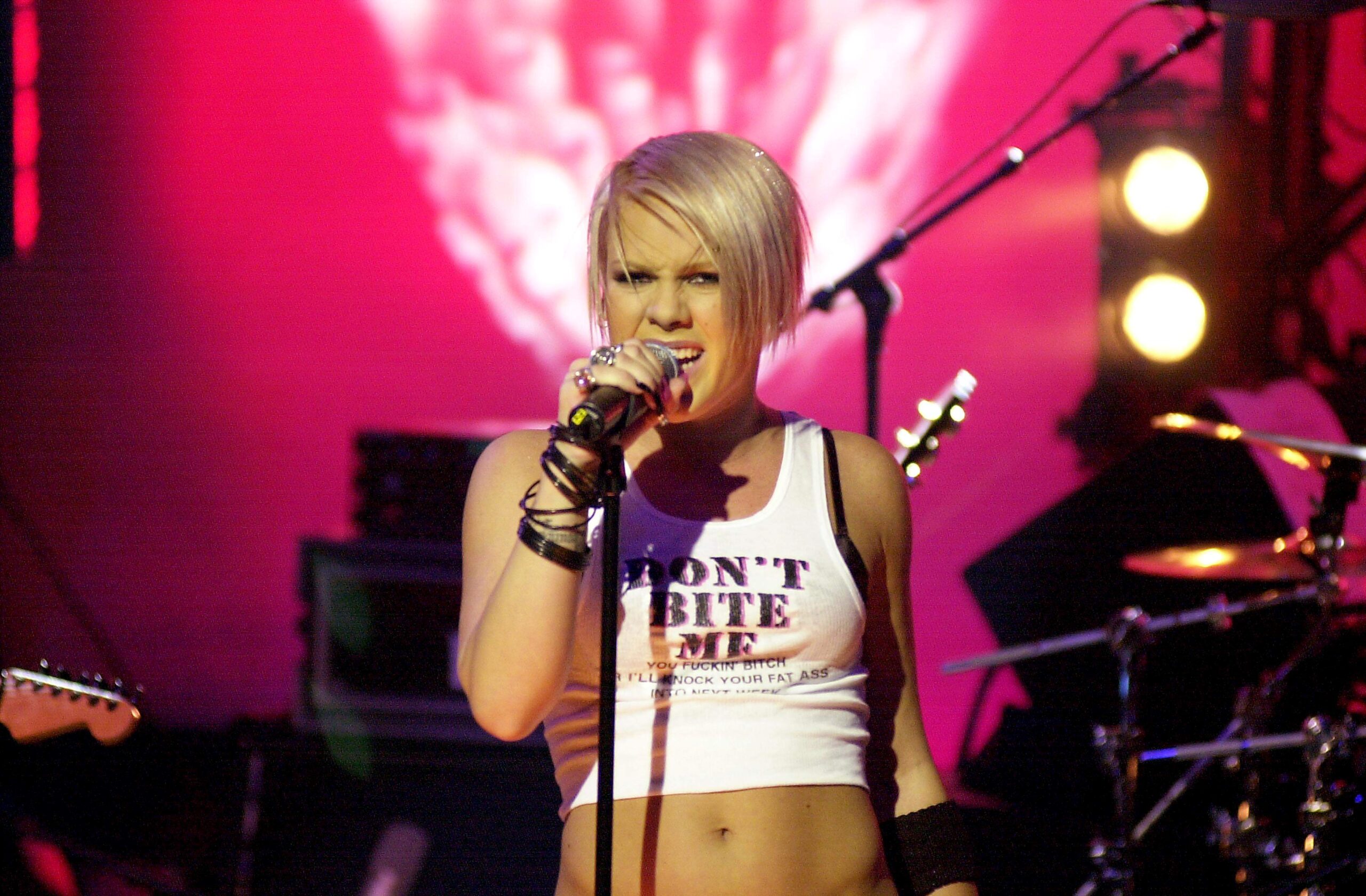 Growing up in Doylestown, Pennsylvania, Pink (born Alecia Moore) was a misfit punk who fought with bad cops, racist bus drivers, and sleazy night crawlers. It was excellent training for life in the music biz. Now, at a time when record companies don't have a clue about what young people want, she's finally emerging from the prefab pop puppet show, hoping fans, if not suits, will understand. She's a star who's got more to say than Britney, Beyoncé, and Christina combined—whether dissing her label or religious nuts. ("Organized religion's a joke," she spits. "I'm convinced God is a woman.") She's a girl who calls you "mama" and "hon," picks her teeth, and bites her thumb. In short, she's ideal company for smoking menthols, eating mussels, and talking fantastic smack.
Spin: So, who's the boyfriend?
Pink: He does motocross—I met him at the X Games just before he broke 14 bones. I've been friends with skaters all my life, and I've always been attracted to that mentality—fuck it, let's go break shit. [Laughs] Self-destructive.
Did you skate?
Yeah. My brother told me girls can't skate, so I broke my ass to get good at it. I love proving people wrong.
Especially guys?
Yeah! So many guys think like that. Maybe it makes them feel better, because we can do everything they can do, plus some—like have children and be sentimental.
Your brother is in the military, right?
Yeah, the air force. We're good now, but we used to beat the crap out of each other.
When did you guys get close?
Probably when we didn't live together anymore. My mom kicked me out when I was 15. I think we learned from our parents to be violent and fight all the time. But my brother wrote me a letter this year and apologized for all the times he hit me and said how much he loves me. We've been best friends ever since. I'm closer to my family now than I ever was.
It's impossible to live with people.
It is! [Laughs] Family dinners are the best. You all sit around and just smile—"Yes, Mom, whatever, right, right." Like this past Christmas, I went to my mom's house and every five minutes—"I need you to sign this for this person, look at my daughter, she was a punk delinquent that I had no faith in, but now that she's a star, let's invite friends over." I was like, "I have three days with you. I'm Pink all year 'round. I wanna be able to come home and be Alecia."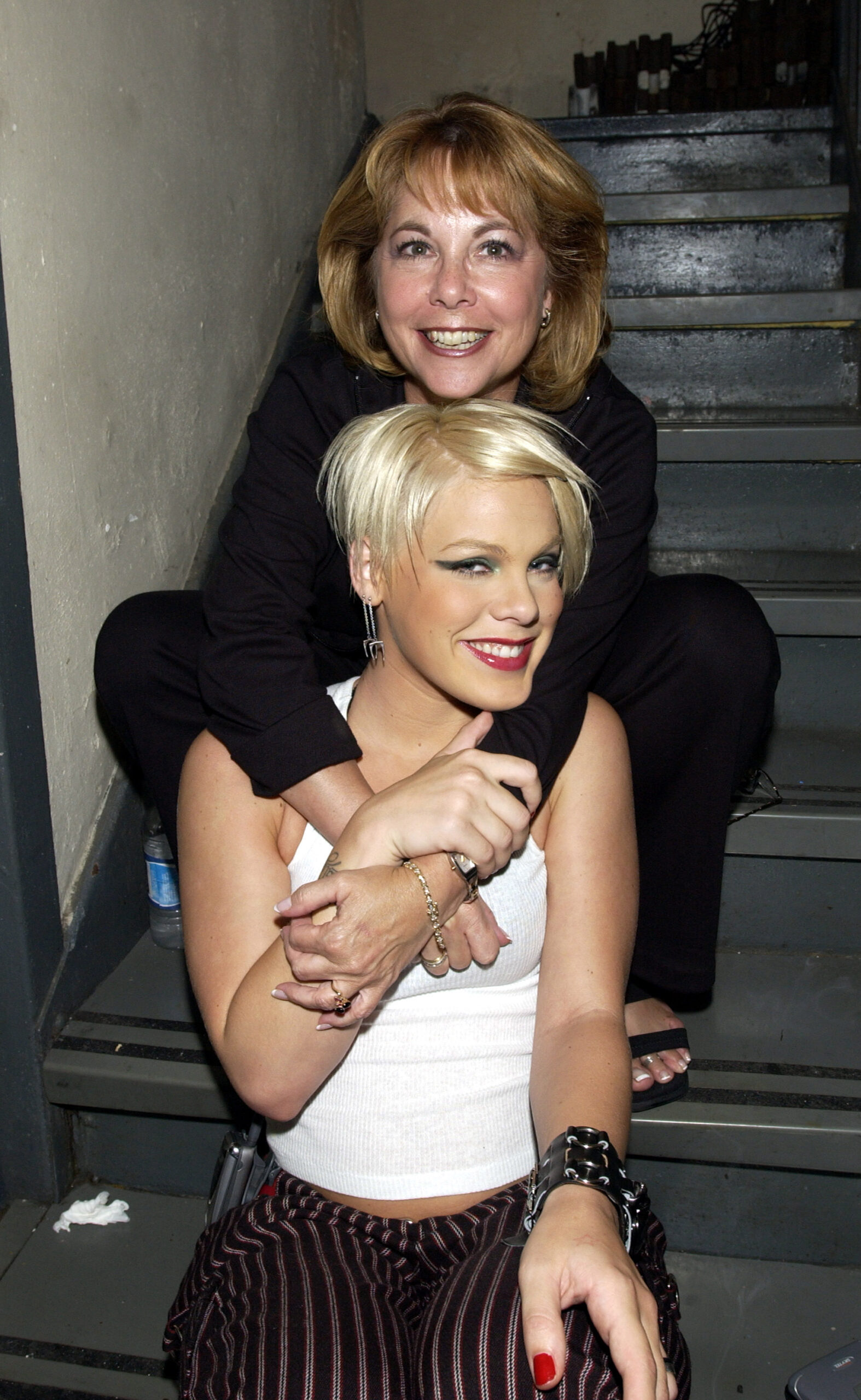 How does she react to your lyrics? I mean, you call her a lunatic [on "My Vietnam"].
After she heard this album she called me up crying…. I'm like, "I don't lie, it's up to the people to decide." I don't keep secrets.
Why did she kick you out?
My dad left when I was seven, and she went to school full-time, worked full-time, and went out to bars with her boyfriend. So I had no supervision—I cooked for my brother, I was the mom of the house. Plus I was into a lot of crazy shit. When I was 13, I was the ultimate club kid—in the street all night long, fucked-up—and she was sitting home waiting for me. I used to run away all the time. When she wanted to go out of town, I'd run away so she couldn't leave. I was an asshole!
At that age, you were pretty into rock, right?
Yeah, [Guns N' Roses'] Appetite for Destruction was my first love, and Skid Row. I was in two punk bands in junior high. We sucked! Bad Religion got me through seventh grade. We loved Nirvana. And I remember seeing this band Tilt, they had a female lead singer who reminded me of Wendy O. Williams—she would hock loogies and catch them on her upper lip. It was disgusting, and I fell in love. I also loved Mary J. Blige. I sang in a gospel choir too—they'd say, You ain't white, you got too much soul!"
Did you actually get arrested for singing Linda Perry songs?
Yeah. I sat at my friend's house tripping [on acid], singing all her [4 Non Blondes] songs out the window at the top of my lungs. The neighbors called the cops on us.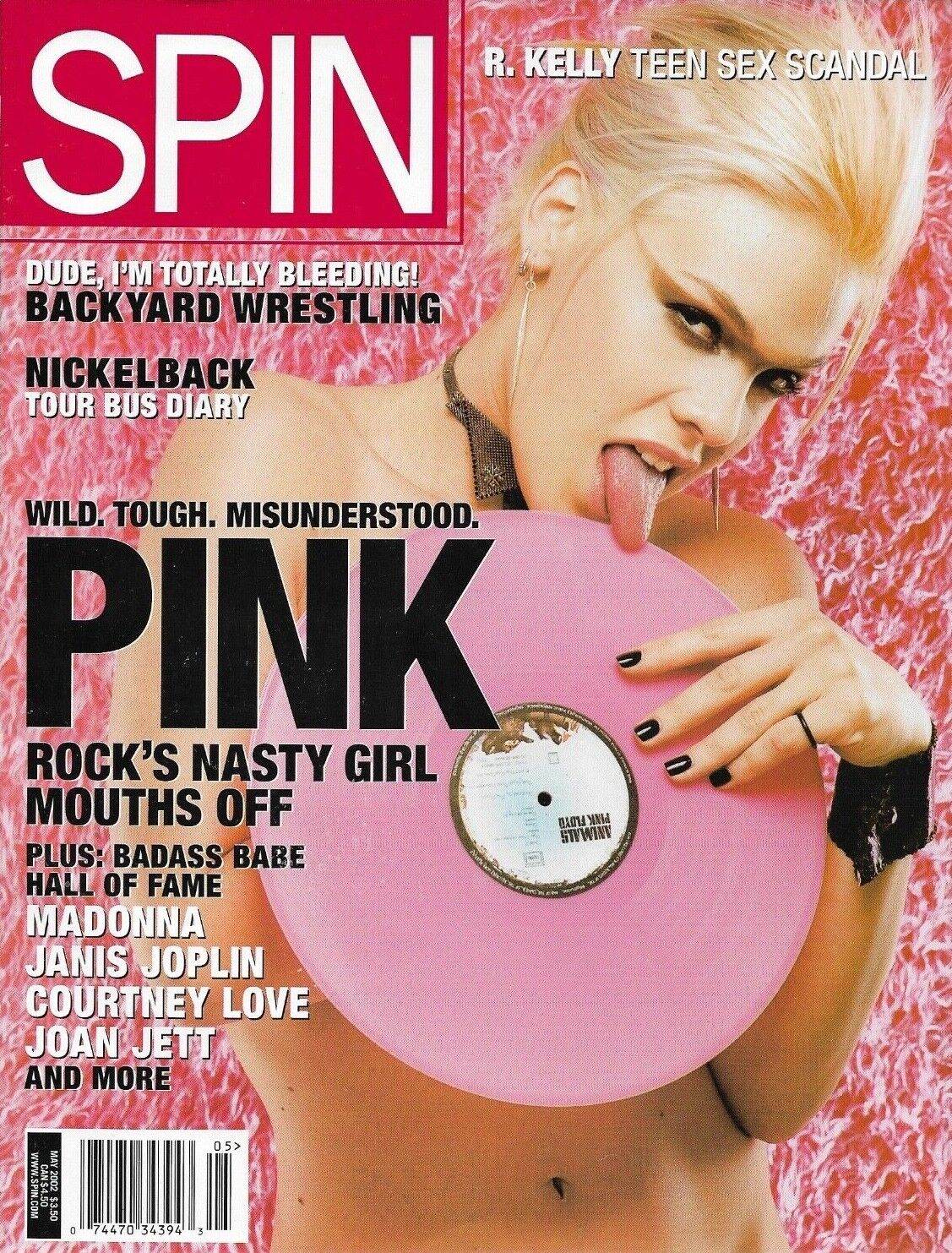 Where'd you go after your mom kicked you out?
Friends' houses. Then this guy put me up in an apartment in west Philadelphia and basically paid my rent, got me rental cars, gave me weed, all this shit. I never kissed him. He just was a weird guy who wanted to take care of me. Then he started stalking me, slashed my tires. So I moved in with my dad, and we became best friends. Six months later I had a record deal, and I moved to Atlanta.
You had a record deal at 16?
Yeah, I spent two years in Atlanta in a house with two other girls, making a record. And then the group [Choice] broke up. I was homeless for three months before I signed a solo deal [with LaFace Records]. I had bad jobs, too. I made deli sandwiches and pumped gas. One day [LaFace honcho] "L.A." Reid's son walks in, and the next day L.A. yells at me—"Pink, how does it look if one of our artists is pumping gas?" I'm like, "Pay me what I make and I'll quit. If not, you can kiss my ass and come in for a sandwich like everyone else." That four years was so frustrating. I'm watching Britney and Christina, and I dropped out of high school four years ago! But it was good. I had that time to learn how the record company operates.
Obviously it's helping you now?
With the first album I was tiptoeing around. With this album I just decided, "No, I ain't doing that." I had a dream when I was a little girl that I was going to grow up and change the world, and it was going to be through music. I was always so sickened by racism and sexism and ageism and all the fucking -isms. I was like, "I have to forget about all the radio formats and imagery and all the bullshit."
And your label [Arista] wasn't too happy, right?
I just went for it without their knowledge and sent it to them. Then two weeks later they called and said that I couldn't do this, that I was abandoning my fans, that Linda Perry hadn't been around for ten years. I basically called them all pussies. Then "Get the Party Started" came out, and we were like, "We told you so, motherfuckers!"
What's your earliest memory?
Probably my dad rocking me, singing me to sleep. I remember a lot of the fighting. I remember the night my dad punched a hole in the refrigerator.
You used to go to Vietnam-vet meetings with him?
Yeah, my whole life. I loved watching these guys get together, the brotherhood. I don't agree with war at all, especially the politics of the Vietnam War. But what it meant to them was something different. Every Thanksgiving we'd feed the homeless and senior citizens and veterans. Like 50 of us, we'd rent out this banquet hall, and bring people in by the busload. I'd wait on them and watch them cry; they'd be so happy. They'd give me a dollar, their only dollar, as a tip. That was the best feeling I've ever had.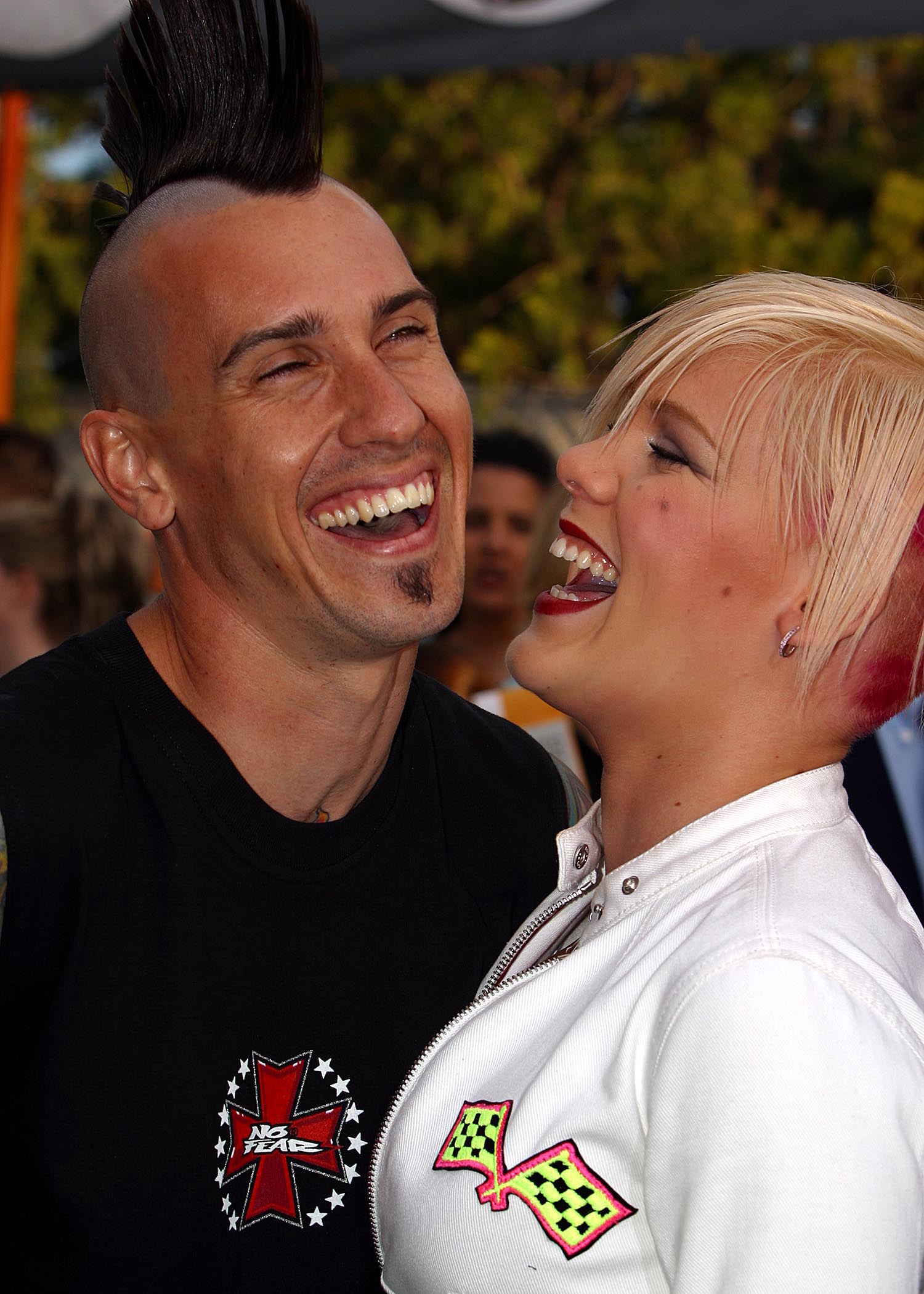 How do you strike up conversation with guys? I can imagine they would be intimidated by you.
I'm very aggressive. I know I can be very intimidating because I am so aggressive. I'm loud and outward, and I don't hide anything, so when it comes to guys, yeah, guys are terrified to talk to me. But it's a good thing, because I don't hear the bullshit, the dumb lines or disrespect; they know better.
You read how men want women to ask them out, but I find that guys ultimately prefer to be the aggressor.
Oh yeah, they want a challenge. But I'm just like that. I want a challenge too.
You've been refusing to lip-synch.
Yeah. In Barcelona this [TV producer] said I had to [lip-synch]. He. was like, "I'm not going to let this little bitch change me; I've been in this business longer than she's been alive." It was a total dick war—who had the biggest dick. And in the end, I did. But that's what keeps me going. Like fighting with L.A. [Reid]. Then having him come back two weeks later, like, "You know I always believed in you." That makes it worth it. Because if all this was easy, I'd be bored to death. If everything went my way, I'd probably shave my head and paint green frogs all over it—just to fuck shit up.