It's easy to feel disconnected from reality amidst the serene ambiance of The Blue Note, the storied jazz club perched just off 6th Avenue in New York City's West Village. It's either ironic or paradoxical, depending on who you ask, that the jazz-forward venue makes its home in a neighborhood defined by its unwavering commitment to niche culture, from its '90s-era Happy Hour prices to the sex shops that greet commuters fresh off the subway. 
Inside, true to the historic venue's name, hazy blue light dances off anything reflective, from the still pair of cymbals onstage to the martini glasses so ubiquitous they appear to have come standard with table reservations. The crowd, mostly white 30- and 40-somethings seated intimately — no standing room — is attentive. The murmur quiets with each passing 15 minutes, it can tell it's approaching showtime.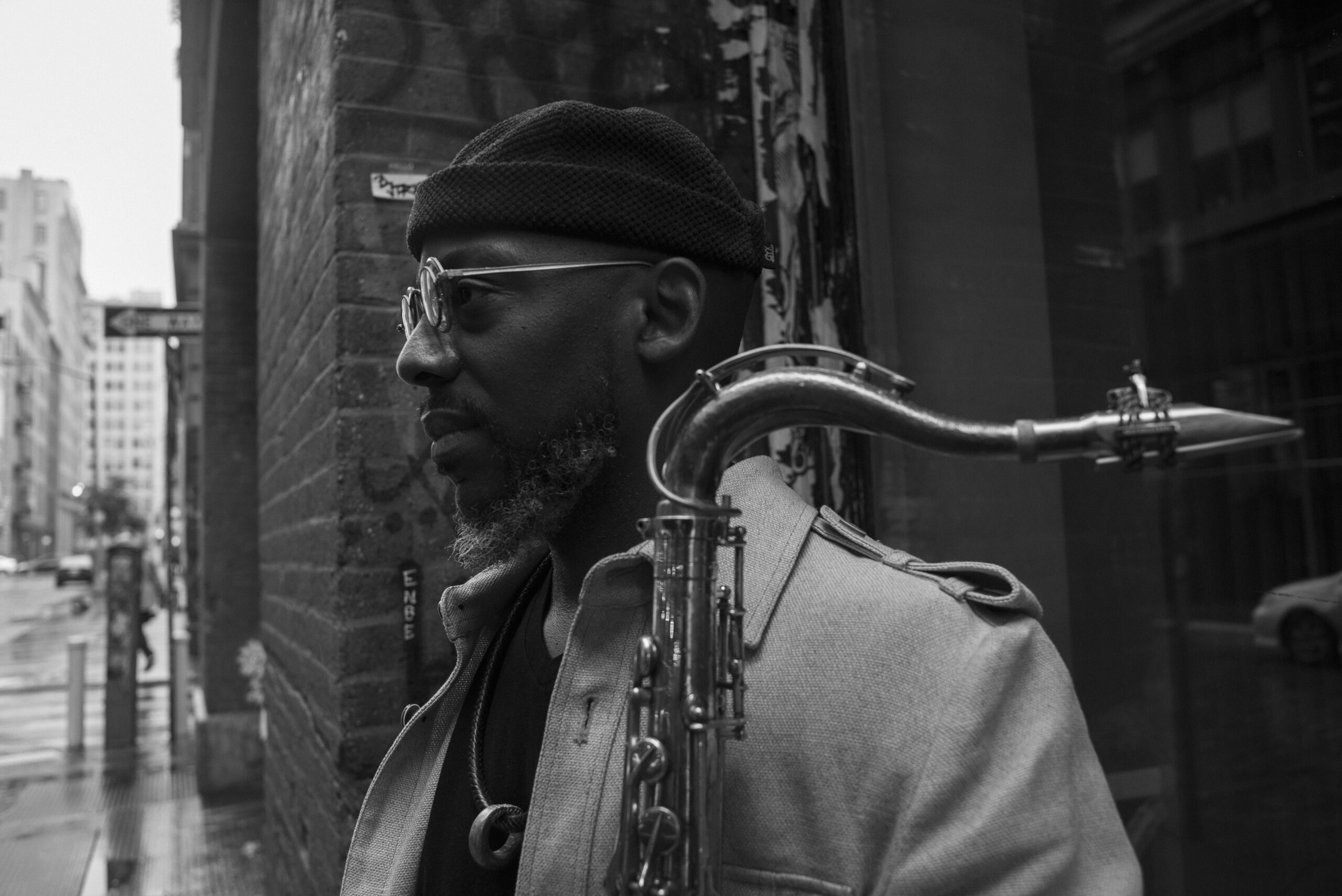 Shortly after the last gasp of pre-show drinks is doled out, the night's headlining act, Grammy-nominated saxophonist Marcus Strickland and his well-regarded Twi-Life band, take the stage to a welcoming round of applause. Each member has carried on with brilliance in their previous ventures. Kyle Myles and Mitch Henry, on bass guitar and organ respectively, were originally joined as a collective with drummer Charles Haynes, who Strickland noticed one night while watching Saturday Night Live. Haynes was playing in support of none other than Kanye West, who was in the thick of the promotional cycle for his My Beautiful Dark Twisted Fantasy album.
Then, of course, there's Strickland. When I first laid eyes on him, he was sitting calmly in the Blue Note's green room prior to the afternoon's soundcheck session, relaxed and in conversation, sporting a beard illuminated by equal parts white hairs and well-oiled, glistening black ones. Onstage, he possesses a quietly commanding presence, his preferred tool of brilliance dangling elegantly from his considerable frame as he briefly preps the crowd for what they're about to witness. His smile is reluctant but reassuring, and despite the seriousness of the theme of the evening, he carries a childlike curiosity. He's on this journey with you.
"I'm talking about you. I'm talking about us. I'm talking about the planet Earth. It's a miracle," he says, speaking of The Universe's Wildest Dream, the eight-track instrumental album he released with Twi-Life in January. Ironically, there isn't much actual talking on the record. But Strickland still finds ways to speak to you. 
A sense of calm washes over him, now that he's gotten through the "Hope you guys have a good time" portion of his pre-show preamble. He lifts his sax to his face, adjusts the mouthpiece, takes a quick glance at his supporting cast, and begins to blow. The rhythmic inflation and deflation of his cheek dimples double as the pulse of the venue. Its attendees would respond earnestly to this pulse for much of the evening.
Marcus Strickland is amplifying the looming pitfalls of humanity's future using the essence of its history, with Afro-futurism and "jazz" as his chosen vessel. (We're going to get to the air quotes around the word "jazz." Promise.) "Afro-futurism to me is a projection from the diaspora of a better day. You know, I really can't think of any member of the diaspora who wants to travel back in time," he explains to me in the green room, roughly six hours before he takes centerstage. 
For someone with such a specific personal agenda, Strickland is noticeably loose. Nothing about his occasional guffaws and affinity for going on tangents about passion points emit restless or preoccupied energy. The Grammy-nominated saxophonist is present and gleeful ahead of the evening's engagement, and eager to expound on his vision. There's no evidence of some weird tour rider or impatience, even after our interview runs over. He's chilling. But he's focused.
"A lot of what we're thinking about and a lot of what we're forced to do is create something new out of nothing. It's a breeding ground for genius. You don't have that many things at your disposal, but the things around you that normally wouldn't be associated, you put them together to create a new device. A new way of thinking. That's the energy that drives Afrofuturism. And musically, you can hear it." Strickland pauses to rack his brain for the perfect example.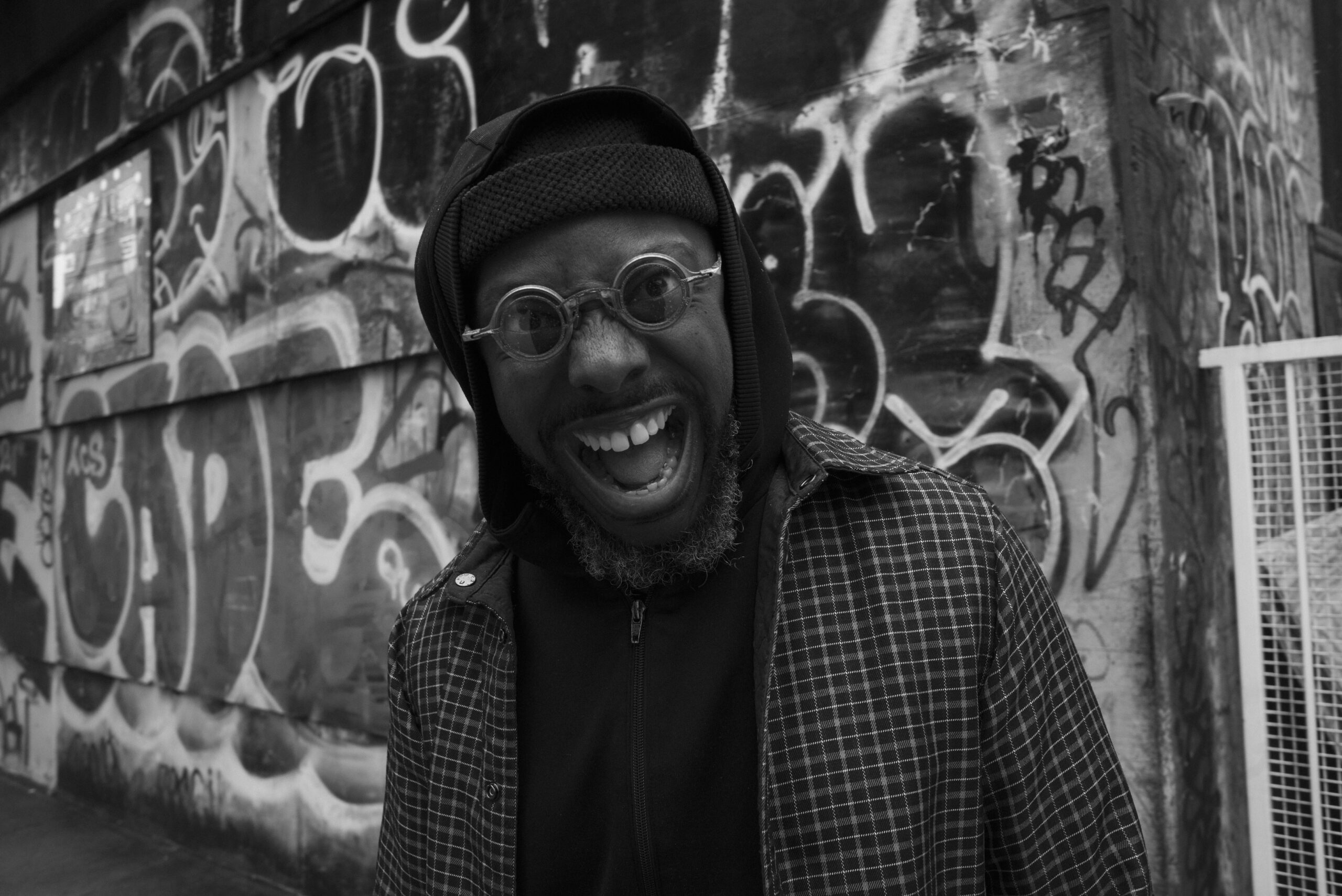 "When you listen to George Clinton and Parliament, there's a heavy roots, bluesy thing in there. But at the same time. You hear all these… space sounds."
You can tell, after a few short minutes talking to Strickland, that this isn't some airy, sweet nothing that he cooked up at soundcheck one day for press release filler. He's sat and marinated with these ideas long enough to store them away and allow them to organically resurface when the time is right — a theme that repeats itself in his world. The first song he and Twi-Life performed live during their set at The Blue Note, "Prayer," was initially conceived after a night out with a woman in Brooklyn in 2021.
Born and raised in Miami, Florida, a place known more for oontz oontz clubs than speakeasies, Marcus Strickland moved to New York City to pursue a career as a saxophonist after developing a love for it at the age of 11 during band practice at school. His band teacher brought several instruments to class that day: trombone, trumpet, clarinet, tuba, flute. But it was the last piece of brass to be introduced that made Strickland's heart skip a beat. "It just blew my mind. First of all, just the way that it looks… It's got this neck that flares out towards the end like the trumpet. It's a cylindrical bore. It goes straight, then it just moves. And then finally there's a bell… This one has a conical bell. It's made out of brass, but the very means of making the sound is woodwind. So it's a hybrid of woodwind and brass. And it just looks cool." 
Listening to Strickland describe the engineering of the saxophone is like listening to Hubie Brown describe an impressive dribble move during an NBA broadcast. To him, the instrument itself is a piece of art. Even Strickland's publicist, tucked away in the green room's corner furiously typing away on her laptop, peeked up from her work to make sure her client hadn't gotten too carried away with his answer. Seconds later, Strickland accepts my somewhat callous summation. 
"Yes, it's sexy. Much sexy," says Strickland.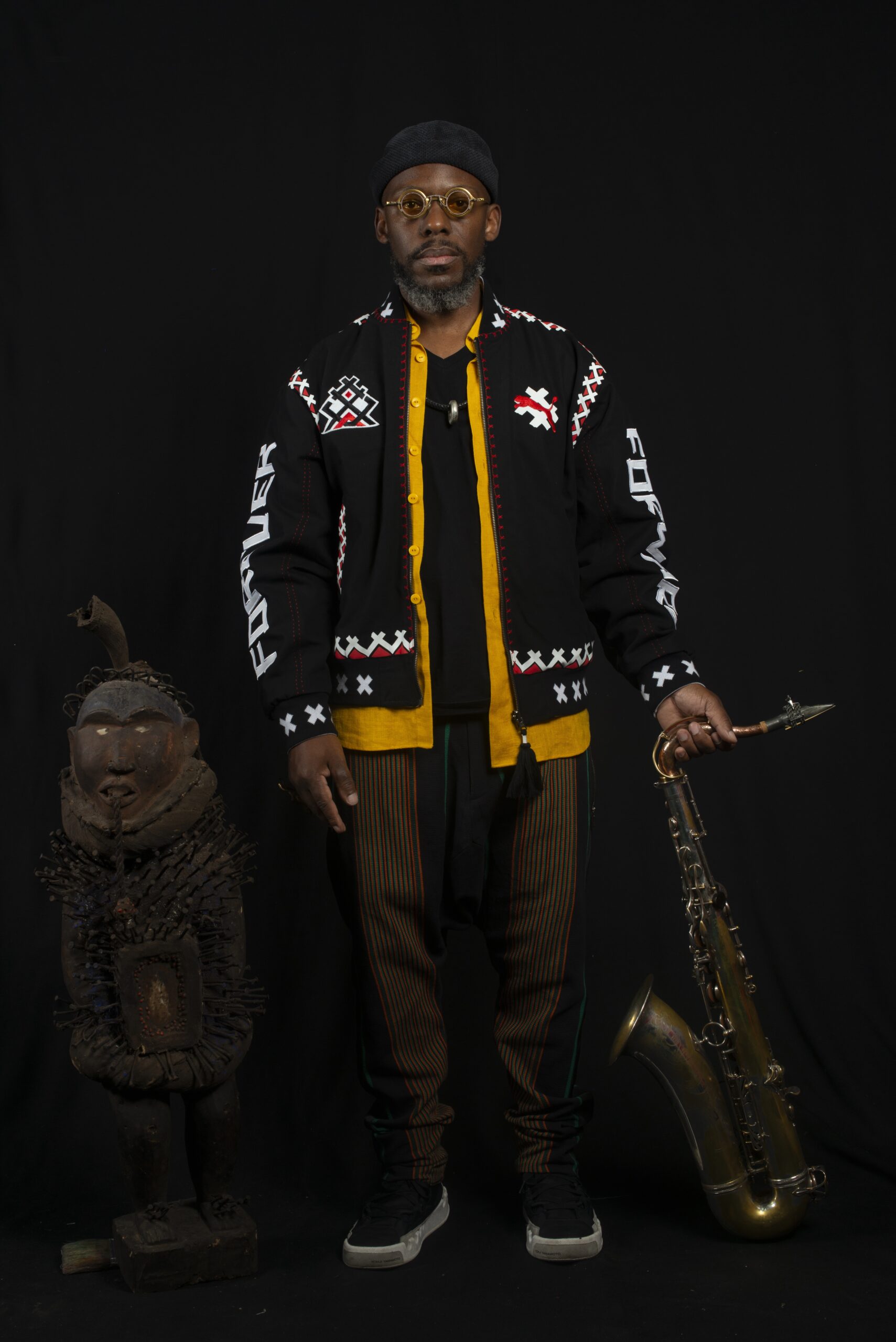 In New York, Strickland was immediately absorbed by the bustling early 2000s music scene, building rapports with some of the brightest pupils at downtown Manhattan's The New School, an institution known as a breeding ground for creative excellence, from Alexander Wang to Robert Glasper. Strickland had met the latter just before enrolling, which hardly seems like a coincidence in hindsight. From Glasper to A Tribe Called Quest, Strickland noticed a similar theme: Black pride. "People were wearing medallions and were proud to be from Africa. It was a fertile time for the music."
And the music is not to be referred to simply as "jazz." It's a point of view that leans more discerning than purist, and Strickland's articulation of it is startlingly lucid, considering its potential to be incendiary. "'Jazz' is a funny word that was made up, and a lot of people don't like it. Actually, a lot of jazz musicians don't like the word 'jazz.'"
Huh?
"Miles Davis hated the word 'jazz.'" 
HUH?
"He called it social music," Strickland explains. "His thing was, 'This is just what we play.' This is Black people playing music." The saxophonist likens musicians' relationship with the word "jazz" to the relationship the hip-hop community has with the word "rap." Rap is a style of delivery, hip-hop is a musical genre. It's Strickland's assertion that somewhere along the way, the lines with "jazz music" were similarly blurred. "It wasn't our choice to call it that," he says. 
With The Universe's Wildest Dream, and the assembly of the Twi-Life band, Marcus Strickland has built a world that urgently asks his peers to not just use the past to enrich the future, but to create a new future. "We need the Earth to cool down by two degrees," he tells the crowd before he and Twi-Life tear the house down. He scoffs at the idea of Elon Musk attempting to create a new Earth on another planet. It reminds him of Gil Scott-Heron's "Whiteys on the Moon," and not in a reverent way. It's interstellar colonialism, if you ask Strickland, and he wants no parts.
Getting this message out as a "jazz" musician, however, has its challenges. Despite Strickland's forward-thinking views on the music, it remains a niche genre. After January's two-night stay at The Blue Note, he won't get the chance to perform with Twi-Life until September. Both Strickland and his band need to tour separately throughout the year to maximize revenue, and that discontinuity isn't ideal. To many, jazz is an antiquated medium that's more spectacle than anything. A night at a jazz club for a young 20-something in 2023 is an exercise in nostalgia, rather than an opportunity to see the future. And with hip-hop as the dominant derivative of what most people would consider "jazz," Kendrick Lamar reciting poetry over Terrace Martin instrumentals is a more popular alternative, especially for younger-skewing audiences.
There's isn't a true alternative, however, for what transpired at The Blue Note during what was roughly a two-hour set. What Strickland and Twi-Life have built is truly a wondrous experience, and one that should be enjoyed by masses of people much larger than the intimate crowd that took in January's experience. 
Then again, the commodification of this experience could be what ultimately ruins it. And that is not the futurism that Marcus Strickland has in mind.