Lana Del Rey stretches out on the seven-plus-minute new song "A&W," the second she released ahead of her March 24th album, Did You Know That There's a Tunnel Under Ocean Blvd. "A&W" was co-written and co-produced by Jack Antonoff.
"It's not about having someone to love me anymore / This is the experience of being an American whore," Del Rey sings at one point on the sparse, disorienting track, during which she also comments on her hair, body shape, and the fact that she "can still be looking like a side piece at 33."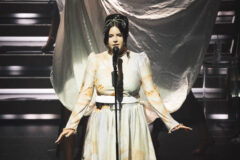 Did You Know That There's a Tunnel Under Ocean Blvd features guest appearances by Jon Batiste, Father John Misty, Tommy Genesis, and Judah Smith. Antonoff, along with Drew Erickson and Zach Dawes, produced the title track, which was released last month.
The new album follows two 2021 releases, Blue Bannisters and Chemtrails Over the Country Club, both of which reached the top 10 on The Billboard 20. Del Rey also appeared on Taylor Swift's "Snow on the Beach" from her album Midnights, which became the former's biggest hit to date when it hit No. 4 Spot on the Billboard Hot 100.