For the prudently (or perhaps cynically) inclined, the prolific and notoriously antagonistic author Harlan Ellison said it best when he wrote "love ain't nothin' but sex misspelled." The notion of what constitutes love is multifaceted and inherently contextual, despite the significant cultural conditioning suggesting, not only universality, but the dangerous superficiality of the happily-ever-after syndrome supposedly accompanying the discovery of it. 
And yet the "love" both celebrated, mourned, and endlessly longed for across generations of poetry, music, literature, and film more often fixates on the provisional honeymoon period of this experience, the tip of an iceberg which descends into depths and darknesses revealed only through extensive time and circumstance. 
In other words, we're trained to be made vulnerable to the fantastical high and the temporary insanity of new love while blindly ignoring how it's destined to warp and corrode beneath the unpredictable realities of life. But for the bold and experienced, there exists a dizzying amount of global narratives exploring the dark side of love, where the confrontation of the necessary sacrifice to keep it going often leads to various toxicities and formidable codependency. Roy Orbison's mournful 1962 ballad "Love Hurts" rightly suggests the combustible inferno created through our shared and ultimately normalized psychosis of what happens beneath the public performance and ultimate facade of love. 
For those who embrace the inherent miserablism of adoration, here's a list of obsessions, murder, and madness which represent the comorbidity accompanying passion, desire, and adulation — pertinent unguents to the capitalist manufacturing of St. Valentine's Day distress.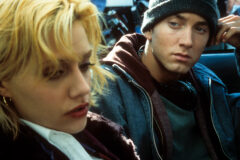 While not exactly a salutation to schadenfreude, perhaps there's more to learn from the failing amour fou of others than celebrating the saccharine slander of forced fallacies.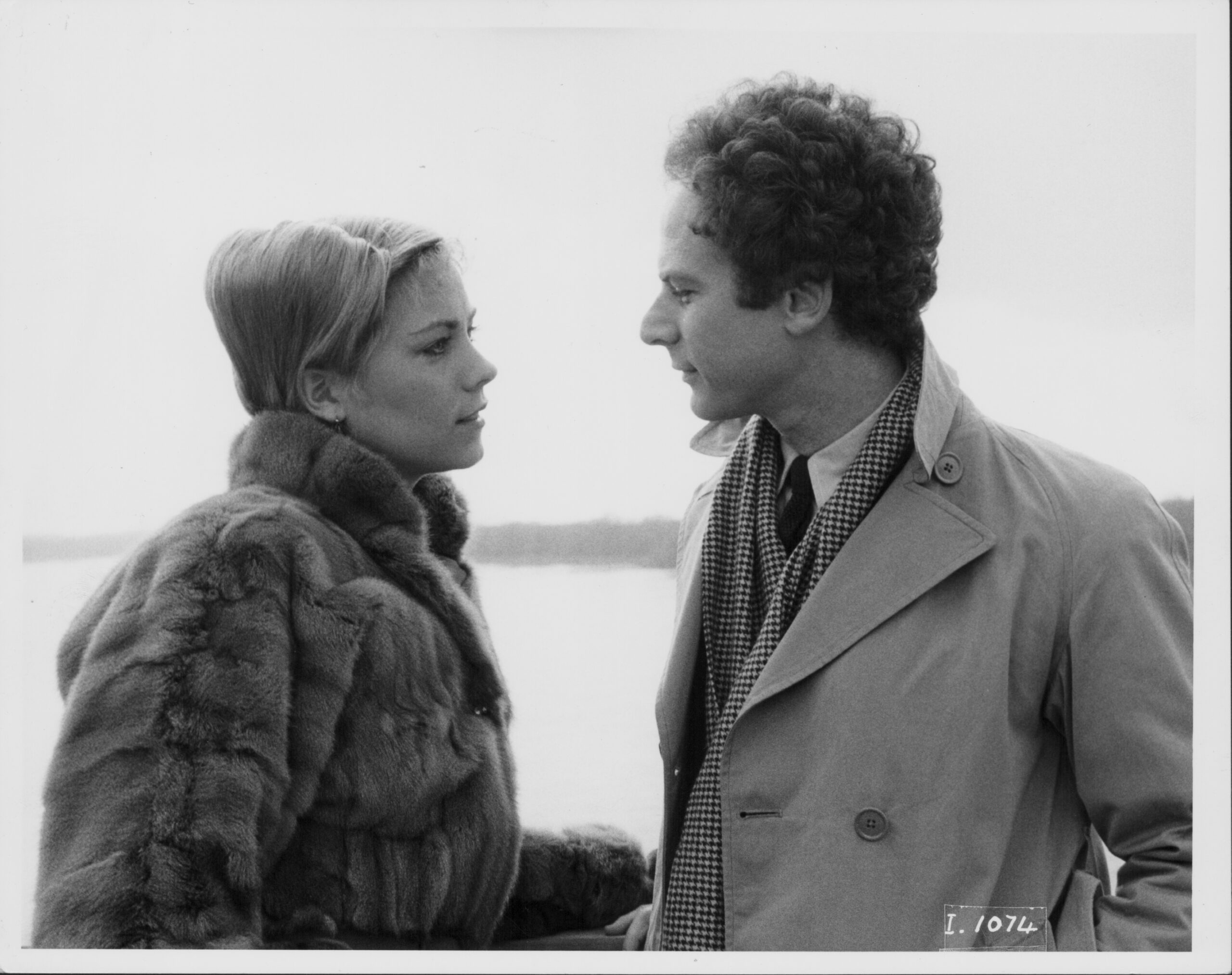 20. Bad Timing: A Sensual Obsession (1980)
Like Madonna, you'll want to analyze this, the toxic love affair between Art Garfunkel and Theresa Russell in Nicolas Roeg's classic Bad Timing: A Sensual Obsession. Living up to its multilayered title in several ways, a research psychoanalyst in Vienna finds himself thrown into a tumultuous affair with Russell's freewheeling good-time gal, estranged from her older Czech husband (an appropriately absent Denholm Elliott). But the affair quickly sours when Garfunkel's Dr. Linden realizes he can't truly own her, jealous of her past love affairs and paranoid about any concurrent ones. While she displays interest in exploring a relationship beyond the physical, it's clear he's focused on sexually possessing her. 
The film opens with an Austrian medical team attempting to resuscitate Russell's character following an overdose, with a tenacious detective played by Harvey Keitel overtly suspicious about the timeline of the suicide attempt. With the love affair playing out in flashback, it appears Garfunkel might be guilty of "ravishment," taking advantage of her body (and her love) while she was incapacitated, which significantly delayed the medical intervention she needed. As Keitel sifts through the artifacts of their affair, including unfinished letters with phrases like "I wish you could understand me less and love me more," Roeg uses the specter of Sigmund Freud to haunt the periphery of this dark tale of erotomania. Notably, Roeg had his own personal obsession with lead star Russell, 30 years his junior, who became his second wife. They'd marry and eventually divorce after working together on six film projects (the last, 1991's Cold Heaven, being a rather interesting exercise on adultery on which to end their collaboration).
19. Revolutionary Road (2008)
Directed by Sam Mendes, who was married to lead star Kate Winslet at the time (they divorced in 2010), Revolutionary Road depicts a suburban marriage on the verge of imploding. Reuniting Winslet with her Titanic (1997) co-star Leonardo DiCaprio, Mendes doesn't quite channel a desired Sirkian heartbreak of how women were systematically trapped and repressed in 1950s America, but Winslet is effortlessly poignant as a 30-something who realizes the man she once loved has chosen the deadening complacency of mediocre comforts over reinventing their relationship. An exercise in the dangers of straying too far from the lies we tell ourselves about those we love, it's an all-too-obvious template depicting how our relationships are eroded by toxic social components of the communities we stake claims to.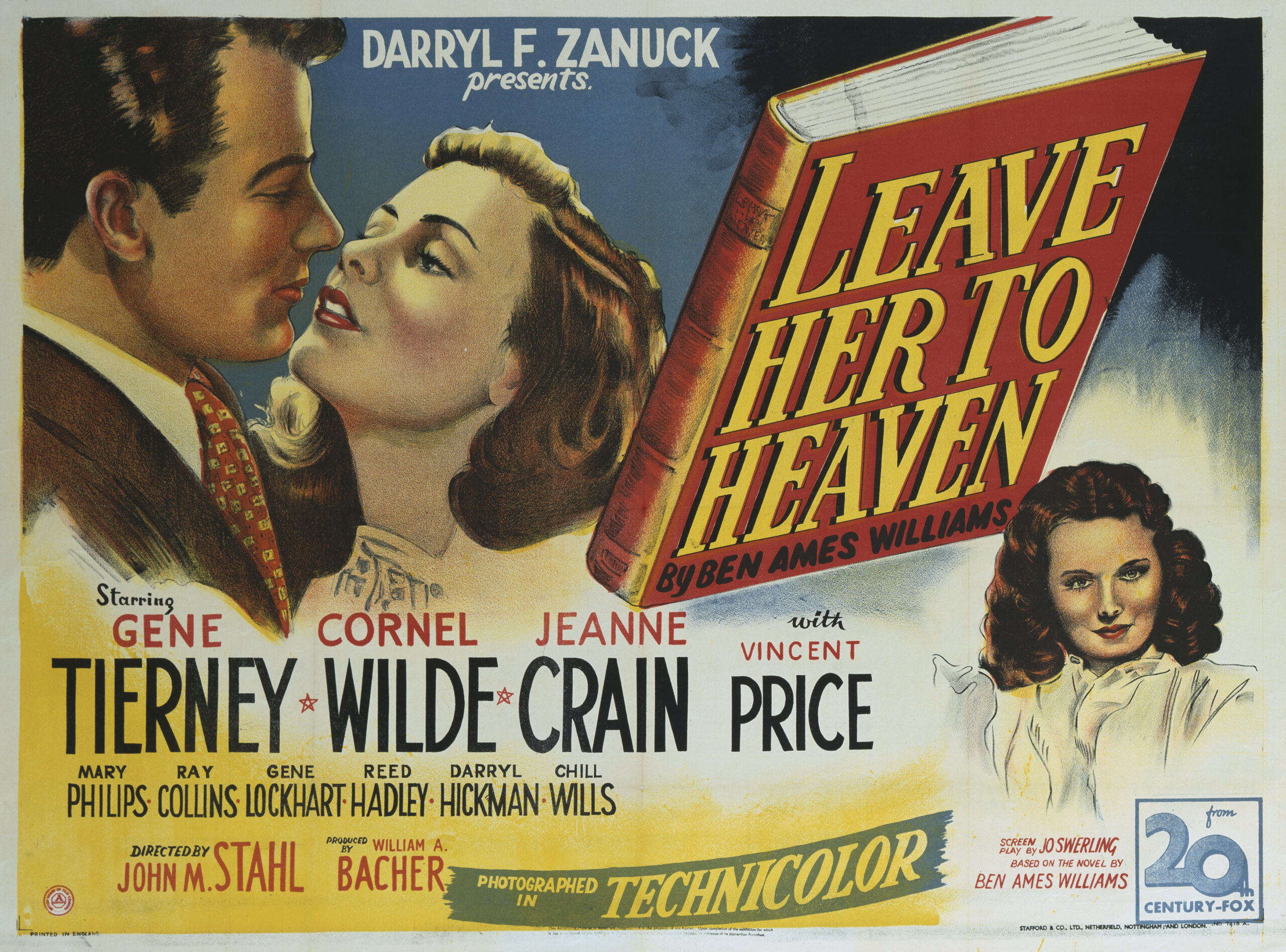 18. Leave Her to Heaven (1945)
You'd be hard pressed to find a colder lover than Gene Tierney's infamous Ellen Berent Harland of John M. Stahl's classic technicolor noir Leave Her to Heaven. Based on Ben Ames Williams' 1944 novel, a stunningly beautiful socialite sets her sights on Cornel Wilde's successful writer, and efficiently obliterates everything representing a potential distraction, including his profession and a younger brother (a person with a disability) she cruelly lures to the middle of a lake to orchestrate his death. 
Bette Davis might have had a similar scene in William Wyler's 1941 film The Little Foxes in relation to a husband she couldn't stand, but the venomous placidity of Tierney, calmly observing the young boy's death behind the veneer of her sunglasses, remains a more shocking sight to behold. And then, let's not forget her throwing herself down the stairs to abort a pesky pregnancy that threatens to siphon her husband's attention away from her toward a potential child. Luckily, Wilde conveniently has another option waiting in the eaves thanks to the patient (and rather dull) Jeanne Crain, but it's Tierney's wicked praying mantis serving unforgettable chills as she channels the energy hinted at in the Fassbinder title Love is Colder Than Death (1969). Indeed.
17. Crazy Love (2007)
The bizarre story of New York lawyer Burt Pugach and his maiming of and marriage to Linda Riss is the subject of Dan Klores and Fisher Stevens' 2007 documentary, Crazy Love. When the 21-year-old Linda broke off a courtship to Burt after discovering he was married, he threatened to harm her, and hired men to throw lye in her face, partially blinding and permanently scarring her ("If I can't have you, no one else can have you"). And after serving a 14-year prison sentence, Burt eventually married Linda after his release from prison.
16. Gett: The Trial of Viviane Amsalem (2014)
The late, great Ronit Elkabetz co-directed Gett: The Trial of Viviane Amsalem with her brother Schlomi Elkabetz in 2014. She stars as the titular Viviane, a woman seeking divorce after 20 years of marriage in modern-day Israel. Due to an archaic legal system, Viviane is put through the ringer in this grueling escapade whereby her atrocious husband (Simon Abkarian) and his despicable lawyers do everything in their power to stop her. The performance was Ronit Elkabetz's last, a formidable indictment on an archaic judicial system and the inherent misogyny that degrades and demeans women as less than equal in their intimate relationships.
15. Rouge (1987)
Stanley Kwan directed Rouge (1987) a lush but melancholic ghost story about a 1930s Hong Kong prostitute named Fleur (pop icon Anita Mui) who falls in love with a pharmaceutical heir (Leslie Cheung). His family, predictably, demands they end the relationship, leading them to develop a suicide pact so they can remain together forever. Only, he doesn't fulfill his end of the bargain, and 50 years later, Fleur, who's been by herself in hell, pops up in Hong Kong looking for him. For Fleur, her search might be anticlimactic, but there's an exquisite beauty to her fading entity set to the lyrics "into the ocean goes my bucket of water called love." For additional explorations on this woeful theme, Masahiro Shinoda's Double Suicide (1969) and Jessica Hausner's Amour For (2014) would make for a killer triple feature.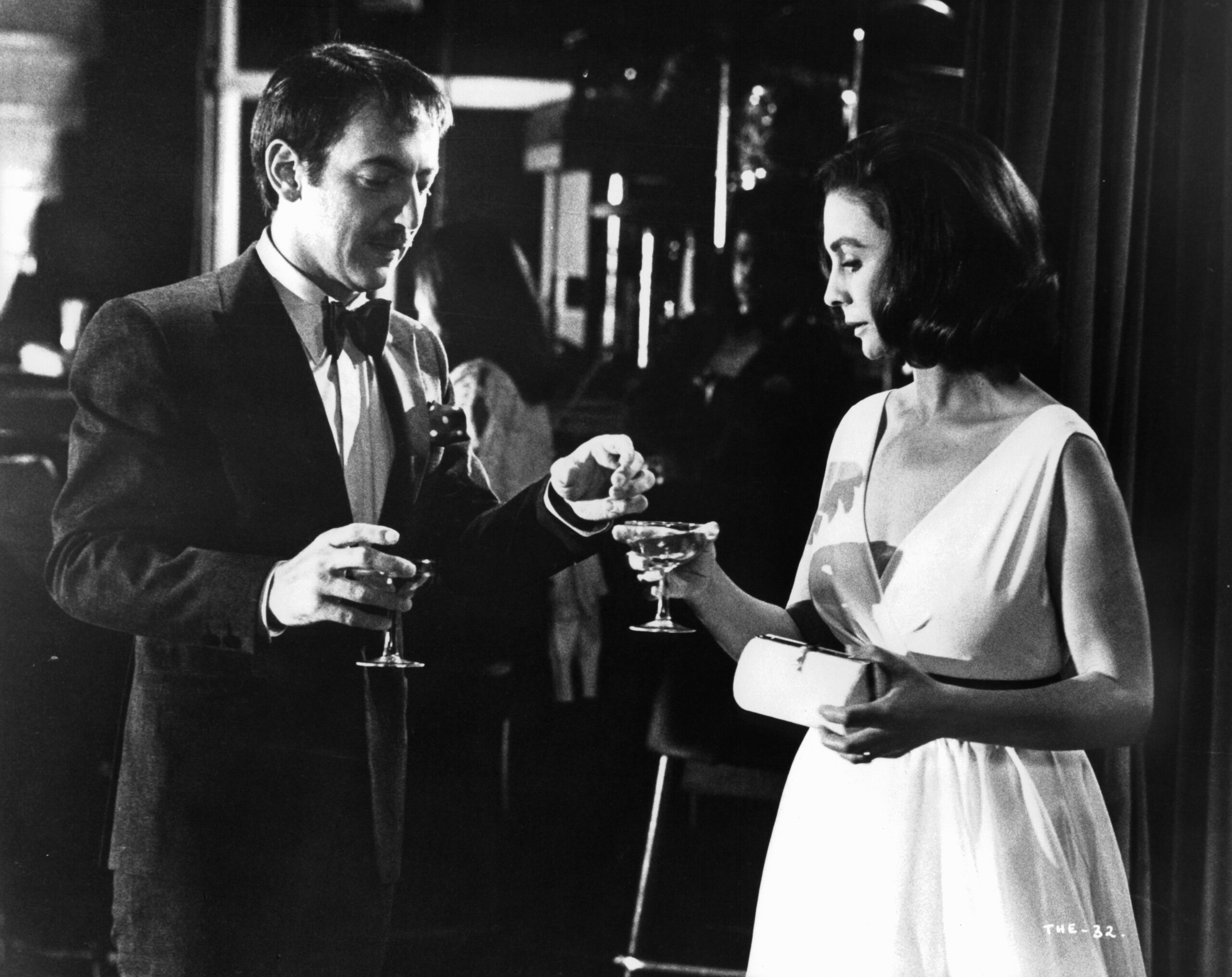 14. The Happy Ending (1969)
There are more sensational and perverse divorce stories (Marriage Story, The War of the Roses, several Ingmar Bergman titles, for instance), but there's something inherently melancholic and gently affirming about Richard Brooks' 1969 film, The Happy Ending, which starred his then-wife Jean Simmons (in an Academy Award-nominated performance). Of course, there is no happy ending, and Simmons stars as a woman who leaves behind her picture-perfect 1950s wedding after 16 years of marriage, a suicide attempt, and budding alcoholism. Shirley Jones appears as her college friend who's enjoying the benefits of the sexual revolution while Bobby Darin pops up as a man who wants to con her. A fitting reunion with her ex, John Forsyth, grants her the line: "People in love are crazy." It didn't have the cultural impact of, say, 1974's Scenes from a Marriage, a film blamed for causing a spike in Sweden's divorce rate. But there's something delicately stirring in what feels like a real-life role-playing between Simmons and Brooks (who would divorce eight years later in 1977) in a comparable cathartic roleplay to Mendes/Winslet in Revolutionary Road. 
13. The Wounded Man (1983)
An obscure gem from Patrice Chereau's filmography is 1983's A Wounded Man, a sexual-awakening tale starring Jean-Hugues Anglade as Henri (who would also appear in another film worthy of this list, the 1986 Jean-Jacques Beineix classic, Betty Blue). With his parents dropping his sister off at the train station for school, Henri discovers a sordid underbelly of men engaging in sexual activities, becoming instantly smitten with the abusive and wayward Vittorio Mezzogiorno. Crooked cops and rampant manipulation in this grungy French demimonde leads the young man to the only drastic measure he can conceive of to hold onto his object of affection.
12. Trouble Every Day (2001)
Vampirism is obviously a fitting metaphor for love, and it's the disease at the crux of Trouble Every Day, a devious title from Claire Denis. While on his honeymoon in Paris with another woman, Vincent Gallo hunts down the woman he's actually obsessed with, Beatrice Dalle (Anglade's iconic co-star in Betty Blue), a woman who suffers from a disorder requiring her to drink blood, kept hidden by Alex Descas, a neuroscientist who helps dispose of her victim's corpses. A fiery inferno doesn't quite cleanse Gallo's delusion, who has inherited the love bug from the dangerous femme fatale he was so fixated upon. 
11. Why Do Fools Fall in Love (1998)
Fresh off the success of 1997's Selena, director Gregory Nava examined the messy love life of Frankie Lymon (Larenz Tate) in Why Do Fools Fall in Love, named after the doo-wop singer's iconic 1956 track, recorded when he was just 13 as headliner for Frankie Lyman & The Teenagers. Scripted by Tina Andrews (who appeared in a dizzying amount of 1970s and 1980s television before penning this and a television treatment on Sally Hemings, starring Carmen Ejogo in 2000), the film provides the perspective of three women (a formidable trifecta played by Halle Berry, Lela Rochon, and Vivica A. Fox), each who claimed to have married Lyman and attempted to subsequently claim his estate. A sort of vitriolic reversal to A Letter to Three Wives (1949), the Joseph Mankiewicz hit that examined three separate marriages from the perspective of the wives who each dreaded confirming whose husband was cheating, Nava constructs what often plays like a dark comedy. However, the tragedy of three beautiful Black women, who had ulterior motives or not, being left in the lurch seemed lost on the critical masses upon the film's release. Although only one would win Lyman's estate, in the words of Fannie Hurst: "In the case of a bad marriage, you win if you lose."
10. The Bitter Tears of Petra Von Kant (1972)
Margit Carstensen is in iconically campy form as the eternally haughty, unapologetically bitchy titular character in Rainer Werner Fassbinder's lesbian classic The Bitter Tears of Petra Von Kant. An impossibly narcissistic fashion designer, Petra is introduced to Hanna Schygulla's Karin, a vapid 20-something who recognizes the elder's vulnerability. As Petra falls head over heels for the manipulative Karin, her prosperous existence quickly unravels, leading to one of cinema's most depressingly entertaining birthday parties.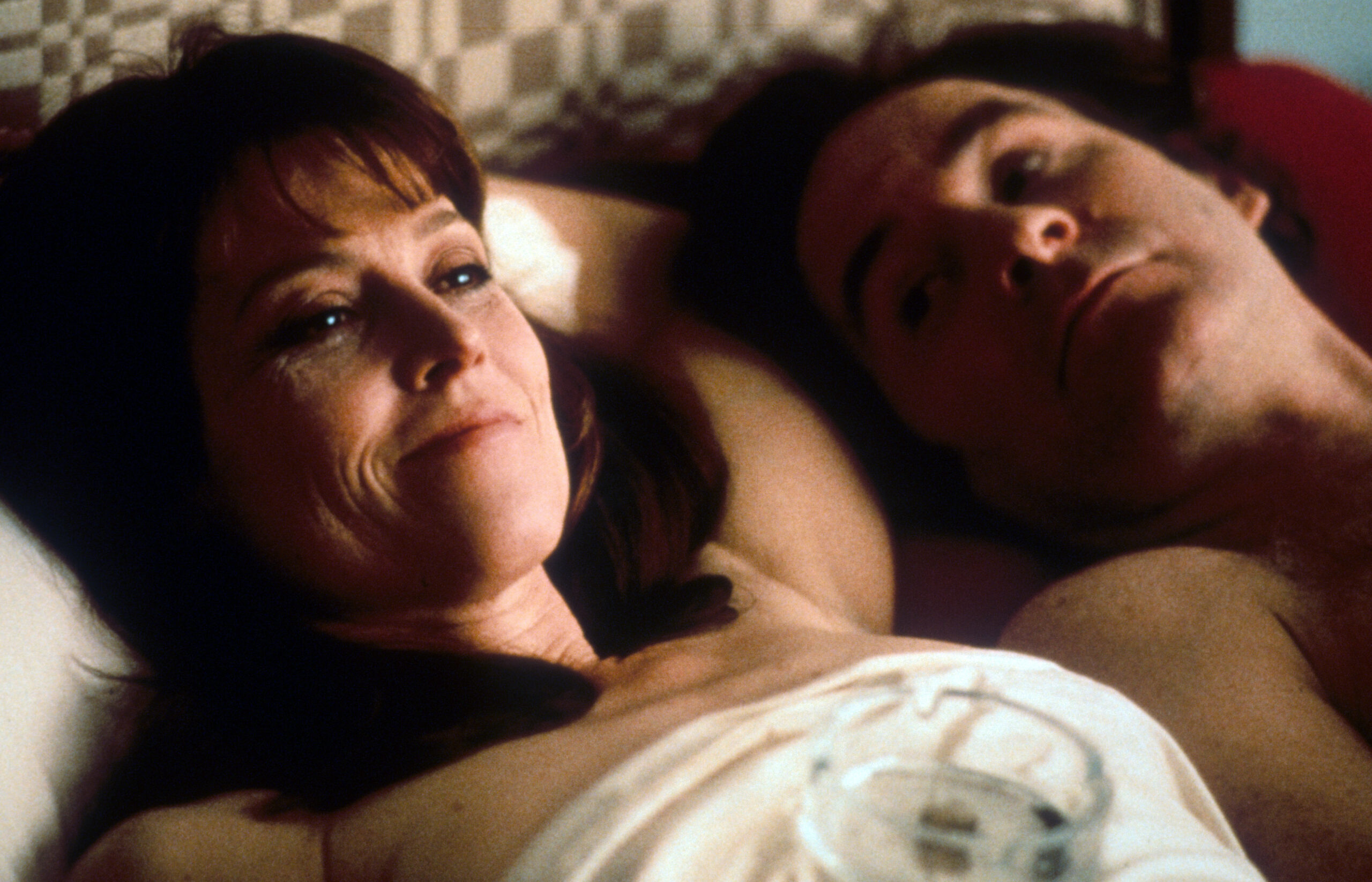 9. The Ice Storm (1997)
Ricky Moody's 1973-set novel The Ice Storm was brilliantly adapted by the coolly observant Ang Lee with an all-star cast in 1997. Two unhappily married WASP couples in well-heeled New Haven, Connecticut find their lives changed following the titular storm on the same night of a despairing key party (a sort of pin-the-tale-on-the-sex-partner for intrepid swingers), where sexual fulfillment is nowhere to be found amongst the incestuous and unhappily married couples in the community. Kevin Kline, Joan Allen, Sigourney Weaver (in a viciously enjoyable, BAFTA-winning performance) and Jamey Sheridan play the adults, whose children are being reared for the next generation of unstable inheritors of their parents' ambivalence. Spoiler: This is the film where Sigourney doesn't find the key master. 
8. Abuse of Weakness (2013)
Catherine Breillat adapts an infamous scenario from her own life as a filmmaker. After suffering a debilitating stroke, Breillat was taken in by a young, handsome con-man. Her amorous feelings allowed her to be drawn into an escapade whereby a planned film project intended to be a star vehicle for him ended up with Breillat being robbed blind and her professional reputation tarnished. Isabelle Huppert stars as Breillat's composite, Maud, while rapper Kool Shen portrays her assailant. As usual, Breillat examines the perverse pleasures which also accompanied her victimhood.
7. Prick Up Your Ears (1987)
Stephen Frears, fresh off his groundbreaking queer classic My Beautiful Laundrette (1985), examines the life of infamous playwright Joe Orton (Gary Oldman), murdered by his longtime lover (Alfred Molina) at the height of his success in 1967 England. A biographer (Wallace Shawn), with the help of Orton's conspiratorial publisher (Vanessa Redgrave), reexamines Orton's libidinous diaries, revealing a toxic relationship mutated by not only the virulent homophobia of the period, but also the jealousy of Orton's comparatively unappealing lover, a social misfit driven mad by his partner's success and significant emotional manipulations.
6. Time (2006)
Although his 2013 provocation Moebius might be a more fitting title, South Korea's Kim Ki-duk delivered something exquisite and elegant with 2006's Time. In order to save her stagnant relationship, a woman transforms herself through plastic surgery and reintroduces herself to her husband as someone else. Though he's mourning the disappearance of his wife, she's able to re-experience the tenderness and courtship she'd been missing, never realizing this drastic action is doomed to evaporate, thanks to the ultimate destroyer of love: time. 
5. Devil Between the Legs (2019)
Several of Mexican auteur Arturo Ripstein's titles fittingly examine the disastrous nature of love (including his 1996 hit Deep Crimson, a take on those perennially fascinating "Lonely Hearts Killers"), but his 2019 film Devil Between the Legs tackles the quickening decline of a geriatric married couple (Sylvia Pasquel, Alejandro Suarez) who both seek desire, but not necessarily from each other. Although he has a mistress, he aggressively initiates sex with his wife, who's been sneaking out for tango lessons and yearns for her much younger dance instructor. Marlene Dietrich crooning "Falling in Love Again" cruelly and ironically opens the film, an agonizing descent which includes a lot of grueling stuff, like the wife scrubbing her vagina with bleach.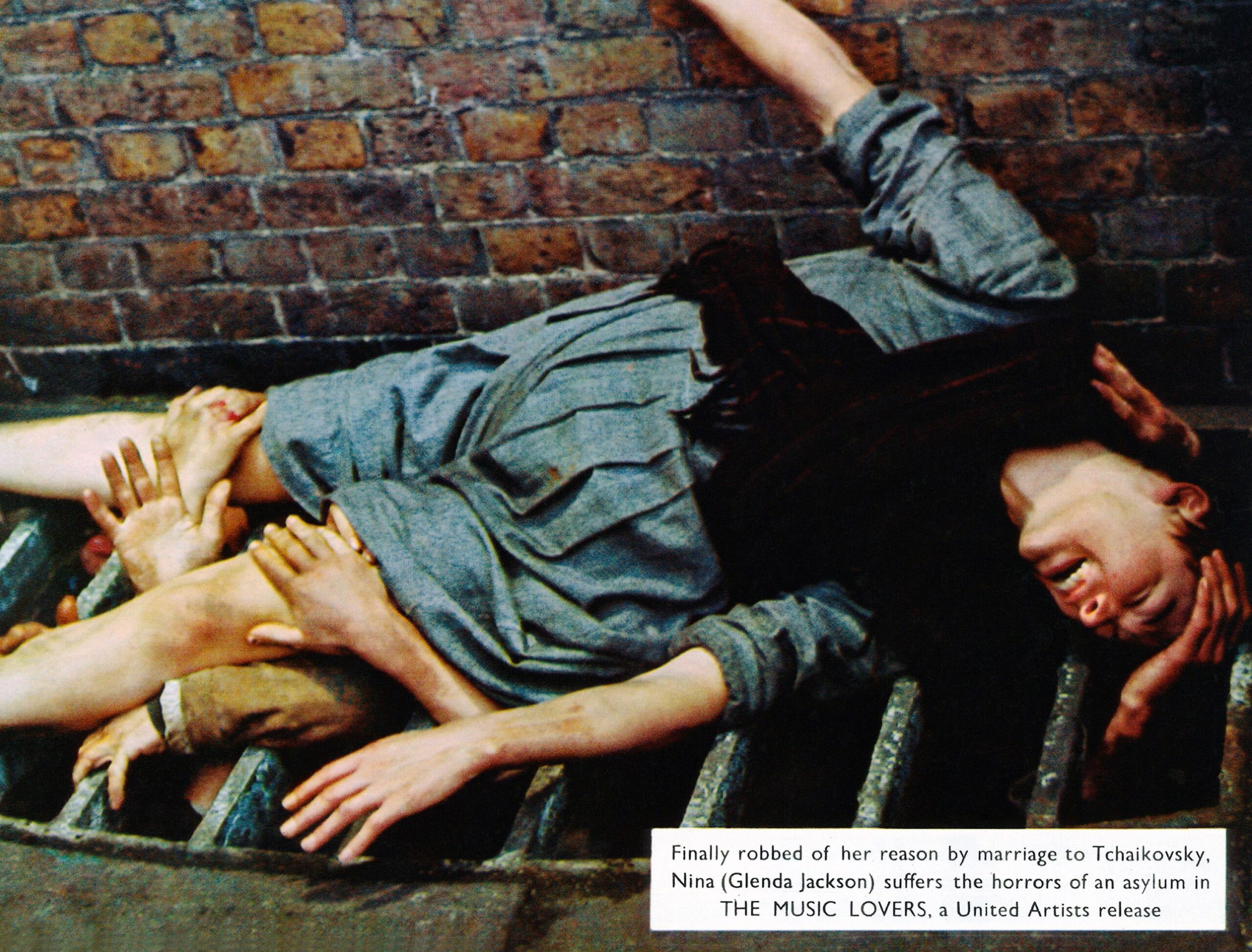 4. The Music Lovers (1971)
Following the success of 1969's Women in Love, Ken Russell returned to work with his muse Glenda Jackson on The Music Lovers, relaying the sordid relationship of composer Poytr Ilyich Tchaikovsky (Richard Chamberlain), a closeted homosexual, with his wife Antonina Milyukova, who was quickly rejected by her famous husband and died in an asylum (Kirill Serebrennikov recently revisited Antonia's tragic story in 2022's Tchaikovsky's Wife). 
Critics loathed the bombastic liberties taken by Russell (little did they know 1975's Lisztomania was still forthcoming), but Molly Haskell's description of Jackson in The Village Voice is most delectable: "She is a homosexual's nightmare of a woman—man-eating, spinster, nymphomaniacal, pouring ice water on the libido and crushing the ego with indifference." Cast off by the man she's infatuated with thanks to a heated courtship transpiring only through tempestuous letters, Tchaikovsky is advised by his cohorts, "If it's love you want, an audience will give you that."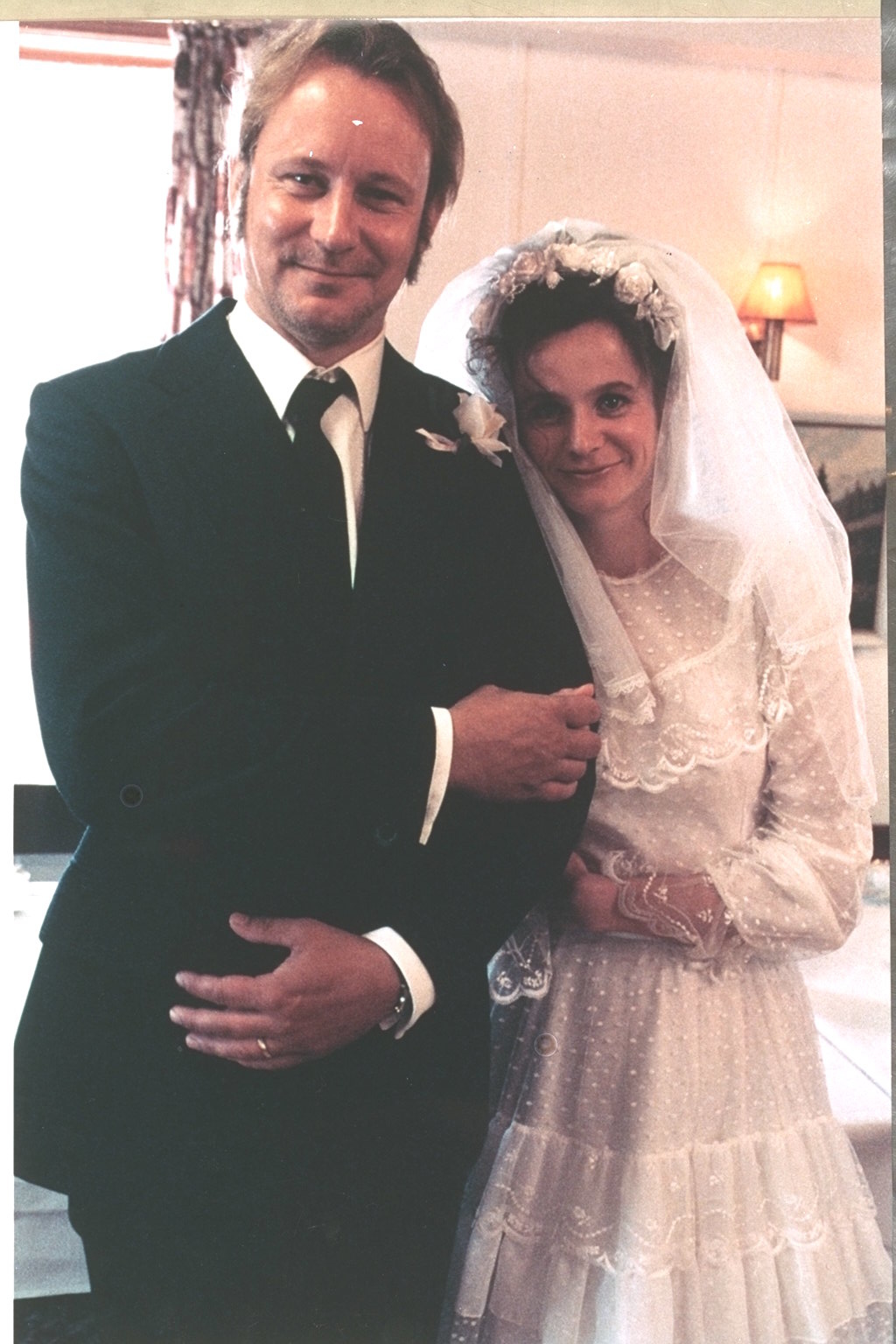 3. Breaking the Waves (1996)
Lars Von Trier cemented his international reputation as a supreme torturer of women in his 1996 hit film, Breaking the Waves, taking home the Grand Jury Prize at Cannes and netting Emily Watson an Academy Award nomination for her film debut. A virginal innocent on a strictly religious Scottish isle finds her faith is tested when she marries oil rig worker Stellan Skarsgard and experiences a potent sexual awakening. Their bliss is immediately compromised when he's irreparably injured at work. He asks her to embark on sexual escapades with random men and relay the experiences to him as a way for them to share pleasure. She does, and she's outcast by her community and descends into martyrdom through sexual annihilation at the hands of violent rapists (led by Udo Kier). Katrin Cartlidge also stars as her sister-in-law and nurse, the brief flicker of light in a world shrouded by human darkness.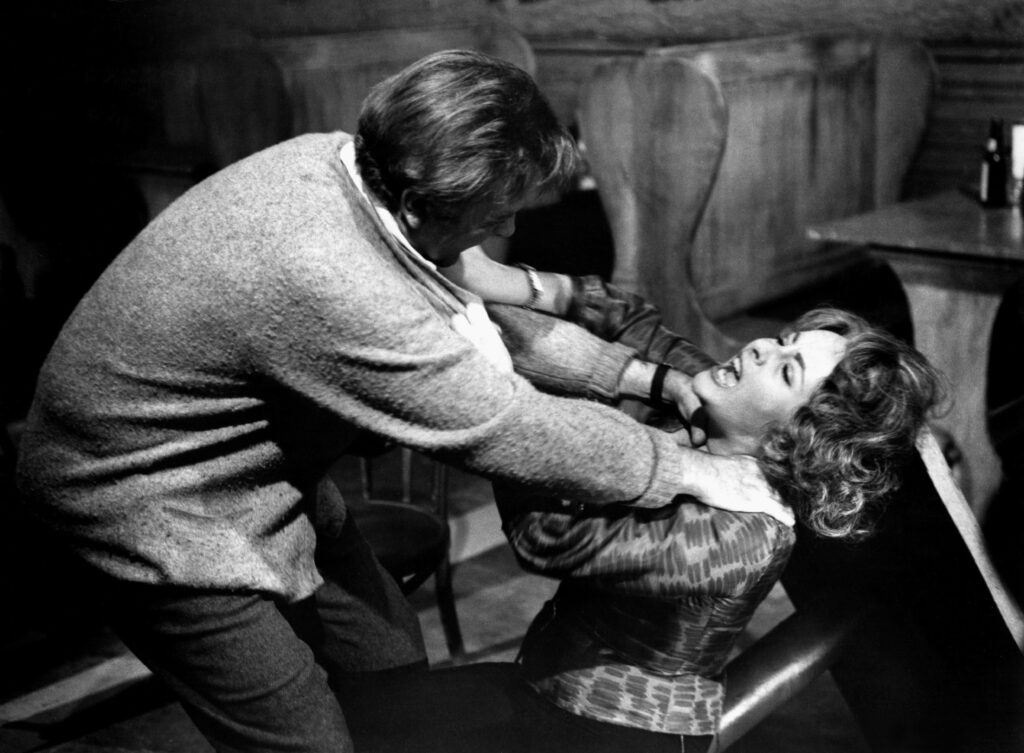 2. Who's Afraid of Virginia Woolf? (1966)
Edward Albee's classic play became the template for Mike Nichols' directorial debut, Who's Afraid of Virginia Woolf?, a film which sealed the fate of Hollywood's censorship code by overriding the final tenet regarding foul language. Elizabeth Taylor (winning her second Academy Award for Best Actress) and real-life husband Richard Burton seemingly engage in their own personal catharsis as an alcoholic couple who've grown to hate one another. But one drunken night with a younger couple (George Segal and Sandy Dennis, who took home the Best Supporting Actress Academy Award) allows them to sharpen their talons through devious psychological games. A night of shrieking, drunk driving, adultery, and fantastically strange dancing leads to an ultimate vulnerability where George and Martha confront themselves and peel away the faded veneer of a fantasy they've used to hold themselves together.
1. Possession (1981)
If Grand Guignol were an emotional register, it would be Andrzej Zulawski's unforgettable 1981 film, Possession, filmed in West Berlin. Ultimately a horrific metaphor on a violent divorce, the Polish provocateur drew on his own relationship with actress Malgorzata Braunek, who starred in his first two films, The Third Part of the Night (1971) and The Devil (1972). What results is an iconically deranged performance from Isabelle Adjani (taking home Best Actress at the 1981 Cannes Film Festival for this film and James Ivory's Quartet) as a woman who has left her husband, Sam Neill, for a slimy alien creature she's holed up with in a dilapidated apartment. As he aggressively tries to coerce her into returning home, where she's also left behind their young son, the creature slowly begins to morph into a semblance of her husband. Simultaneously, his son's teacher, a doppelgänger for his adulterous wife, represents the disciplined femininity he desperately wishes his wife still embodied. A bloody crescendo suggests their only solution was annihilating their former selves to create new versions who haven't yet grown to hate one another.
Watch Nick and his husband Joseph review (and spoil) films on their YouTube channel, Fish Jelly Film Reviews. Their podcast of the same name is available everywhere.