Artistic inspiration is a funny thing — it can arrive anywhere, at any time, whether you're ready for it or not. For Gina Birch, these vagaries resulted in a creative renaissance just at the point when her many of her peers are ready to pack it in.
In recent months, the 60-something redheaded bassist in U.K. post-punk heroes the Raincoats has not only been the subject of her first solo painting exhibition but also completed her debut solo album, I Play My Bass Loud, which is out today (Feb. 24) on Jack White's Third Man Records. The album was produced by fellow British rock veteran Martin "Youth" Glover (the Verve, U2, Kate Bush), and its 11 hard-hitting rock and electronic-leaning songs certainly live up to its moniker of pushing the envelope — age be damned.
While I Play My Bass Loud often flashes back to the anything-goes, DIY ethos of classic early Raincoats music, it also dabbles in weird, noisy sonic pastiches ("And Then It Happened") and "ya, mon"-style minimalist reggae ("Digging Down"). Sonic Youth's Thurston Moore plays guitar on the wobbly dub closer "Let's Go Crazy," while Birch nods to the Raincoats' profound influence on the '90s riot grrrl movement by assembling five female bassists to contribute to the title track.
The album includes "Feminist Song," which Birch previously performed with the Raincoats. On this version, Brich reclaims it as an enduring statement of purpose: "Yes there are women in positions of power / But so many more in chains in drudgery / So when you ask me if I'm a feminist / I say why the hell would I not be?" she sings.
"For me, and for all the Raincoats, when Bikini Kill and all the riot grrrl stuff happened, it was so exciting," Birch says. "They held a mirror back up to us and said, 'hey, what you did was great, and we're taking it from there in a different way.' You can do something and it fades away without you knowing what footprints you've left, and when we found out that what we'd done had been picked up by these women in Olympia and all that, it was so great for us."
Ahead of the release of I Play My Bass Loud and a short U.K. tour, SPIN spoke with Birch over Zoom about harnessing creativity and whether music can still change the world at this late date.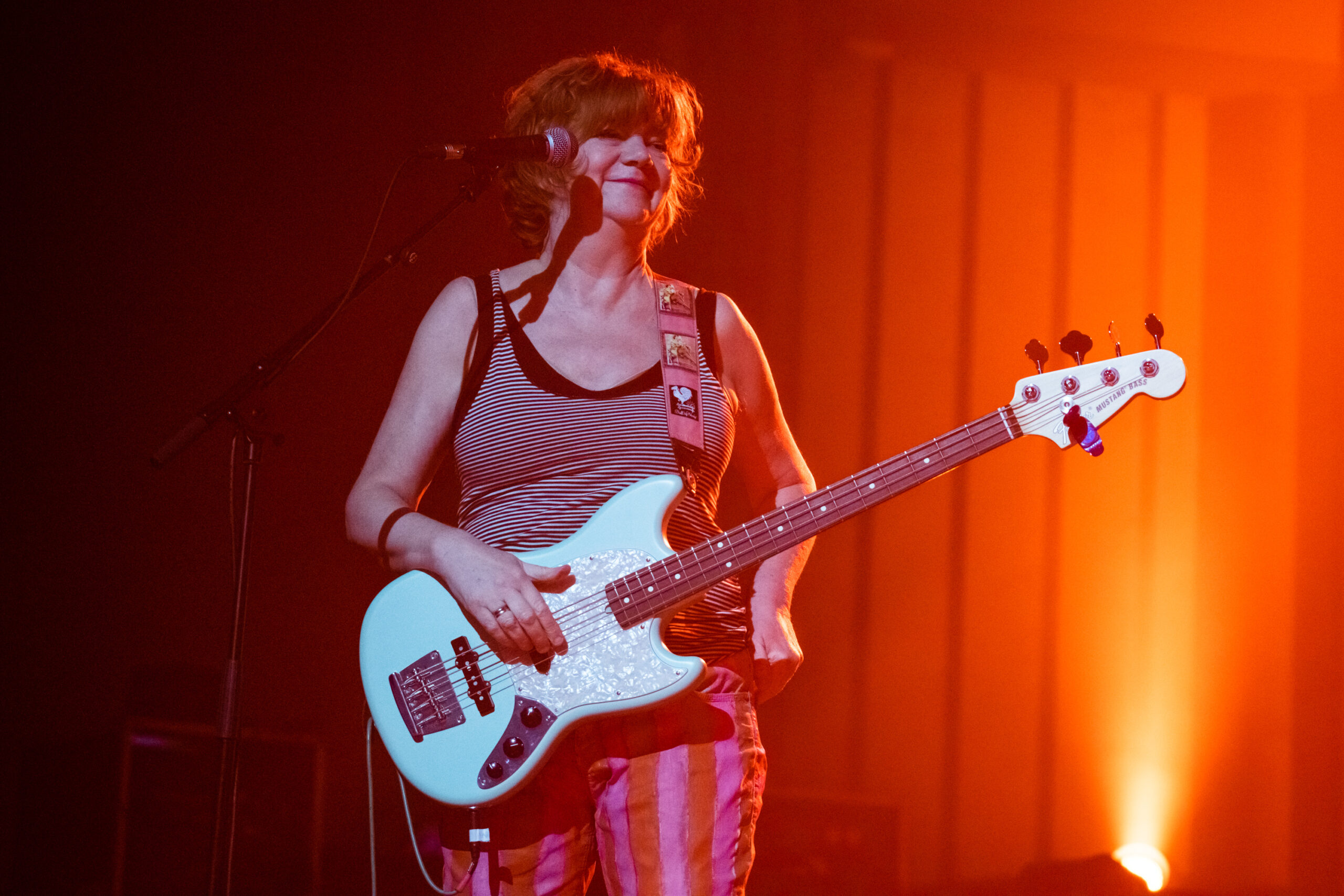 SPIN: Did you ever think you'd be making your first solo album at this stage of your life and career?
Gina Birch: No! Not even a fortune teller has told me that [Laughs]. I do remember once though, years ago, somebody did do my chart and they said success will come later in life. I've just had my first solo painting show, and now my first solo record. You can make a first solo record and have it sit in your cupboard, but this one's had a bit of attention. What can I say? Thank the lord, and I'm a lapsed Catholic.
So, why now?
I'm always making things. I don't exist if I'm not making a little film or writing a song or doing a painting. When my work intersects with someone who wants to help me make it happen publicly, that's extraordinary, and that's what's happened to me twice in this last year. When I was growing up, and as I entered my creative life post-school, 'money' and 'career' were a bit like dirty words. I was an art purist. You didn't think in those terms in the late '70s. The '80s became the decade where everyone started looking at their wallets. Obviously, you've got to pay the bills, but when I came to London, I lived in a squat. It was a very creative scene. It was possible to live on no money, so it's all very well for me to say we didn't think about it, but in a way, you didn't have to.
What's the origin of this material, and what nudged you into actually recording it?
I had a lot of songs, some of which were almost finished. I probably could have released them like that. "Feminist Song" was finished. "I Will Never Wear Stilettos" had existed for a long time. A lot of the songs were on my computer, and then I'd come back to them a year later. It was like a Greek chorus, where I'd respond to something I'd already said on the track. It was like conversations with myself over a period of years. I played a few songs live in this basement in Hampstead, and Youth turned up with Vivienne Goldman because they were going to do something. He was like, 'that's one of the best live gigs I've ever seen.' I said, 'What? Really?' When I went to see him, I said, 'well, I have all these electronic songs too.' He wanted to make an album just with me and my guitar, but I had already done that with the Hangovers. Eventually, he said, 'I like the electronic songs too,' so we restructured some of them and added a bit more guitar. He was a kind of zen presence to my [makes roaring noise]. He's always there toking away. We just did it all in one room at the top of his house in Wandsworth. I'd stand in the middle and sing and play, and, in fact, the version of 'I Am Rage' on the album is the guide vocal from the first day.
Based on your backgrounds in the U.K. music scene of the '70s and '80s, had you two really not ever met before?
That was the first real meeting. I'd actually been to his house when Mark Stewart of the Pop Group was recording an album there. He asked if I'd sing and play some bass on it. At that point, the studio was on the ground floor, and when I got there, there weren't any other females. I felt a bit intimidated because I hadn't been sent the tracks or the words. Suddenly I found myself in this room full of men I didn't know except for Mark, a bit. Youth came out and said hello, but we didn't have a proper chat. This was probably 10 years ago. Mark handed me these lyrics, and I think I just scared everybody because I was quite frightened myself. I had a megaphone and yelled, screamed, or shouted.
Thinking about 'Feminist Song,' you came up at a time when it felt like music could actually maybe change things. Now we're all so jaded, and music can feel just like a 'thing' you put on in the background. 
When I was in the Raincoats, my brother once said to me, you know that music doesn't change anything, right? I don't know why you think it can. In the '70s, we thought that life was getting better. It felt like things would gradually improve somehow, and that we could make changes to make the world a better place. Now, we don't think that anymore, do we? We just hope we can hang onto what we've got — the good bits. With all the good that the internet has brought, there's so much pain and misinformation and disinformation. Does 'Feminist Song' make a difference? Is it just preaching to the converted? It makes me happy to do it. I like singing about how I don't rant in post offices or point my gun at strangers. I like the angry feeling behind it, even though I'm denying it. Each verse has a little attitude and a story.
And now you're extending that lineage by having other female musicians play with you on the title track.
That came about because Helen Reddington, aka Helen McCookerybook, and I were doing this film about the women who started bands in that punk era, and not necessarily the famous ones. The women from my mom's generation who joined the RAF or worked in engineering in the second World War had some agency in the world for a bit, and then they had to go back to being housewives. Still, it gave them a bit of something. In a way, the same is true for the women who started punk bands in that period. They retained a creativity and positivity just from being able to pick up a noisy instrument and play on stage. The power of that is very valuable.
Who will be performing with you when you do shows around the album release?
I thought I'd keep the project quite small at this point, although I'd quite like to have films projected. In the past, I'd sometimes go out on my own with a projector, and perform over playback. For this next tour, I have two women playing with me, and we have some machinery that will trigger keyboard sounds. We'll have three basses at times, and a little standup drum kit. We're each doing different things, and we're all singing. It's great, and it's odd. I don't want it to be too normal.
Your partnership with Third Man seems like a great meeting of creative minds. How did it come about?
It's the universe, man [Laughs]! Basically what happened was, Third Man was going to open, and since it has opened, a shop in London parallel to Carnaby Street. They were also going to do a series of seven-inch singles, and they wanted to see if the Raincoats had any unreleased material or wanted to do a new song. Ana said no, and we also do have our own label, We Three. But I had 'Feminist Song,' which had been rattling along for so long. Ana said go for it, so I recorded it, sent it off, Youth did a mix, and everybody liked it. They came over from Detroit and Nashville when the shop was opening, and I met the team. We all got on really well. Then there was talk of me maybe doing an album, and I had loads of material, so I wanted to do it. In the meantime, Youth had just won his Grammy for working with Toots and the Maytals. That's a circular thing too because 'Funky Kingston' is the first bass line I ever learned. Life is so funny like that. You see, I fell in love with painting about five or six years ago, and that seemed like a respectable way to grow old. And now I'm being hauled out to do media [Laughs]. I think I need to go full Madonna and Courtney (pushes her cheeks apart as if to mimic a facelift).