Elvis Costello performed 200+ songs from his 600+ songbook over ten nights at the Gramercy Theater in New York from Feb. 9-22. Costello superfan (and comedian) Connor Ratliff brought us the highlights from every night of the historic run. Catch up on his reports from Night One, Night Two, Night Three, Night Four, Night Five, Night Six, Night Seven, Night Eight, and Night Nine here.
Night Ten of Elvis Costello's ten-night stand at New York City's Gramercy Theatre went for over three hours and brought the total number of songs played under the banner of "100 Songs And More" up to a whopping 250. This includes ten different performances of Nick Lowe's "(What's So Funny 'Bout) Peace, Love & Understanding?" – usually the closing song of the night – plus two rule-breaking repeats, including one this very evening.
The pre-announced setlist for the final show contained no shockers – it looked like ten songs that one could reasonably predict might appear in a "normal" 2023 Costello concert. That makes sense, given that this was going to be a full Imposters show and not just Elvis with his army of guitars, or another night paired with nimble keyboard wizard Steve "Steve! Steve! Steve!" Nieve. The practical thing to do would be to have the band do songs they plan to perform on their forthcoming tour – songs from The Boy Named If and other popular classics.
But bear this in mind: tonight's setlist was designed to have basically no repeats from the previous nine shows. Even though Costello had already burned through over 200 titles from his personal songbook, somehow, "Pump It Up" was still available, along with, "Watching The Detectives," "Radio, Radio," "Everyday I Write The Book," "Clubland," "(I Don't Want To Go To) Chelsea," "New Lace Sleeves," and "Man Out Of Time."
Try doing that exercise with just about any other songwriter – subtract 200 songs from their oeuvre and see if you have enough left over for a crowd-pleasing 29-song finale.
Then do it again, if you can. Because, despite Costello's joking protestations at the end of tonight's show that he had "run out of songs," he could do another ten shows like this and still have plenty he didn't get around to.
There were no surprise guests in the encores tonight, though the Imposters were joined for the entire show by guitarist Charlie Sexton, who has been touring with Elvis and the band since 2021 (and can be heard on last year's Alive At Memphis Magnetic EP.) I wish I had something new to say about how terrific this band sounds, but it's all been written before. It is hard to take one's eyes off of drummer Pete Thomas, who often looks like a man possessed, or bass player Davey Faragher, shaking his head from side-to-side as he plays. The Imposters have been a band for over two decades now, and Steve and Pete have been playing with Elvis since Jimmy Carter was president. They look like they're having fun, and sound as impressive tonight as they ever have, on both the old material and the new.
And the new stuff went over just as well as the old stuff tonight, with songs like "Hetty O'Hara Confidential" (from 2020's Hey Clockface) and more than half of The Boy Named If getting the same level of enthusiasm from the crowd as songs from IbMePdErRoIoAmL and Trust. The unrecorded "Tipsy Woman" has been a live staple over the past year, but made its East Coast U.S. premiere tonight to great effect.
There was a bit of housekeeping, too, as three songs originally planned for earlier nights had been skipped, which meant we got to hear "The Man You Love To Hate," "Deep Dark Truthful Mirror," and one of the finest performances of the evening, "Couldn't Call It Unexpected No. 4" from 1991's brilliant Mighty Like A Rose.
When the show edged well past the two-hour mark, it started to feel like a few of the pre-announced songs possibly weren't going to make it. The moment Elvis went into "Farewell OK," it certainly seemed like it could be the closer. But then he continued past it with the night's "rule breaker": a stunning, repeat performance of "Alison," which had already been played on Night One. When, several songs later, he segued from "Pump It Up" into "Peace, Love & Understanding," it most certainly felt like there just wasn't going to be enough time for the seven-minute-long "I Want You." 
Then he played it! A 12-minute long version, complete with a Beatles quote — from Abbey Road's "I Want You (She's So Heavy)" — his traditional fragment of Bacharach/David's "I Say A Little Prayer," and an extended quote from Ray Charles' "I Believe To My Soul," where he extended the roster of names beyond "Oh Johnny" to include Bobby, Jimmy, and Josephine.
When that song was finished, Elvis and the band took their bows, waved goodbye, and it was over. The familiar sound of "What The World Needs Now Is Love" played over the sound system as the house lights came up, and the people who had been sitting near me for all ten shows were chatting enthusiastically with one another as they had at the close of the previous nine concerts, only now knowing that it wasn't going to happen again tomorrow or the next night. The ten shows that were once stretched out ahead of us like a road going all the way to the horizon were now behind us. 
"As the clouds cover the sky, the evening ends."
I admitted on Night One that I'm greedy, and the thought has occurred to me that this should become an annual event, held in New York City (of course) each February for fans new and old to come and celebrate The Songs Of Elvis Costello, performed by Elvis Costello & Friends.
It's a lovely thought.
But Costello has always resisted the temptation to repeat himself, preferring to seek out new adventures rather than do the same thing over and over again. 
Even this glance back at his songbook has felt less like an exercise in nostalgia than a chance for him to make old songs feel new again. With the exception of the pre-1978 set on Night One, each of these shows have ping-ponged between his 20th and 21st century output effortlessly, without the feeling you typically get at many live shows where the audience loses interest every time the setlist shifts from the "classics" to "songs from the new album." By design, "100 Songs And More" has drawn in the people who wanted to hear something unexpected.
Elvis & The Imposters have already moved on to the next thing, heading right to Bethlehem, PA, for a show on Thursday night. They'll be back in Port Chester, NY, a week from Friday. But those who witnessed what happened over this two-week period at the Gramercy Theater won't soon forget it. I know I won't.
"I'll have to stop now," Costello remarked, as midnight drew nearer and he approached the 250th song, "and write some more."
Stray observations:
Elvis was sure to thank everyone who had joined him over the course of these ten shows, shouting out to his crew and the staff at the Gramercy, and the audience as well.

At one point during the show, Costello showed off his custom guitar strap with a list of his songs on it (pictured below.)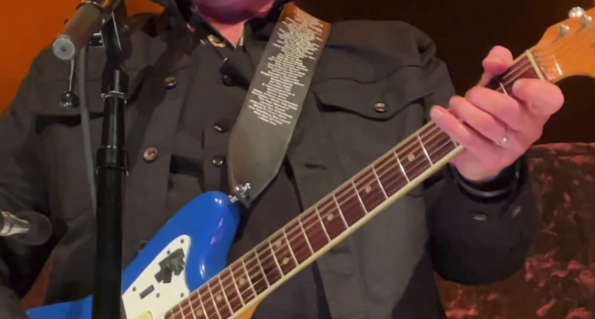 On Night One, I was handed a tiny envelope with my ticket inside. As you can see, the envelope has a handwritten notice on it saying, "Please use this ticket for all ten days." I almost lost this envelope after it fell out of my pocket a week ago in a WIND TUNNEL near Grand Central station. I took my phone out of my pocket and then checked to make sure the ticket envelope was still there, only to realize it was

not

.  I looked back to see it on the ground, 20 feet behind me, just waiting for a gust of wind to take it away. I'm certain that, if this had happened, there would have been a way to remedy the situation, but it was still stressful. I am sad these shows are done, but glad to be through with worrying about this paper ticket housed in an envelope that has really been through the ringer since Feb. 9th.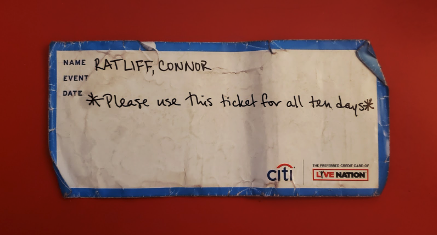 No songs from my insane opening night "wish list" were played tonight, leaving my total at 14 wishes granted. But honestly, there were so many of my wishes already granted among the pre-announced songs, in addition to the many songs it wouldn't have even occurred to me to wish for.

At the end of "New Lace Sleeves," Costello sang a bit of "What Kind Of Fool Am I," the song written by Leslie Bricusse & Anthony Newley for the musical,

Stop The World – I Want To Get Off

.

Checking in with the handy dandy stats compiled at

The Elvis Costello Wiki

, you can see for yourself which albums were heavily favored and which were comparatively underrepresented.

Eight songs in, after a stunning performance of the title track from

The Boy Named If

, the show was halted and the band left the stage due to some kind of medical emergency in the audience. Moments like that are terrifying. I couldn't clearly see who was in distress or what happened to them, but I hope whoever it was is okay.

The weeks of planning for Pillow Heist (my very stupid plan to abscond with one of several "Elvis Costello presented by Citi" promo-only/not-for-sale pillows displayed near the merch area) were for naught, as I did not execute my flawless plan to steal a pillow, or the giant floor mat, or the huge structural pillar with all the songs written on the side of it by the merch area. I just didn't have it in me to swipe one of those pillows.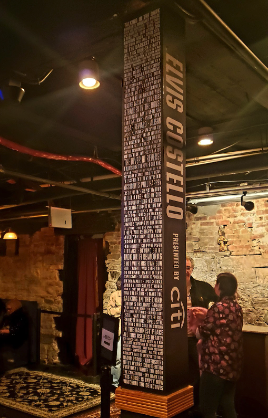 Or did I?

Someone

has those pillows, and there were fewer of them on display tonight than on previous nights. Who's to say I didn't execute my diabolical plan

perfectly

, and I am just too savvy to admit it now that I have it safely in my possession. I'll never tell.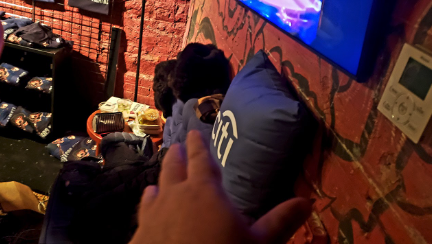 Thanks to everyone who's followed along with these rambling, self-indulgent reports. I hope you enjoyed them. I didn't ever take notes during the shows, instead cobbling these recollections together from memory into the wee small hours of the morning after each concert. I had hoped to avoid taking photos during the shows but then I realized I would need to grab some images of guest performers so that there would be something to visually distinguish one night from another, even though I hate having my phone out at any point during a show.

I made a Spotify playlist

of most of the songs played, in order, from the ten nights at the Gramercy Theater. Some songs are missing, like the

Face In The Crowd

material, which hasn't been recorded yet, for obvious reasons. It also doesn't include my favorite song, "My Dark Life," because for some reason that song isn't on Spotify.

Here it is on YouTube.
NIGHT TEN
Wednesday, Feb. 22nd – Finale – Night Ten
"Radio Radio"
"Green Shirt"
"American Gangster Time"
"Hetty O'Hara Confidential"
"Either Side of the Same Town"
"The Death of Magic Thinking"
"New Lace Sleeves"
"The Boy Named If"
"Everyday I Write The Book"
"Tipsy Woman"
"Penelope Haypenny"
"Uncomplicated"
"Newspaper Pane"
"Lipstick Vogue"
"Watching The Detectives"
"Couldn't Call It Unexpected #4"
"Deep Dark Truthful Mirror"
"The Man You Love to Hate"
"Clubland"
"Mistook Me For a Friend"
"(I Don't Want To Go To) Chelsea"
"What If I Can't Give You Anything But Love?"
"Man Out Of Time"
"Farewell OK"
"Alison"
"Magnificent Hurt"
"Pump It Up"
"(What's So Funny 'Bout) Peace, Love & Understanding?"
"I Want You"
Connor Ratliff is an actor/comedian based in New York City. He is the creator of the critically acclaimed podcast, Dead Eyes. You might have seen him in the role of "Chester" on multiple seasons of The Marvelous Mrs. Maisel.