Elvis Costello is performing 200+ songs from his 600+ songbook over 10 nights at the Gramercy Theater in New York from Feb. 9-22. Costello superfan (and comedian) Connor Ratliff is bringing us the highlights from every night of the historic run. Catch up on his reports from Night One, Night Two, Night Three, Night Four, Night Five, Night Six, Night Seven, and Night Eight here.
The penultimate show of Elvis Costello's 10-night stand at New York City's Gramercy Theatre has arrived – Night Nine – and the first surprise of the evening was visible onstage before the show even started: Pete Thomas' drum kit, upstage, and slightly left-of-center.
The Imposters were in the building.
But before we were treated to any full band shenanigans, the duo of Costello and Nieve still had a few tricks up their sleeves, including two live premieres: "The Last Confession Of Vivian Whip," a song from 2020's Hey Clockface with words by Costello and music by Nieve and Muriel Teodori, and the newly-released advance track from the upcoming Songs Of Bacharach & Costello box set, "You Can Have Her."
The latter was bookended by two Painted From Memory songs, "In The Darkest Place" and "My Thief," and Costello once again spoke with quiet emotion about his decades-long friendship and collaboration with Bacharach, whose songs have been one of the strongest throughlines of this concert series.
It's also been a week in which Costello celebrated his musical partnership with Steve Nieve – the chants of "Steve! Steve! Steve!" that Costello encouraged last night have carried over to tonight, perhaps starting an irreversible trend. Their mutual admiration/appreciation shines through onstage, with Costello singing "Fallen" (from 2003's North) at Nieve's request and Costello bringing back their co-written "You Lie Sweetly" after reminiscing aloud about performing in Steve's opera, Welcome To The Voice. Costello can often be seen marveling at Steve's playing in the moments he isn't singing, both of them occasionally grinning from ear-to-ear when a song is over, as if they've gotten away with something.
Up top, they pulled out a handful of beloved album tracks ("You'll Never Be A Man," "Rocking Horse Road," "Distorted Angel") a couple of uncontested classics ("Blame It On Cain" and "All This Useless Beauty") plus a few top shelf tunes of more recent vintage (the Halloween-themed "Trick Out the Truth," the Dylan-inspired "What Is It That I Need That I Don't Already Have?" and "Hey Clockface.") The thrill of never quite knowing what to expect has not diminished over the course of these shows.
Fourteen songs in, Costello picked up a guitar and began to sing The Beatles' "Do You Want To Know A Secret?" only to stop a few lines in – and let me tell you, the collective howl that we all let out when we realized he wasn't going to play a Beatles song from start-to-finish tells me that a "Costello Sings The Beatles" residency would sell out instantly (and he could get through the entire songbook in half the dates even if he also threw in some tracks from their solo albums). But it was truly just a set-up to introduce the worst kept secret of the evening. Pete Thomas and Davey Faragher joined them onstage, entering to thunderous applause, and going straight into Nick Lowe's "Surrender To The Rhythm" (a track from last year's Resurrection Of Rust EP), followed by "You Belong To Me" from This Year's Model.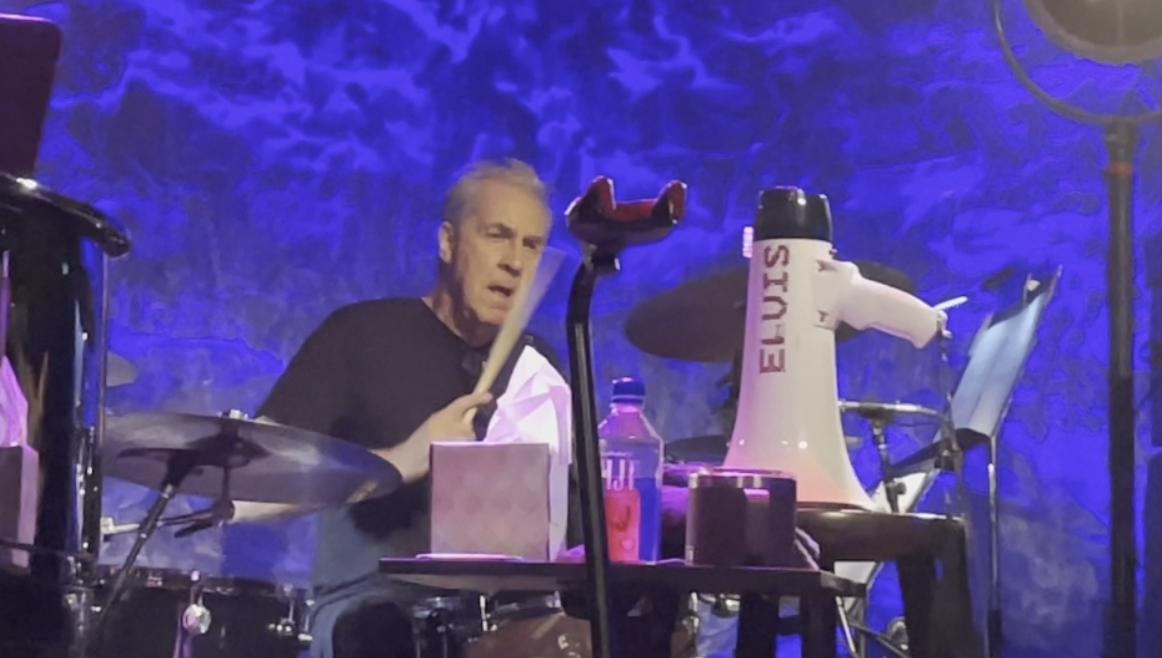 But rather than blaze through a set of Attractions-era hits, Costello and the band leaned more towards the soulful Americana side of their own 21st century repertoire, with The Delivery Man's "Country Darkness" and "Monkey To Man," then an unexpected National Ransom cut, "That's Not The Part Of Him You're Leaving."  
For that last song, Costello took Steve's spot at the piano (moving him over to another keyboard device that I can never quite catch a glimpse of from where I'm sitting), a band formation I've never seen them attempt before. This set-up remained for "The Poisoned Rose" and a rule-shattering repeat performance of "A Face In The Crowd."
Costello then returned to center stage to belt out one of the best songs from one of his best albums: "All The Rage" from 1994's Brutal Youth. It would've been a natural stopping point, a perfect counterpoint to the traditional closing number's pleas for "Peace, Love & Understanding." But the show wasn't done yet. Far from it.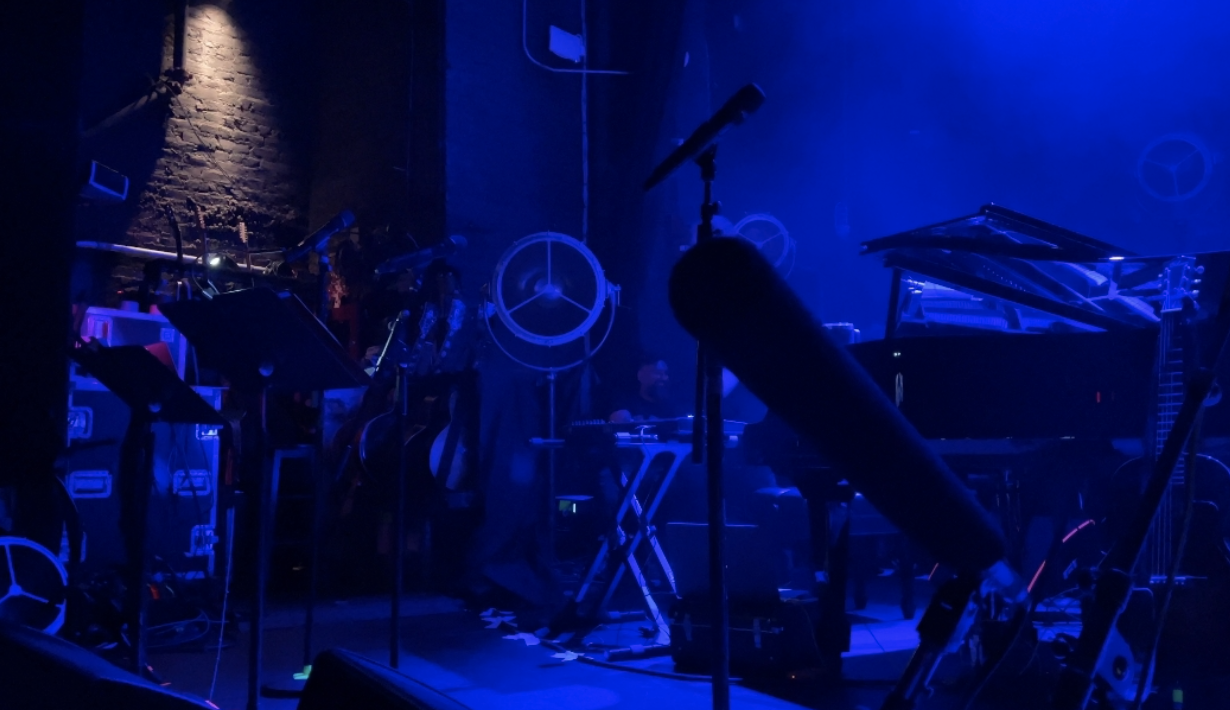 Elvis and the boys left the stage and once again we witnessed the controlled chaos of multiple music stands and microphones set up under dark blue lights. The stage left chair where Elvis sits down for some of the most intimate, confessional parts of these shows is removed, perhaps never to be seen again.
The Imposters return with Elvis and begin to play "Shipbuilding," joined by no one else. Then, when it's time for the instrumental solo (famously played by Chet Baker on 1983's Punch The Clock but often played on piano by Steve in concert), Michael Leonhart returned for a second night with his trumpet, masterfully taking his spotlight moment in one of Costello's most devastating songs.
Leonhart was then joined by two more players — Stewart Bogie on tenor sax (also returning from last night) and Ray Mason on trombone; this newly expanded ensemble went into a riff that some might recognize as the original 1979 arrangement of "High Fidelity," used to great effect on the song they turned out to be playing: "Cinco Minutos Con Vos" from 2013's Wise Up Ghost. That track is, of course, a duet with Marisol "La Marisoul" Hernandez, the lead singer of La Santa Cecelia, whose entrance immediately solves The Mystery Of The Stage Left Microphone.
La Marisoul is also one of the vocalists on 2021's Spanish Model, Costello's Spanish-language reinvention of This Year's Model, singing a tremendous new version of "Little Triggers" called "Detonantes" that makes me wish that LP's full roster of singers could've been brought to the Gramercy to play the whole album, for one night only. For a moment, I get my hopes up that Elvis and La Marisoul are going to perform their other duet, "Losing Game" (from La Santa Cecelia's Grammy-winning 2013 album, Treinta Dias,  produced by Sebastian Krys.) Instead, we are treated to an energetic cover of "Don't Let Me Be Misunderstood."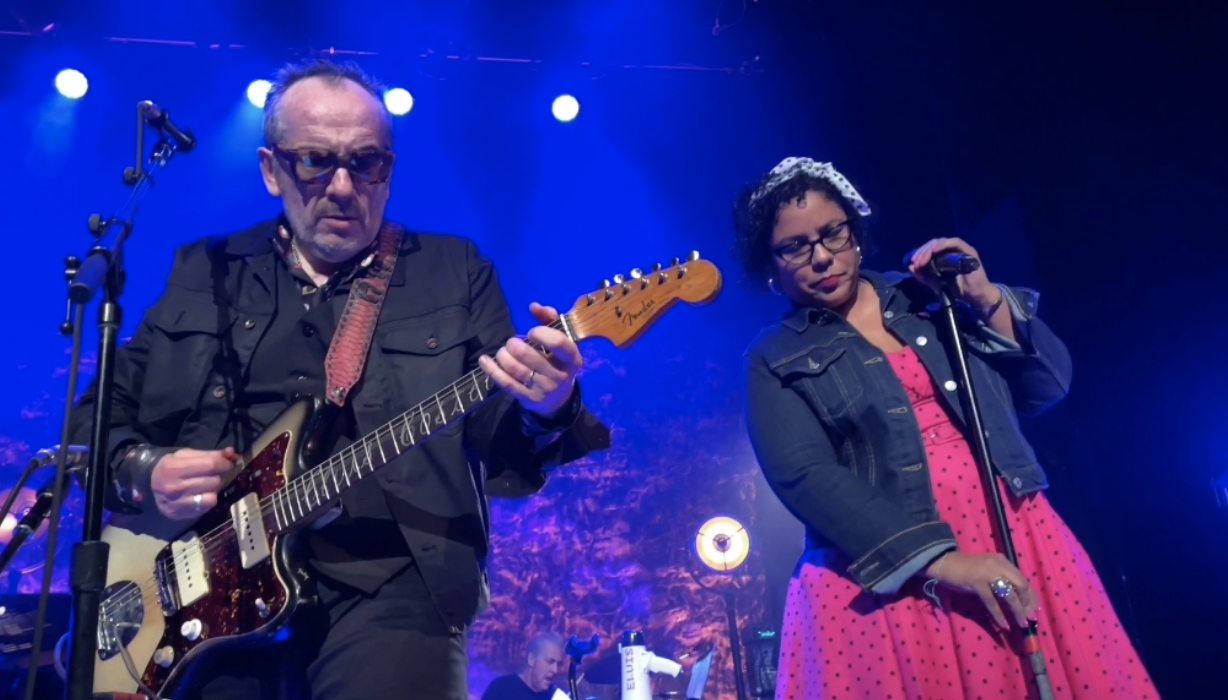 This leads, of course, into the ninth distinct performance of "(What's So Funny 'Bout) Peace, Love & Understanding?" that we have been treated to in 12 days, and not one of them has been anything short of thrilling. This one stings just a little, knowing that it's our last where we still have another to look forward to.
Tuesday night off, and then back Wednesday for Night Ten with The Imposters. What on Earth could be better than that?
Stray observations and musings:
Only one pick from my wish list tonight: "My Thief"! Admittedly, I probably shouldn't even be counting it since technically my wish was for him to do a massive, unwieldy medley of every Costello song that starts with the word "my," from "My Brave Face" to "My Flame Burns Blue" to "My New Haunt." In any case, I got five of the "my" songs, and who knows how many will turn up in the final show's setlist?

The version of "You'll Never Be A Man" that Elvis played with Steve tonight sounded like the way they played it back in 1996, on their first tour as a duo. That version was preserved on the limited edition CD box set,

Costello & Nieve

, which seems overdue for a vinyl reissue. There is a vocal flourish he does at the end of that version on the final "when they made you, they broke the cast" that I was hoping he would repeat tonight. I was not disappointed; he sang it perfectly.

There have been times when a song showed up a night or two early, but tonight was the first show where pre-announced songs failed to materialize during the show. Presumably, "Deep Dark Truthful Mirror" and "Couldn't Call It Unexpected No. 4" will appear on Wednesday night, unless this is a case where these songs are being ruthlessly sabotaged by their ruthlessly ambitious understudies.

Tonight was the show where we officially passed the 200 song mark.

Wednesday night is the now-or-never moment for The Great Elvis Costello Pillow Heist Of 2023, the Ocean's Eleven-style orchestrated theft of one or more of the "Elvis Costello presented by Citi" promotional pillows that are promo-only and definitely not for sale at any price. Tonight, I was sent this extremely helpful reconnaissance photo of where one of the pillows is located, down by the merch table below the monitor. Is this happening? Or will I lose my nerve?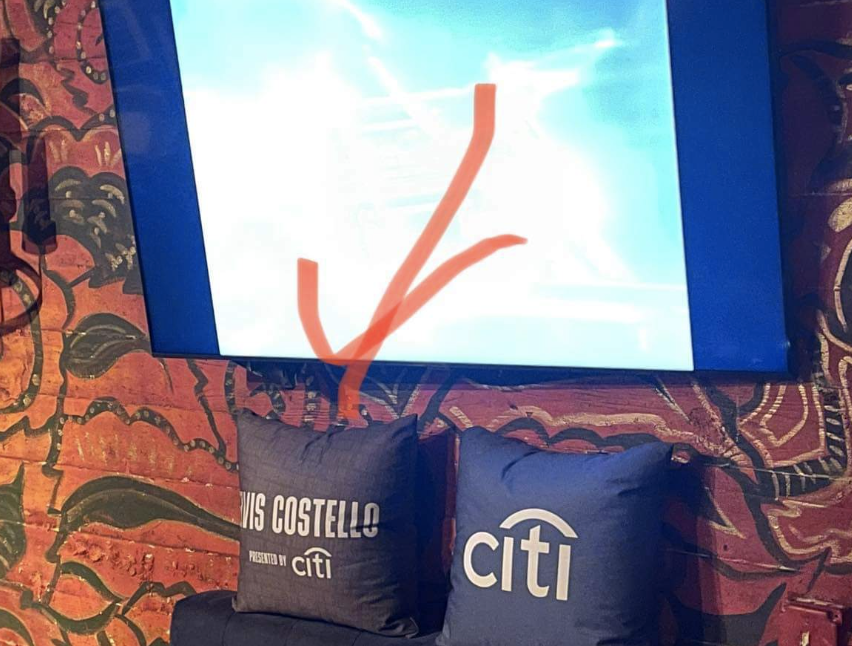 NIGHT NINE
Monday, Feb. 20th – Elvis Costello with Steve Nieve – Night Nine
"Blame It on Cain"
"All This Useless Beauty"
"You'll Never Be A Man"
"Rocking Horse Road" (with "Wild Thing"snippet)
"Trick Out the Truth"
"What Is It That I Need That I Don't Already Have?"
"Distorted Angel"
"Hey Clockface/How Can You Face Me?"
"The Last Confession Of Vivian Whip"
"Fallen"
"You Lie Sweetly"
"In The Darkest Place"
"You Can Have Her"
"My Thief"
"Do You Want To Know A Secret?" (fragment)
"Surrender to the Rhythm"
"You Belong to Me"
"Country Darkness"
"Monkey to a Man"
"That's Not the Part of Him You're Leaving"
"The Poisoned Rose"
"A Face in the Crowd"
"All The Rage"
"Shipbuilding"
"Cinco Minutos Con Vos"
"Detonantes"
"Don't Let Me Be Misunderstood"
"(What's So Funny 'Bout) Peace Love and Understanding?"
Connor Ratliff is an actor/comedian based in New York City. He is the creator of the critically acclaimed podcast, Dead Eyes. You might have seen him in the role of "Chester" on multiple seasons of The Marvelous Mrs. Maisel.