Damon Albarn has posted a brief solo piano instrumental in tribute to De La Soul member Trugoy the Dove (real name: Dave Jolicoeur), who died yesterday (Feb. 12) at the age of 54. Albarn gave the group a lifeline in the early 2000s by featuring the pioneering hip-hop trio on albums and live performances by Gorillaz, including the hit single "Feel Good Inc."
"A loop for Dave. I love you 🕊 ⚓️ ❤️," Albarn wrote on Instagram.
Trugoy passed away just prior to De La Soul's catalog making its long-awaited March 3 debut on streaming services, following decades of negotiations related to contracts and sample clearances. De La Soul was scheduled to play three U.K. shows in April, but there's been no announcement yet if they will continue as planned.
The group will, however, be heard on the new song "Crocadillaz," which is an international bonus track on Gorillaz' upcoming album, Cracker Island.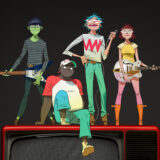 View this post on Instagram