On the heels of two Nashville-driven solo singles last year, Foo Fighters guitarist Chris Shiflett keeps it countrified on his latest new song, "Black Top White Lines." The quick, riffy number was written with Brothers Osborne's John Osborne and the Cadillac Three's Jaren Johnston and is expected to appear on a new Shiflett solo album later this year via Blue Élan Records.
The song puts a fresh spin on the Nashville murder ballad as it chronicles the misadventures of "Jimmy" and the unnamed woman who eventually puts him "six feet under outside of Birmingham." Says Shiflett, "Jaren and I were going over song ideas, and it'd been a minute since we wrote it, so when we re-visited the track he was like, 'Dude, you've gotta record this one. It's a banger!' Right away in the studio I could tell it was a bit of a left turn for me musically, but that's also what I like about it."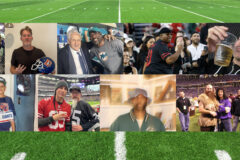 Johnston is producing Shiflett's upcoming album, a title for which has yet to be unveiled. "A big part of my inspiration to work with Jaren on this record was because I knew he'd push me out of my comfort zone into new territory," Shiflett says.
Fresh off an appearance with his band at Nashville's Ryman Auditorium, Shiflett will play six shows in the U.K. next month, beginning March 21 in Dublin. He will also return to the road in late May with Foo Fighters, who will be embarking on their first tour since drummer Taylor Hawkins' March 2022 death. No replacement has yet been named.
Here are Chris Shiflett's tour dates:
March 21: Dublin (Whelan's)
March 22: Glasgow (Saint Luke's)
March 24: Leeds, U.K. (Brudenell Social Club)
March 25: Manchester, U.K. (Band on the Wall)
March 26: Bristol, U.K. (Thekla)
March 28: London (Scala)