Iron Maiden, Rage Against the Machine, and Soundgarden lead a list of 14 nominees for induction into the Rock and Roll Hall of Fame, which will be whittled down through industry and fan voting and announced in May. The induction itself will take place this fall, with the date, venue, and broadcast information forthcoming.
Also on the ballot this year are Kate Bush, Sheryl Crow, Missy Elliott, Joy Division/New Order, Cyndi Lauper, Willie Nelson, the Spinners, A Tribe Called Quest, the White Stripes, and Warren Zevon. Elliott and the White Stripes were nominated in their first year of eligibility, while Crow, the combined Joy Division/New Order, Lauper, Michael, and Nelson have been eligible in the past but are now on the ballot for the first time.
Fans can vote for their favorites through April 28 via the Rock Hall's website or in person at its Cleveland-based museum. The five fan-voted finalists will comprise their own ballot to be tallied in tandem with industry voting to determine the final inductees.
This year's list of nominees is sure to extend the debate on what actually constitutes a rock artist, as Elliott and A Tribe Called Quest are two of the more beloved hip-hop acts of the past 30 years and Nelson is arguably the most legendary country musician of all time. Likewise, the Spinners have never notched a song on any Billboard rock chart, although they have more than 20 top 40 hits on the R&B tally.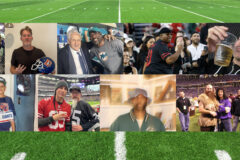 The 2022 Rock Hall class consisted of Lionel Richie, Dolly Parton, Duran Duran, Pat Benatar, Carly Simon, Eminem, and the Eurythmics was enshrined last November in Los Angeles. Honorary awards were also given to Judas Priest, Jimmy Jam and Terry Lewis, Harry Belafonte, Elizabeth Cotten, and Jimmy Iovine, among others.