The Radiohead side project the Smile is showing no signs of receding into the background. The group, which features Thom Yorke, Jonny Greenwood, and drummer Tom Skinner, will return to the road for a 14-date North American tour this summer, beginning June 22 in Mexico City. The itinerary is highlighted by a July 7 show at the 13,000-capacity Forest Hills Tennis Stadium in Queens, N.Y., the group's biggest North American headlining show to date.
The Smile will also on March 10 release Europe: Live Recordings 2022, taped at the band's maiden run of concert appearances last year. The six-song vinyl-only EP includes five tracks from the Smile's 2022 debut album, A Light for Attracting Attention, plus a cover of Yorke's 2009 solo cut "FeelingPulledApartByHorses."
With the Smile staying busy, speculation continues to swirl around the future of Radiohead, which hasn't released an album since 2016 or toured since 2018. "As far as I know, we're still a band," drummer Phil Selway told SPIN earlier this month in an interview about his upcoming solo album, Strange Dance. "If anybody knows any different, I'd be very interested."
As previously reported, Yorke executive-produced and played bass on U.K. electronica artist Clark's upcoming album, Sus Dog.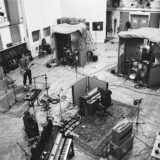 Here are the Smile's tour dates:
June 22: Mexico City (National Auditorium)
June 25: Austin, Texas (ACL Live at the Moody Theater)
June 29: Miami (Knight Center)
June 30: St Augustine, Fla. (Saint Augustine Amphitheatre)
July 2: Charleston, S.C. (North Charleston Performing Arts Center)
July 3: Asheville, N.C. (Thomas Wolfe Auditorium)
July 5: Richmond, Va. (the National)
July 7: Queens, N.Y. (Forest Hills Tennis Stadium)
July 8: Philadelphia (Franklin Music Hall)
July 10: Pittsburgh (Stage AE)
July 11: Cleveland (Agora Ballroom)
July 15: Laval, Quebec (Place Bell)
July 19: Kansas City, Mo. (Midland Theatre)
July 20: Chesterfield, Mo. (the Factory)
Here is the track list for Europe: Live Recordings 2022:
"The Opposite:
"Thin Thing"
"FeelingPulledApartByHorses"
"The Same"
"Waving a White Flag:
"Free in the Knowledge"