The Hold Steady is back today (Jan. 4) with a rocking new single, "Sideways Skull," ahead of the March 31 release of its next album, The Price of Progress. The 10-track project will come out on the band's own Positive Jams label and arrives roughly in tandem with the Hold Steady's 20th anniversary.
"Sideways Skull" was played a handful of times at the band's 2022 shows, including twice during its annual Brooklyn Bowl residency late last year. As for The Price of Progress, it was produced by Bonnie Light Horseman's Josh Kaufman, who also worked on the Hold Steady's 2021 album Open Door Policy.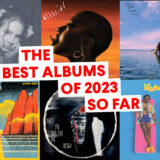 Other album tracks that have already been debuted live include "Carlos Is Crying," "Grand Junction," and "Sixers."
The Hold Steady will return to the road Jan. 28 at New York's Music Hall of Williamsburg in what's being billed as "Same Building. Same Show. 20 Years Later," a reference to the group's first official concert on Jan. 22, 2003, at the same venue, which was known then as Northsix.
From there, the group will play two shows at London's Electric Ballroom on March 10-11, and will also host a "rock and roll themed pub quiz" at the venue the following afternoon. The Craig Finn-led group's only North American gigs at the moment are set for June 30 and July 1 at new Chicago venue the Salt Shed, with support from the Mountain Goats and Dillinger Four.
Finn will also perform at the multi-artist Piano Recital on Feb. 25 at New York's Carnegie Hall, alongside Japanese Breakfast's Michelle Zauner, Kevin Morby, Fruit Bats' Eric D. Johnson, Courtney Marie Andrews, and Phil Cook.
Here is the track list for The Price of Progress:
"Grand Junction"
"Sideways Skull"
"Carlos Is Crying"
"Understudies"
"Sixers"
"The Birdwatchers"
"City at Eleven"
"Perdido"
"Distortions of Faith"
"Flyover Halftime"