Ted Leo has made the decision that he will do this interview over the phone while driving. In a gray text bubble, his text reads "I do some of my best thinking while driving" and the foundation of a plan sets nicely as we synchronize calendars for the following day. "It's good, it will help me go with the flow a little here," Leo says on the call — hands-free via speakerphone — as he describes the somewhat annoying reality of driving on an interstate in the middle of the day.
Going with the flow, shifting and adjusting as times change around him, is something Leo is well versed in. His long-running band, Ted Leo and the Pharmacists, released a string of beloved records on legendary labels like the now-defunct Lookout! Records, Touch and Go, and Matador. He released an album called The Both with frequent collaborator Aimee Mann, and his latest full-length album, The Hanged Man, was self-released in 2017 as a solo record.
This year, Chisel (Leo's pre-Pharmacists band) will have their long out-of-print catalog reissued through Numero Group, giving new context to the early years of an artist who's weaved the strongest threads of myriad genres into grand tapestries. Mod, punk rock, ska, power pop, and more crisscross in and around each other, all propelled by Leo's unmistakable voice.
There's something in the walls of a Ted Leo song that allows you to feel who built it, long before you hear the tenor of his voice enter the fray as if his hand marks each note with a watermark. His lyrics connect bridges between the socio-political and the personal, with poetic missives that are full of biting wit and a tender heart.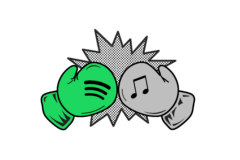 "More often than not, my biggest problem lately is not how to say what I want, but just distilling into something manageable what it is I want to say," Leo says. Over the last few years, he's been releasing EPs on Bandcamp with a pay-what-you-can model. Some is material held over from past releases — notably a box set of 7-inches that were a bonus for backers of The Hanged Man — while other tracks from the three Bandcamp EPs have included the occasional cover and newer material.
"I need to be as active as possible," Leo says of his current output. "I try to keep playing a show or two here or there, it gets to a point where if I'm not putting out anything new, I feel like I'm really just kind of treading the same ground when I go out and play shows. With every new idea that you begin to iterate, if you start from that place where you have something of a legacy or reputation you can lean on, you can also hold yourself to a standard that maybe you don't need to. I think I get caught in that trap a little bit."
What is clear from Ted Leo's work is that he's a man with a finely tuned perceptive lens on the broader context of the world at large. His work has long rooted itself in rich soils of cultural, political, and personal awareness. The world can be cacophonous with the voices of many, each clamoring to center their voice without considering its use in whatever space it occupies — an aspect of modern life that Leo is all too aware of.
"I don't think that going into 2023, the world necessarily needs me to re-litigate things that I've said, or add my voice to things in a new way," Leo says, the sounds of a freeway behind him. "There are plenty of people out there I'm happy to give a bump to. It just means that there's a little more time spent settling in trying to understand what it is about my voice that is, in fact, mine and why I feel comfortable putting it out."
Leo's take on his own stature is reminiscent of an Instagram post of Philadelphia ska band Catbite posing with Leo at the Strand Theatre in Providence, Rhode Island. It shows the thrill and reverence younger artists have for him, and all of the ways Leo's songcraft influences the work of the next generation. Yet he still pauses for the briefest of moments before addressing his influence on others.
"I'm glad you reminded me of that because it does feel good," Leo laughs. "I have my circle of close friends and acquaintances who are artists of a certain age, and their support definitely means a lot. But time goes on, life goes on and I would hate to feel that anything I've done has become totally anachronistic or tired and corny. Every time a younger person says 'Oh, yeah I like what you've done.' That's huge for me."
With Chisel getting the reissue treatment, there's a new opportunity for fans who were unaware of what was so important about them at the time to fully appreciate a band that was early to a party that would come to rage wildly out of control after they left.
"In my ego, I think that we were a little bit ahead of the curve in terms of the love for a number of things that started to blossom in the mid-to-late '90s," Leo says. "From garage rock and '60s mod-ish stuff to some of the earlier punk acts."
In hindsight, the Chisel era of Leo's career was brief in comparison to what came next — but the reissue is fodder for new conversations about old times
"It wasn't something I thought about a ton," Leo says. "I understood it as part of my growth and development as an artist, but certainly most of the things before the final album, Set You Free, I considered to be naive in a way that I could appreciate in context — but wouldn't necessarily say was great. [Laughs.] Talking with jj Skolnik [writer of the liner notes for the reissue], they have a different relationship to the 8 AM All Day record. I had not really — up until that point — had any real conversations about that record except with the two other guys in that band.
"[That conversation] really brought it back to me in a way I didn't understand, and yet seems totally obvious when you're told the kind of sloppy frenetic energy of that record — analogous to our live show at the time — meant a lot to people," he continues. "I was so detached from what that era actually felt like for people that it took that conversation to remember for myself what it felt like to play those songs — when we did stick out as a weird band who still played hardcore shows and would be the weird people dressed up like mods playing with melody and song structure. It was only through the perspective of audience members that I've regained a sense of that in the whole process."