Breaking a three-year hiatus, the Sonic Temple Art & Music Festival is back this Memorial Day weekend (May 25-28) at Historic Crew Stadium in Columbus, Ohio, with a lineup led by Foo Fighters, Tool, Avenged Sevenfold, Kiss, Rob Zombie, Queens of the Stone Age, and Deftones. It's the second festival gig announced for that weekend by the Foos, who are returning to the road with an as-yet-unnamed drummer following the March 2022 death of Taylor Hawkins.
Also on the bill are Converge, Puscifer, Sublime with Rome, Jawbreaker, the Pretty Reckless, White Reaper, Pennywise, Suicidal Tendencies, Anti-Flag, Bullet for My Valentine, Trivium, Chevelle, Senses Fail, Filter, Grandson, Knocked Loose, Godsmack, and Yelawolf.
A presale for Sonic Temple email list subscribers begins tomorrow (Jan. 11) at 10 a.m. EST, with a general ticket on sale set for Friday at noon EST.
Many of the same acts will perform the weekend prior at the Welcome to Rockville festival at Daytona International Speedway in Daytona Beach, Fla., as both events are produced by Danny Wimmer Presents. These will be some of the first live performances in five years from both Avenged Sevenfold and Queens of the Stone Age, the latter of whom will release their first album since 2017 later this year.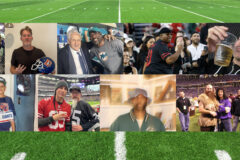 "It's our biggest lineup ever!," says Wimmer of Sonic Temple, which will feature creative elements designed by Shepard Fairey. "There is so much history at Historic Crew Stadium. It truly is the heartbeat of rock for many of us. The excitement surrounding the return of Sonic Temple is unparalleled!"