After five albums for Matador and two more for Concord, the New Pornographers have signed with Merge Records for the release of Continue as Guest, which will arrive on March 31. The genial first single, "Really Really Light," is accompanied by a Christian Cerezo-directed video featuring Indian dancer Svetlana Tulasi (on ice skates, no less).
Says group leader A.C. Newman of "Really Really Light," which was co-written with bandmate Dan Bejar, "part of my process throughout the years has been messing with things I never finished. I really liked Dan's chorus, and for a while I was just trying to write something that I felt like belonged with it. I was thinking of the Aloe Blacc song 'The Man' which interpolated the chorus from Elton John's 'Your Song' and thought it would be fun to interpolate a song that no one knows. Not trying to sound like Aloe Blacc, just doing some interpolating of my own. It became a game of writing a verse that felt like a part of the same song. In my mind, I was striving for a little Jeff Lynne–era Tom Petty — a classic go-to."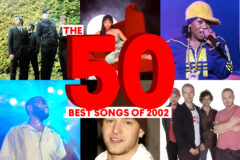 Continue as Guest features Newman flanked by longtime bandmates Neko Case, Kathryn Calder, John Collins, Todd Fancey, and Joe Seiders. The track "Firework in the Falling Snow" was co-written with Speedy Ortiz's Sadie Dupuis, who is also a SPIN contributor.
"Real talk: have known Mac, Laura and Christina from Merge for years and it is so great to finally be working with them," Newman said of the group's new label on Twitter. "Merge is the home of some of my literal all time favorite artists and to join that roster is an incredible honor."
The New Pornographers will support the album with a spring North American tour, beginning April 19 in Asheville, N.C., and featuring support from Wild Pink. A portion of proceeds from presale tickets sold via the band's web site will be donated to abortion rights organization Frontera Fund.
Here are the New Pornographers' tour dates:
April 19: Asheville, N.C. (Salvage Station)
April 20: Atlanta (Variety Playhouse)
April 21: New Orleans (Tipitina's)
April 22: Houston (White Oak Music Hall)
April 23: Dallas (Studio at the Factory)
April 25: Austin, Texas (Paramount)
April 26: Oklahoma City (Tower Theatre)
April 27: St. Louis (Sheldon Concert Hall)
April 28: Omaha, Neb. (Waiting Room)
April 29: Kansas City, Mo. (the Truman)
April 30: Denver (Gothic Theatre)
May 3: St. Paul, Minn. (the Fitzgerald)
May 4: Milwaukee (Turner Hall)
May 5-6: Chicago (Thalia Hall)
May 8: Cincinnati (Memorial Hall)
May 9: Columbus, Ohio (Newport Music Hall)
May 11: Detroit (El Club)
May 12: Toronto (Danforth)
May 13: Burlington, Vt. (Higher Ground)
May 14: Norwalk, Ct. (Wall Street Theater)
May 15: Boston (Royale)
May 17: Brooklyn, N.Y. (Brooklyn Steel)
May 18: Philadelphia (Union Transfer)
May 19: Washington, D.C. (9:30 Club)
May 21: Saxapahaw, N.C. (Haw River Ballroom)