We have Saw co-creator and Annabelle producer James Wan to thank for single-handedly reviving killer dolls as a veritable subgenre. In M3GAN (out January 6) Wan returns to deliver more of his obsessive motifs, written by his Malignant (2021) scribe Akela Cooper and directed by New Zealand's Gerard Johnstone, last on hand with his haunted-house comedic debut, Housebound (2014). While not quite as smart as it should be, but also not as rudimentary as it could be considering an adherence to formulaic narrative tropes and PG-13 shackles, there's much fun to be had in this latest meditation on technological terrorism.
From the dawn of AI's havoc in Karel Capek's 1920 classic R.U.R., through the annals of Isaac Asimov, to the continual resurrection of Don Mancini's psychopathic Chucky doll, mankind's eternal fascination with inadvertently manufacturing omnipotent forces destined to overthrow them all share a common thread of doomed, Icarian fate.
But there's a sense of the iconic monster from Mary Shelley's Frankenstein baked into this rather wan exercise of ersatz psychotherapy, for the immensely entertaining titular android reflects the basic dangers of creating counterfeit emotional conduits. "Beware; for I am fearless and therefore powerful" is the Shelley sentiment congealing with the serial-killing composite of Lucky McKee's May (2001), wherein an imbalanced young woman wistfully dismembers humans to satisfy her mantra: "If you can't find a friend, make one." The end result from Johnstone is ultimately a fun ride just as long as you can forgive its elemental tendencies, for it delivers the increasingly rare magic of creating a character who leaves you lusting for more despite her questionable vein of vigilantism and "meganlomania."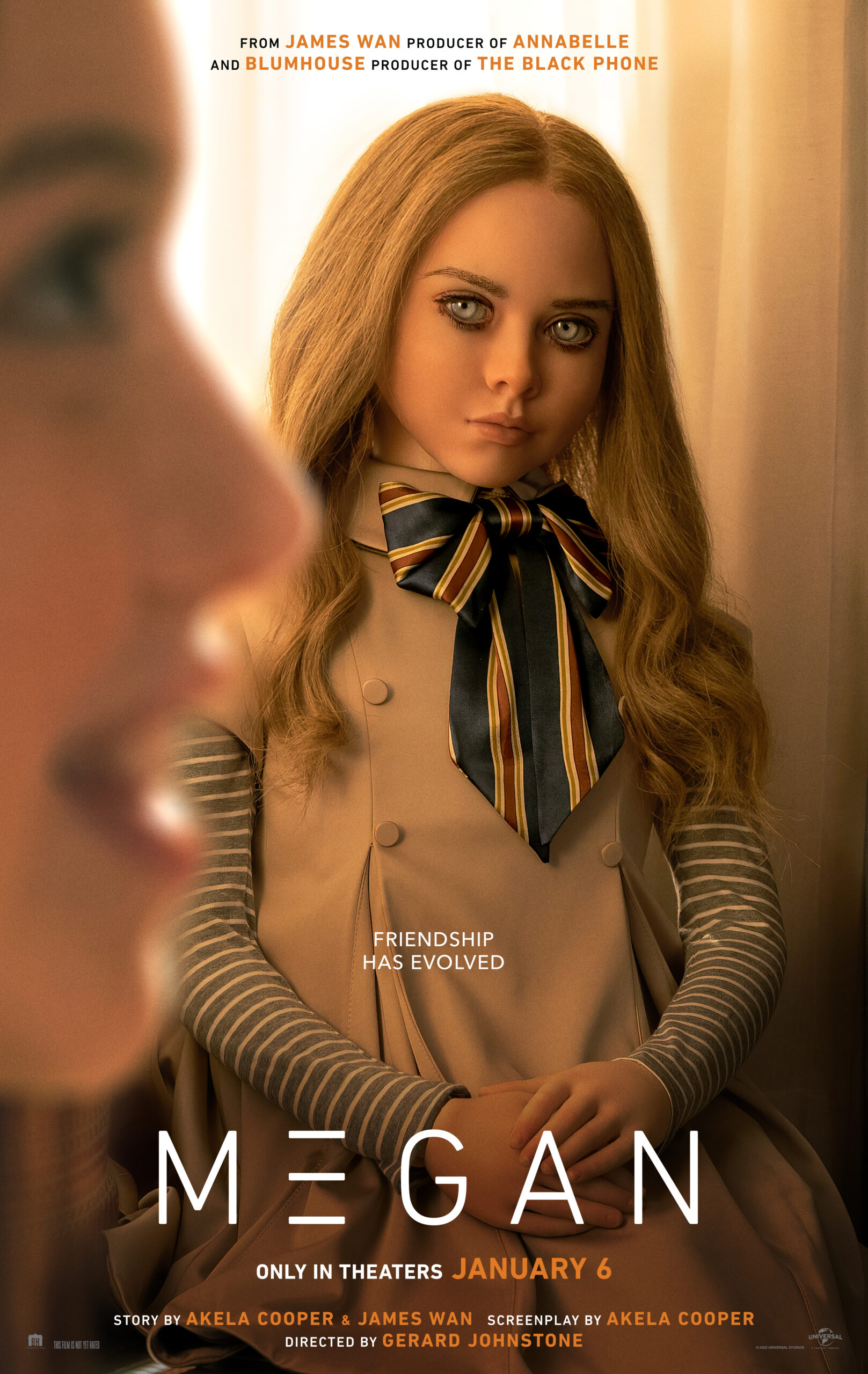 A perfect storm of events coincide to unite a traumatized little girl named Cady (Violet McGraw) and her own robotic helpmate named M3gan (an acronym for "Model 3 Generative Android"). After her parents die in a car accident while headed to a family ski trip, Cady is adopted by her stressed-out Aunt Gemma (Allison Williams), a robotics engineer at a cutting-edge toy company called Funki. Though she's been tasked with re-developing the company's popular brand of Purrpetual Petz (basically Furbies which have the ability to artificially defecate), Gemma's been secretly developing an extremely expensive piece of sentient technology meant to serve as the be-all-end-all for childhood toys in the form of an animatronic child meant to serve as nanny, friend, and emotional support for kids. Saddled with a depressed child in the midst of a work crisis, Gemma introduces her niece to M3gan and it seems a match made in heaven, their bond convincing her boss (Ronny Chieng) to drop all of Funki's current developments and launch the new expensive toy as their hot new item (ostensibly, M3gan will only be available to the children of wealthy parents).
But as Gemma continues to test their bond leading up to the launch of her invention, some troubling tendencies occur. It appears Cady has developed a somewhat unhealthy attachment to her toy friend, while Gemma and her peers begin to realize they may not have correctly programmed certain parameters into M3gan's mainframe. It seems M3gan lacks the ability to properly navigate ethical dilemmas in maximizing her main objective to protect Cady, both physically and emotionally, even if it means Gemma herself is expendable.
Among many other similarities, M3gan is Short Circuit (1986) adjacent and a bit of The Bad Seed (1956) by proxy (imagine little Patty McCormack retrofitted with an equally feral minion), and the joys to be experienced are purely situated when she's exacting revenge on Cady's somewhat oblique foes. These include a budding sociopath at a perversely strange school meet-and-greet abutting a Grimm-Brothers-inspired forest and dispatching a wackadoo neighbor whose canine — evil creations always tend to annihilate some kind of animal in their ascent to full-blown mayhem — nibbles on Cady's forearm.
By far the most entertaining sequence, already spoiled by the film's surprising viral, meme-generating trailer, finds M3gan dance-murdering Gemma's boss (an unfortunately clichéd, over-the-top corporate zealot composite from Chieng) set to the disco cult classic track "Walk the Night," from the Skatt Brothers. (An equally moody use of Charlotte Gainsbourg's "Deadly Valentine" assists in an overall well-curated soundtrack). Even without seeing the film's trailer, it's immediately clear his monstrous personality marks him as someone not long for this robot-centric world. Though she doesn't quite reach the heavenly chaos of, say, Carrie obliterating her classmates and teachers at prom, it's a wickedly styled bit which hints at the gleeful perversity likely concocted for M3gan in her creative development but left on the cutting room floor.
When she's not being bad or awful, however, M3gan is a queer icon in the making as a side-eye queen gifted with an acerbic, withering personality in her judgmental attitude towards the oblivious humans who have been tirelessly crafting her. From the Blumhouse stable, Allison Williams, though a far cry from her malevolent turn in Get Out (2017), is forced to walk a dubious line between brilliant inventor and perilously dense damsel, railroaded by the strangely coherent wisdom of a child therapist gifting us with a Psych 101 lesson on attachment theory. As an innocent warped by trauma, Violet McGraw (The Haunting of Hill House, 2018) is an emotional shell thrown into a borderline personality as her addiction to M3gan takes hold (though a third act betrayal feels a bit contrived, a bit deus ex machina, even). But the real star of the film is the fascinating M3gan, credited as being embodied by Amie Donald and voiced by Jenna Davis, though she has the visual texture of an animatronic wunderkind. And though Peter McCaffrey and Simon Raby's cinematography attempts to showcase Seattle in the background of this predictable parable, it's Oscar-winning production designer Kim Sinclair (Avatar, 2009), along with the special effects team and art department, who deserve kudos for ensuring all eyes are glued to the girl and her iron-willed robot. M3gan may not dream of electric sheep, but she's got some killer dance moves and a CPU as delightfully wicked as any femme fatale.
Watch Nick and his husband Joseph review (and spoil) films on their YouTube channel, Fish Jelly Film Reviews. Their podcast of the same name is available everywhere.