Lana Del Rey has shared updates about her forthcoming new album, Did You Know That There's a Tunnel Under Ocean Blvd. In a post on her private Instagram page yesterday (Jan. 13), the singer said the release date has been pushed back two weeks from March 10 to March 24 and will come with a boxed set and new merch, which she also previewed.
Del Rey also shared some revealing art of her posing semi-nude for the album (which has since been taken down for violating Instagram's guidelines) and the 16-song track list, which was previously announced to feature Jack Antonoff and his band Bleachers, Jon Batiste, Father John Misty, Tommy Genesis, and Judah Smith. Antonoff, along with Drew Erickson and Zach Dawes, produced the title track, which is out now.
Did You Know That There's a Tunnel Under Ocean Blvd can be pre-ordered in various formats on Del Rey's official web site. The album follows two 2021 releases, Blue Bannisters and Chemtrails Over the Country Club, both of which reached the top 10 on The Billboard 20. Del Rey also appeared on Taylor Swift's "Snow on the Beach" from her album Midnights, which became the former's biggest hit to date when it hit No. 4 Spot on the Billboard Hot 100.
Did You Know That There's a Tunnel Under Ocean Blvd track list: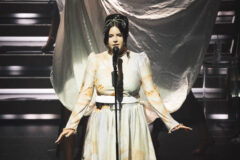 'The Grants"
"Did You Know That There's a Tunnel Under Ocean Blvd"
"Sweet"
"AW"
"Judah Smith Interlude"
"Candy Necklace"
"Jon Batiste Interlude"
"Kintsugi"
"Fingertips"
"Paris, Texas"
"Grandfather Please Stand on The Shoulders of My Father While He's Deep-Sea Fishing"
"Let the Light In" (feat. Father John Misty)
"Margaret" (feat. Bleachers)
"Fishtail'
"Peppers" (feat. Tommy Genesis)
"Taco Truck x VB"
https://twitter.com/LDRCRAVE/status/1614046045700345856